Former President Donald Trump reiterated his support for Republican Arizona gubernatorial candidate Kari Lake on Thursday after her alleged years-old anti-Trump social media post resurfaced.
Fox News reported on Wednesday that days before Trump's presidential inauguration in 2017, Lake published a Facebook post that read: "Will you be protesting the inauguration? If so, which of these suggestions will you adopt? Will you boycott TV coverage? Wear black? Donate money to the ACLU, NAACP or Planned Parenthood? Use the hashtag #NotMyPresident? Will you unfollow Donald Trump?"
Fox News said that when it reached out to Lake's campaign for comment, the post disappeared from her page.
While it was not immediately clear if Trump had seen the Fox News report, Trump's support for Lake did not appear to have changed by Thursday, when he praised her in a Truth Social post.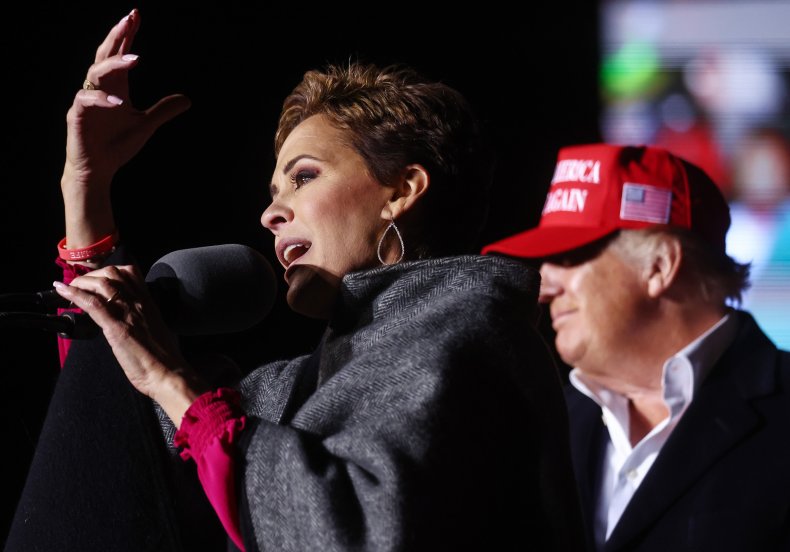 "Arizona finally has a chance to have a GREAT Governor. Vote for Kari Lake - She has my Complete and Total Endorsement!" the post read.
Lake, a former Fox 10 anchor who has helped spread unproven allegations of 2020 election fraud, is up against fellow GOP candidate Karrin Taylor Robson, who was endorsed by former Vice President Mike Pence. Trump is scheduled to appear at a rally in Arizona on Saturday to campaign for Lake and other candidates he has endorsed in the state.
Lake's reported criticism of Trump in sharing the meme on Facebook would make her at least the second Trump-endorsed political candidate to have previously criticized him.
J.D. Vance, the Hillbilly Elegy author who is running for a U.S. Senate seat in Ohio, once allegedly told his former college roommate in a text that Trump could be "America's Hitler."
Vance allegedly wrote in the message that the GOP "has only itself to blame" for Trump's rise on the political stage.
"We are, whether we like it or not, the party of lower-income, lower-education white people, and I have been saying for a long time that we need to offer those people SOMETHING (and hell, maybe even expand our appeal to working class black people in the process) or a demagogue would," Vance allegedly wrote in 2016, according to Democratic Georgia Representative Josh McLaurin, who said he was Vance's roommate at Yale University.
"We are now at the point," the message allegedly added.
Trump has acknowledged Vance's former criticism and asserted that it would not change his support.
While speaking at a rally in Ohio in April, Trump said of Vance: "You know what, he's a guy who said some bad sh*t about me. But you know what, every one of the others did also. In fact, if I went by that standard, I don't think I would have ever endorsed anyone in the country."
Newsweek reached out to Lake's campaign and a Trump spokesperson for comment.