Trump-Backed Mastriano Hopes to Save Campaign With Prayers, Fasting
Pennsylvania Republican Doug Mastriano may be down in polls in his bid to become governor, but intends to fast and pray for the 40 days leading up to the midterm elections.
Mastriano's campaign posted Monday on Facebook that the candidate intended to start fasting Thursday, "interceding for our elections, our state and our nation."
The notice includes a Bible quote from Isaiah 58:12 reading, "Then you will be known as a rebuilder of walls and a restorer of homes."
Former President Donald Trump endorsed Mastriano in the primary, stumping for the current state representative early this month against Democrat and current Pennsylvania Attorney General Josh Shapiro.
As of Tuesday, FiveThirtyEight shows Shapiro with a big lead, 51.3 percent to 40.9 percent, which widened since the approximate 7-point lead Shapiro held about four weeks ago.
An August 17 poll conducted by Public Opinion Strategies (POS) for Pittsburgh Works Together showed Shapiro with a lead of 50 percent to 35 percent.
Shapiro recently slammed Mastriano after Reuters reported a photo showing Mastriano wearing the gray uniform of a Confederate soldier in an Army War College faculty photo from 2013-14.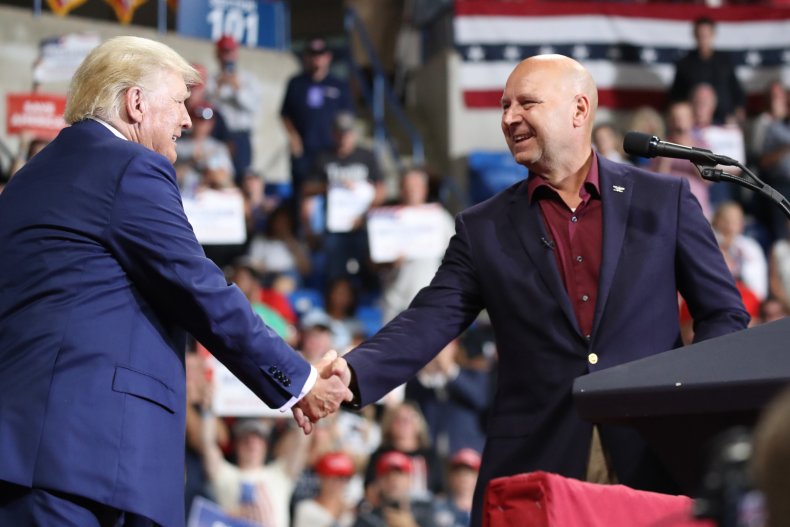 Mastriano is an election denier who believes Trump's 2020 loss was "compromised." He has declined to contribute toward January 6 committee findings, even as he was at the U.S. Capitol the day of the insurrection.
He even sued the congressional committee on September 1. The lawsuit, according to the Associated Press, contends that the committee lacks Republicans and therefore does not comply with House rules for conducting a compelled deposition of witnesses.
This month, The Philadelphia Inquirer published an editorial warning Pennsylvania residents about voting for "election-denying conspiracy theorists."
The University of Virginia's Center for Politics, courtesy of its Sabato Crystal Ball, published Wednesday that the Pennsylvania gubernatorial election has turned from a "lean Democratic victory" to a "likely Democratic victory."
Associate Editor J. Miles Coleman wrote that Shapiro is perhaps the Democratic Party's "strongest possible nominee" statewide due to crossover support he received from Trump voters in 2016, pointing out he outperformed President Joe Biden in the state even as state auditor and treasurer offices flipped to the GOP.
The Dobbs decision has also affected voters statewide, as the Keystone State is "on the more pro-abortion rights side of the spectrum." Shapiro has capitalized on Mastriano's abortion stance, Coleman added, including how in a 2019 interview, Mastriano said women who have abortions should be charged with murder.
"I would agree that the GOP endorsements Shapiro is racking up make things harder for Mastriano," Coleman told Newsweek. "In 2020, even as Biden put up huge margins in the Philadelphia Collar counties, there was some pro-GOP ticket splitting down the ballot.
"I can easily see a situation where [Mehmet] Oz, as a relatively more moderate Republican, runs ahead of the more populisty [sic] Republican in the suburbs. ... Mastriano seems a bit too far right for his very marginal state."