Trump Blames Georgia Republicans for Taylor Greene 'Going Through Hell'
Former President Donald Trump has claimed that Republican Representative Marjorie Taylor Greene of Georgia is "going through hell" due in part to her state's top Republican officials.
Greene, a Trump loyalist whose first term in Congress has been marked by repeated controversies, is set to testify before a Georgia state administrative law judge on Friday. She is facing a lawsuit that could result in her being disqualified from seeking reelection during November's midterms due to her alleged role in the January 6, 2021, riot at the U.S. Capitol.
Although the legal challenge to Greene's candidacy was brought by a group of voters from her congressional district, Trump blamed the state's Republican Governor Brian Kemp and Secretary of State Brad Raffensperger, who he has denounced repeatedly for failing to overturn his 2020 election loss to President Joe Biden.
"The Governor of Georgia, Brian Kemp, and Secretary of State, Brad Raffensperger, perhaps in collusion with the Radical Left Democrats, have allowed a horrible thing to happen to a very popular Republican, Congresswoman Marjorie Taylor Greene," Trump said in a statement on Friday. "She is now going through hell in their attempt to unseat her, just more of an election mess in Georgia."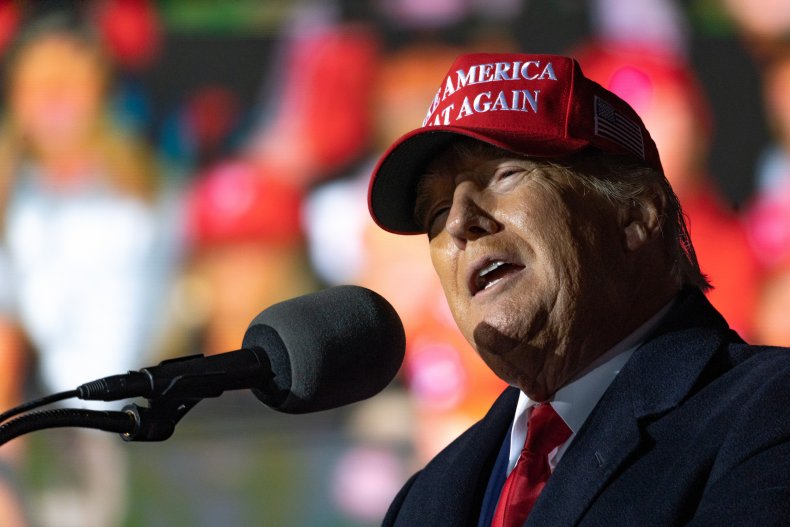 Trump went on to repeat unsubstantiated allegations related to his false claim that the 2020 election was "stolen" from him while urging Georgia Republicans to end Kemp's reelection bid by voting against him in the GOP primary.
"Unlike other Republicans, this Governor does everything possible to hurt the voting process in Georgia," said Trump. "Brian Kemp should be voted out of office...Kemp will never be able to win the General Election against Stacey 'The Hoax' Abrams because a large number of Republicans just will not vote for him."
Newsweek reached out to the offices of Kemp and Raffensperger for comment.
The challenge to Greene's candidacy is based on a provision in the 14th Amendment of the U.S. Constitution that bans those who participated in an insurrection or rebellion against the government from holding office—a provision originally meant to apply to former Confederates following the Civil War.
Greene unsuccessfully sued to end the challenge earlier this month, arguing that the provision that the voters were citing is unconstitutional and that state officials should be prevented from enforcing it. U.S. District Judge Amy Totenberg ruled that the case could move forward on Monday.
On Tuesday, Greene snapped at a reporter who asked her about the case during an interview with Tennessee news station WTVC. Greene insisted that she was "not accused of anything" because she "did nothing wrong," adding that she did not "care what the lawsuit says" and would not be "entertaining" it.
Republican Representative Madison Cawthorn of North Carolina survived a similar effort to invalidate his reelection bid last month. U.S. District Judge Richard E. Myers II, a Trump appointee, ruled that an 1872 act of Congress that granted amnesty to former Confederates also applied to Cawthorn.
On Thursday, Cawthorn praised Greene as a fellow "patriot" on Twitter, while suggesting that Republicans were helping "the left" attempt to end her political career. Cawthorn was responding to a tweet from Robby Starbuck, whose bid for Congress ended when he was removed as a GOP primary candidate by the Tennessee Republican Party on Tuesday.
"The left is trying to remove patriots like @RepMTG and me from the ballot," Cawthorn tweeted. "We expect them to act like that. But to see Republicans do it to other Republicans is sickening."
Since Georgia's 14th Congressional District votes heavily Republican, the GOP is likely to retain Greene's seat even if she is unable to hold office due to the legal challenge.