Trump Brags About Poll Numbers as Nikki Haley Steps Into 2024 Race
Former president Donald Trump was feeling confident about his poll numbers Tuesday morning.
Trump, who announced his 2024 presidential campaign in November, was the only notable candidate officially running for president until Republican Nikki Haley threw her name into the race on Tuesday.
In the past few months, Trump has cited various polls that show him leading potential Republican competitors in a primary mock-up, pitting him against names like former Vice President Mike Pence, Florida Governor Ron DeSantis and Haley—the first female governor of South Carolina and a Trump-appointed former U.S. ambassador to the United Nations.
Trump didn't mention Haley in his post on Truth Social on Tuesday morning but referred to his excellent placement in the polls and also took a jab at the Department of Justice (DOJ). Trump predicted that the DOJ will increase its "attacks" against him. Trump is the subject of several investigations, including his suspected meddling in the 2020 Georgia election and his involvement in Saudi Arabian business dealings. However, he felt Americans would favor him if other investigations were launched against him by the DOJ.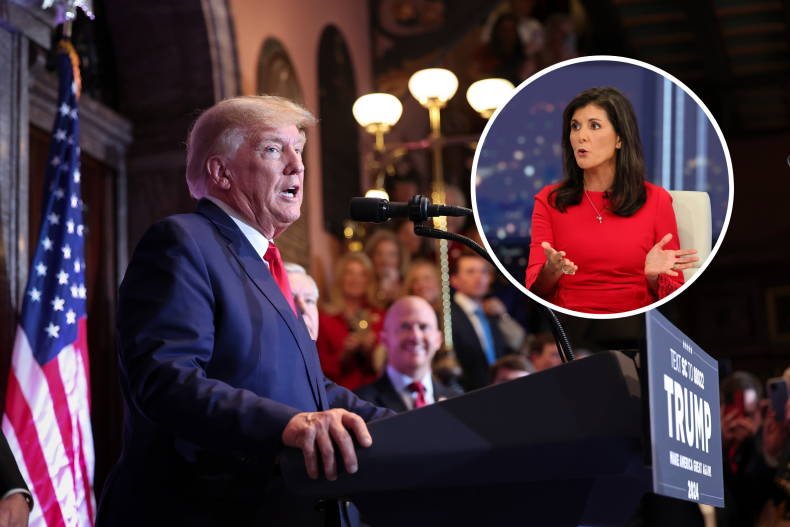 "Doing great in poll numbers. Leading all Republicans by a lot, also leading Biden by a very wide margin, which means that our weaponized Injustice Department, local D.A.'s, and Attorney Generals, will step up their illegal and unprecedented attacks in order to disparage me with false "bull...." and statements in the hope that I will be damaged enough to allow a RINO, or Biden, to 'slip through the cracks.' But be careful, the American people get it, and don't like what they are seeing. MAGA!!!" Trump posted.
Trump didn't link a specific poll in his post.
Haley, who was appointed as U.S. ambassador to the United Nations by Trump, previously told the Associated Press that she wouldn't run against Trump if the former president decided to run for president again. However, Trump had a positive response to Haley's presidential announcement.
"Even though Nikki Haley said, 'I would never run against my President, he was a great President, the best President in my lifetime,' I told her she should follow her heart and do what she wants to do. I wish her luck!" Trump told Newsweek in a statement.
Polls for potential Republican primary winners favor Trump or DeSantis over Haley.
FiveThirtyEight cited various polls in an updated post on Tuesday, all of which placed Trump as the front-running candidate except for one YouGov poll from February 2 to 6 that placed DeSantis as more favorable than Trump by 4 percentage points. Only one of the polls pitted Trump against Haley, with Trump securing a 27-point lead.
Election Central also published an poll average for a potential Republican pick, with Trump ranked first. DeSantis followed, with Pence third and Haley fourth.
Newsweek reached out to Haley for comment.