Trump Already Struggling in South Carolina and New Hampshire, Polls Show
Former President Donald Trump will be in South Carolina for his first 2024 presidential campaign rally on Saturday after visiting New Hampshire for a GOP meeting, even though recent polls showed that he's struggling in both states.
Though Florida Governor Ron DeSantis hasn't mentioned whether or not he will run for president in 2024, he is favored over Trump who officially announced his presidential bid this past November, polls revealed.
A poll by the University of New Hampshire released on Thursday showed that 42 percent of likely GOP primary voters chose DeSantis as their first choice for the GOP 2024 nomination, while only 30 percent chose Trump. The findings were based on Granite State Poll.
The survey was conducted by the University of New Hampshire Survey Center between January 19 and 23 among 892 respondents. The margin of error is plus or minus 3.3 percent.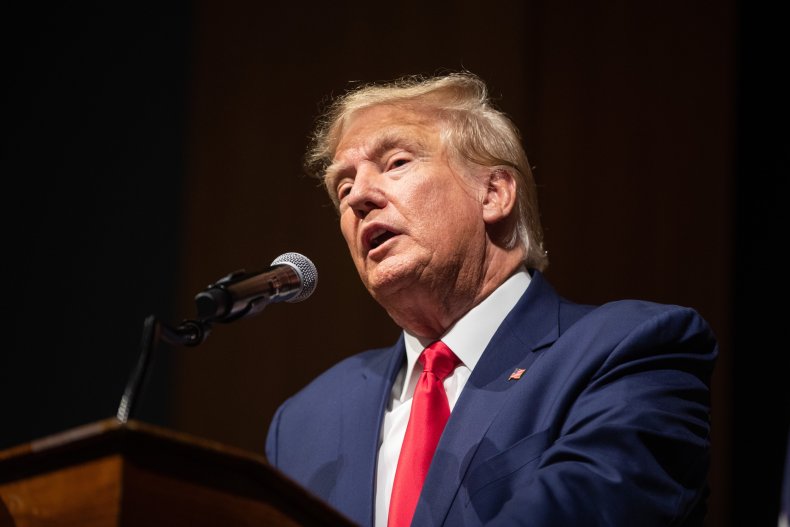 Meanwhile, the former president spoke Saturday at the annual meeting of the Republican Party in Salem, New Hampshire, a key early voting state in the presidential primaries, before heading to South Carolina for his rally.
"Heading to New Hampshire now. Nice NH poll just out — beating everybody by a lot, and nationally, leading by almost 40 points. See you at the White House!" Trump said in a Saturday morning post on Truth Social in which he shared a poll by co/efficient that showed him leading over DeSantis with 37 percent support compared to the Florida governor's 26 percent.
Another poll conducted by Spry Strategies between January 17 and 19 among 640 likely voters showed that 54 percent of South Carolina voters said the country would be better if neither Trump or President Joe Biden ran in 2024.
The survey, which was carried out on behalf of the South Carolina Policy Council, also revealed that 52 percent of the state's GOP voters prefer DeSantis over Trump who was only backed by only 33 percent. The poll had a margin of error of plus or minus 3.9 percent.
Trump is making appearances in both states as he continues facing mounting pressure and criticism. Some GOP members have been disappointed by Trump's influence in the 2022 midterm elections in which some of his endorsed candidates lost their races. Republicans lost the Senate majority to Democrats and narrowly won the majority in the House, whose current speaker is now Kevin McCarthy.
Former national security adviser John Bolton told CBS News on Thursday that Trump's 2024 campaign was "going downhill and I think it'll continue to go downhill." He also called the former president "poison" for the GOP.
"He cannot be elected president. If he were the Republican nominee, he would doom our chances to get a majority in the Senate and the House. I don't think he's going to be the Republican nominee," added Bolton, who suggested that he could launch is own presidential campaign to prevent Trump from being reelected.
Meanwhile, former federal prosecutor and legal analyst Glenn Kirschner said on Friday that he doesn't think Trump has a "snowball's chance in hell of being elected president again."
Earlier this month, Kellyanne Conway, a political adviser who served as Trump's senior counselor, said that the former presidentneeds to shift away from targeting his critics and instead focus on more policies if he hopes to win back the White House in 2024.
Trump is also facing a number of criminal investigations, including probes into his alleged mishandling of classified documents that were seized from his Mar-a-Lago residence by the FBI last August and his alleged involvement in the January 6, 2021, Capitol riot. The former president, however, has continued to maintain his innocence.
Newsweek reached out to Trump's media office for comment.