Six Separate Trump Probes Mean They Have 'Nothing on Him': Dinesh D'Souza
Right-wing political commentator Dinesh D'Souza said Friday that the fact that there are several ongoing investigations into former President Donald Trump means that the left has "got nothing on him."
"They are flinging mud against the wall to see if any of it sticks," he wrote in a post on Trump's Truth Social media platform. "But, as in my case, the mud people's strategy will backfire. Trump's future, like mine, will be bigger than ever!"
The former president is currently facing several probes across the country that are looking into issues ranging from alleged fraud with his company to the January 6, 2021, Capitol riot.
New York Attorney General Letitia James' office has been investigating Trump and his business practices for years, and on Wednesday filed a lawsuit against the former president, the Trump Organization, senior management and other entities for allegedly "engaging in years of financial fraud to obtain a host of economic benefits."
The suit accuses the former president of falsely inflating his net worth by billions of dollars with the help of three of his children and senior Trump Organization executives in order to deceive lenders, insurers and tax authorities.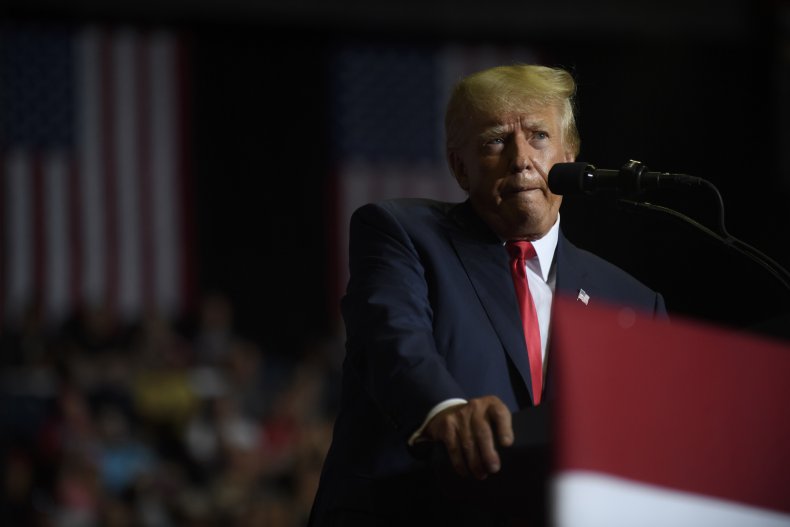 Trump and his company have denied the allegations and accused James of politically targeting them, even though a state court judge ruled earlier this year that the New York attorney general "has a sufficient legal basis for continuing its investigation, which undercuts the notion that this ongoing investigation is based on personal animus, not facts and law."
The Manhattan District Attorney's Office has been running a parallel investigation into Trump's business dealings and has the opportunity to seek criminal charges against the former president. While two lead prosecutors in the probe quit in February over concerns about the direction of the case, Manhattan District Attorney Alvin Bragg has said that the investigation is still in progress but added that his office wouldn't be publicly discussing investigative steps.
A House committee has been investigating the January 6 Capitol riot and Trump's alleged role in the incident, which attempted to halt the certification of President Joe Biden's election victory. The panel's vice chair, Wyoming Representative Liz Cheney, said in an interview that aired in July that multiple criminal referrals could be made against Trump, though it is ultimately up to the Justice Department to decide if he will be prosecuted.
In August, FBI agents searched Trump's Mar-a-Lago home as part of a DOJ investigation into his handling of sensitive documents. The agents seized more than 11,000 documents, including about 100 that had classification markings. While Trump has denied all wrongdoing and has not been charged with any crimes in connection to the documents, the warrant for the Mar-a-Lago search listed three potential violations of federal law, including part of the Espionage Act.
Another probe has been taking place in Georgia as a local prosecutor, Fulton County District Attorney Fani T. Willis, looks into potential efforts to overturn the state's 2020 election results. Willis has said that a number of Trump's associates under investigation may have committed offenses that merit jail time.
The probe is connected in part to a phone call in early January 2021 in which Trump requested that Georgia Secretary of State Brad Raffensperger "find" 11,780 votes to reverse the state's results. Trump has repeatedly described the call as "perfect" and called Willis' investigation a "strictly political Witch Hunt!"
The district attorney of New York's Westchester County, Miriam E. Rocah, also launched an investigation last year into whether the Trump Organization misled officials about the value of a golf course to reduce its taxes. The company called the probe a "witch hunt" after it was announced.
Newsweek reached out to a Trump lawyer and D'Souza via his website for comment.