Trump Called Egypt's President Sissi 'A F***ing Killer' After Agreeing Partnership, Book Claims
Journalist Bob Woodward's new book claimed that President Donald Trump referred to Egyptian President Abdel-Fattah el-Sissi as "a f***ing killer" during a conversation with his attorney.
Trump was allegedly explaining to his lawyer John Dowd how his executive clout could be compromised by the ongoing investigation into whether or not the Trump campaign colluded with the Russian government in an attempt to influence the 2016 U.S. presidential election, according to Woodward's book Fear: Trump in the White House, which was released Saturday. As an example, Trump brought up his negotiations to release Aya Hijazi, a 30-year-old U.S. charity worker and activist held in Egypt for three years.
"Dowd, remember who I'm talking to," Trump said, according to the book. "The guy's a f***ing killer. This guy's a f***ing killer! I'm getting it done. He'll make you sweat on the phone. And right before we make the deal, Sissi says"—the book describes the president as then assuming a "deep groveling voice" apparently intended to mimic Sissi's—"Donald, I'm worried about this investigation. Are you going to be around? Suppose I need a favor, Donald?"
Trump described it "like a kick in the nuts. It's awful," the book alleged.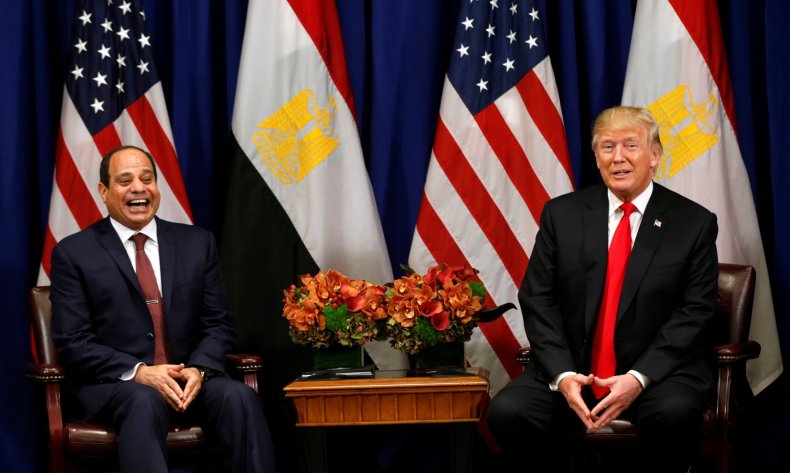 Sissi was head of the Egyptian military and came to power in a 2013 coup amid mass demonstrations calling for the removal of Egyptian President Mohammed Morsi, who himself was elected after a 2011 revolution that ousted his predecessor, longtime leader Hosni Mubarak. Since taking the helm in Egypt, Sissi has been accused of human rights abuses, including ordering troops to fire on unarmed protesters and calling for mass detention and military trials for activists, including Hijazi, who was arrested in March 2014.
Hijazi was released on April 16, 2017, shortly after Trump and Sissi met at the White House and agreed "to continue efforts to strengthen the United States–Egypt strategic partnership and to mark a new day in the relationship between the countries," according to the White House. A year later, Trump congratulated Sissi on a landslide, largely uncontested, electoral victory in a phone call in which the two leaders "affirmed the strategic partnership between the United States and Egypt, and noted that they look forward to advancing this partnership and addressing common challenges."
Woodward's book has also claimed that Trump wanted to assassinate Syrian President Bashar al-Assad after an alleged chemical attack last April. The book quoted the president as saying, "Let's f***ing kill him! Let's go in. Let's kill the f***ing lot of them."
During a White House press conference, Trump denied the claims, saying "he never even contemplated" killing Assad, "nor would it be contemplated." He did, however, caution the Syrian leader to be "be very judicious and careful" in an upcoming operation to retake the final Islamist-held province of Idlib. "If it is a slaughter, the world is going to get very angry and the United States will get very angry too," Trump warned.
On Friday, Trump told reporters on Air Force One that Woodward's book was "total fiction" and "total nonsense." He further defended himself on social media, calling the book a "scam."
"I don't talk the way I am quoted," Trump tweeted. "If I did I would not have been elected President. These quotes were made up. The author uses every trick in the book to demean and belittle. I wish the people could see the real facts—and our country is doing GREAT!"