Trump Calls Border 'Bigger Problem' Than Inflation, Says He Could Cure Latter 'Very Quickly'
Former President Donald Trump said on Friday that the southern border crisis in the U.S. is a "bigger problem" than inflation, and that he could solve the latter "very quickly."
Trump said during an interview on FOX Business Network that President Joe Biden's administration is allowing "millions" of people to cross the border.
"They're emptying out jails from 121 countries and these are serious prisoners, serious criminals. Guys are coming in with murder rap sheets and drug dealers at the highest level, they're all being dumped into the United States. It's a disgrace," he said.
The border patrol has recorded over 1.7 million migrant enforcement encounters during the 2021 fiscal year, according to the latest data released by the U.S. Customs and Border Protection.
The former president also added that he could solve inflation "very quickly" when he was asked to weigh in on the current rising prices of goods.
Though Trump didn't mention how he would handle the country's inflation, he said that he was able to get energy prices down when he was president.
"We were energy independent," he said. "In fact, I got the numbers so low for gasoline it was down to $1.78 and I left at about $1.86 a gallon and within a year, I would have been bigger than Saudi Arabia and Russia combined and now we're going back to them and OPEC and we're begging for oil."
When Trump left office on January 20, the national average price for regular gasoline was about $2.40 per gallon, according to data by the American Automobile Association, CNN reported.
Trump has been previously vocal about the way the Biden administration is handling the southern border crisis. In September, he described the border crisis as the "greatest" in American history.
"The largest number of illegal aliens in the history of our country are pouring in by the millions," Trump said in a statement released by his Save America PAC.
Though Trump claims that the U.S. is seeing the highest number of illegal crossings in its history, this is not the largest number of individuals coming illegally from Mexico in a single year, NPR reported.
Illegal crossings have increased due to pandemic-related travel restrictions that led to many migrants crossing the border repeatedly, according to NPR. Additionally, many of the crossings now involve children and families who are showing at the border to seek asylum.
Still, Trump argued that migrants who are illegally crossing the border are totally unchecked and unvetted, can do whatever they want, and go wherever they want."
In September, the Department of Homeland Security said in a statement that individuals and families are typically "subject to border restrictions, including expulsion. Irregular migration poses a significant threat to the health and welfare of border communities and to the lives of migrants themselves, and should not be attempted."
Trump's remarks at the time said that the U.S. is becoming "a cesspool of humanity. Murderers, drug dealers, and criminals of all shapes and sizes are a big part of this massive migration.
"Tens of thousands of people are coming from Haiti, and many now from countries in Africa, even more so now than South America," the former president added.
Trump's remarks in September came when thousands of Haitian migrants gathered near a bridge in Del Rio, Texas, as they awaited processing by U.S. officials.
Over 212,000 migrants illegally crossed into the U.S. between February and November, according to Homeland Security Secretary Alejandro Mayorkas.
Vice President Kamala Harris has been under scrutiny since she was assigned to address the causes of the issues at the border.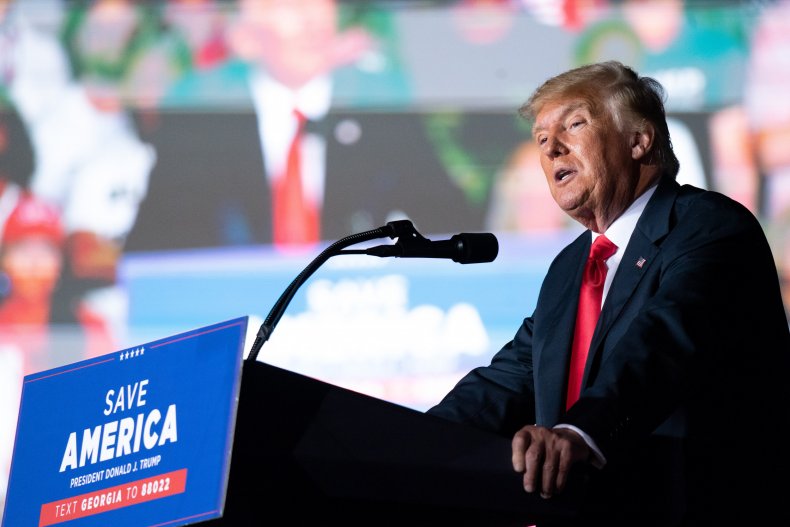 On November 18, Harris responded to critics who blamed her for the high number of illegal crossings.
"We can't just flip a switch and make it better. The reality is that we inherited an immigration system that was deeply broken," she said during an interview with ABC News' George Stephanopoulos.
"On the root causes piece, what we're looking at is, frankly, people don't want to leave home. And when they do, it's because of two reasons. Either they're fleeing some kind of harm, or to stay at home, they simply cannot satisfy the needs of their families," Harris added.
Correction 11/27/21, 3:01 PM ET: to clarify that Trump's interview aired on Fox Business Network, not Fox News.