Trump Calls for Delayed Election Day After Initially Saying Rumors of Change Were 'Made Up Propaganda'
President Donald Trump on Thursday called for delaying the November 3 general election, claiming that mail-in-voting would lead to voter fraud.
"With Universal Mail-In Voting (not Absentee Voting, which is good), 2020 will be the most INACCURATE & FRAUDULENT Election in history. It will be a great embarrassment to the USA. Delay the Election until people can properly, securely and safely vote???" the president tweeted.
Hogan Gidley, Trump 2020 national press secretary, told Newsweek in a statement that mail-in-voting invites "chaos" and causes "severe delays in results."
"The President is just raising a question about the chaos Democrats have created with their insistence on all mail-in voting," he said in an emailed statement.
Newsweek reached out to the White House for comment, but did not receive a response by the time of publication.
In April, Trump dismissed concerns that he'd try to delay the election as "propaganda."
"I never even thought of changing the date of the election," the president said during a White House briefing. "Why would I do that? November 3. It's a good number. I look forward to that election."
"That was just made up propaganda," Trump continued. "Not by [Biden], but by some of the people that are working, writing little statements I see all the time. 'Statement made,' you see, 'statement made per Joe Biden.' Sleepy Joe. He didn't make those statements, but somebody did. But they said he made it. No, let him know I'm not thinking about it at all, not at all."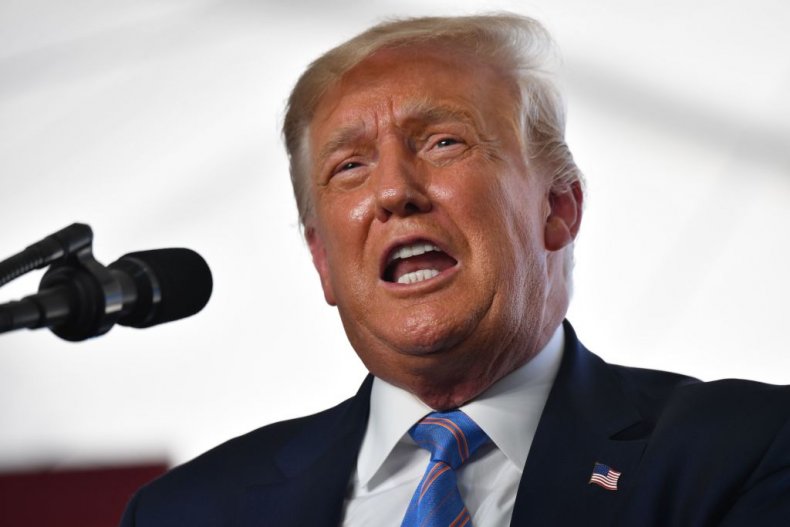 Trump has repeatedly claimed that mail-in-voting leads to significant voter fraud, but there is no evidence to back those claims. The president has also voted by mail through absentee voting multiple times since he took office in 2017. Although Trump has tried to claim there is a significant difference between absentee and mail-in-voting, election experts have pointed out that there isn't really any meaningful difference.
The president's suggestions that the election should be delayed comes after he decline to commit to accepting the outcome of the election in an interview broadcast by Fox News Sunday on July 19. "No, I'm not going to just say yes. I'm not going to say no, and I didn't last time either," Trump replied when asked by host Chris Wallace if he'd accept an election loss.
However, Trump previously told Fox News in June: "Certainly, if I don't win, I don't win." He said that he'd "go on, do other things."
This week, U.S. Attorney General William Barr was asked during a House Judiciary Committee hearing if the president can change the date of the election.
"Actually, I haven't looked into that question under the Constitution," Barr responded. "I've never been asked the question before, I've never looked into it."
However, Barr also disagreed with the president's repeated assertion that Democrats are attempting to "rig" the election through mail-in voting. The attorney general said he has "no reason to think" that the election would be "rigged."
Following Trump's Thursday morning tweet, Senator Kamala Harris of California, who is in the running to be presumptive Democratic presidential candidate Joe Biden's vice presidential pick, said that the president is "terrified."
"Donald Trump is terrified. He knows he's going to lose to @JoeBiden. It will require every single one of us to make that happen. We will see you at the ballot box on November 3rd," she wrote in a Twitter post.
Representative Jackie Speier, a Democrat from California, also took aim at the president and his suggestion.
"Trump's new ploy: if you can't win the election, delay it. This would be nothing less than a coup against the people of the United States and the constitution," Speier tweeted.
Senator Ed Markey, a Democrat from Massachusetts, said the president was "lying."
"Donald Trump is lying. Voting by mail is safe and legitimate. We cannot and will not let this authoritarian criminal delay our election, undermine our democracy, and silence the American people," Markey tweeted.
Trump currently trails Biden by significant margins in most national polls, as well as polling in key battleground states. The Real Clear Politics average of national polls current shows Biden ahead by more than 8 points. In the battleground states of Michigan, Wisconsin, Pennsylvania, North Carolina, Arizona and Florida, Biden leads Trump by margins of 3 percent to 8 percent.
Updated July 30 at 9:50 a.m. ET: This article has been updated with additional information and background.
Updated July 30 at 10:32 a.m. ET: This article was updated with a comment from the Trump campaign.