Trump Called Fox Hosts Sean Hannity and Lou Dobbs to Defend His Wall Deal: Report
President Donald Trump reportedly called Fox hosts Sean Hannity and Lou Dobbs, two of his biggest supporters on cable news, to make the case for the border wall deal hammered out by congressional leaders, after the two savaged it on air and on social media.
On his Fox News show, Hannity called the wall deal a "garbage compromise," while Dobbs, who hosts a show on Fox Business Network and is a Trump ally, tweeted that it was an "insult" to the president "and the American people."
"Any Republican that supports this garbage compromise, you will have to explain," Hannity, who is a friend of the president and regularly pushes Trump's agenda on his show, said on Monday night after details of the deal emerged.
According to The New York Times, Trump called both men to make the case that they should stop attacking the bill because he won concessions in the recent standoff against the Democrats, who control the House. The standoff saw the president shut down the federal government for 35 days.
Neither the White House nor Fox News responded to Newsweek's request for comment.
A bipartisan congressional committee agreed "in principle" to a budget that includes nearly $1.4 billion for for 55 miles of border fencing along the U.S.-Mexico border.
Before and during the shutdown, which forced 800,000 federal employees to go without pay, Trump demanded $5.7 billion to fund 200 miles of a concrete border wall.
Democrats refused to allocate any money for the wall, which Trump argued was essential for border security. The graphic below, provided by Statista, illustrates the existing and proposed structures on the U.S. Southern border.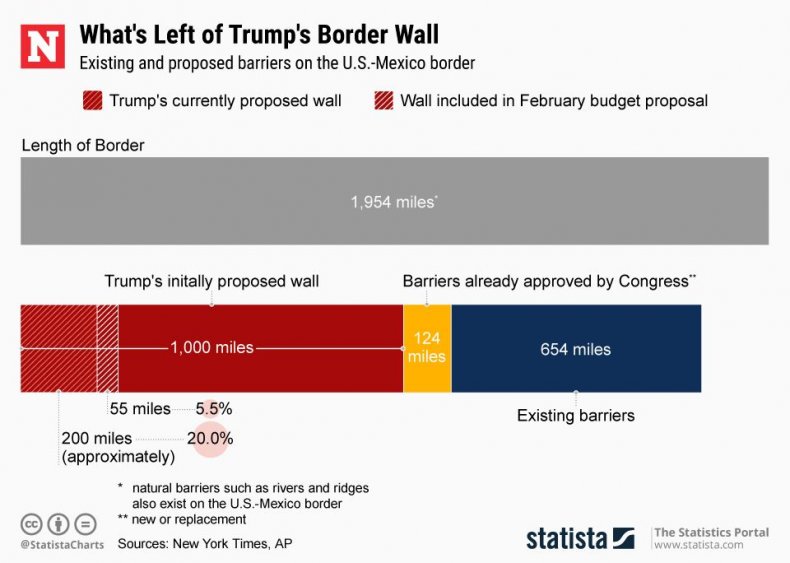 The wall was a flagship policy of the Trump campaign. In the 2016 race, Trump supporters held signs saying "Build the Wall" and chanted the same at campaign rallies. Now they hold signs saying "Finish the Wall."
U.S. Customs and Border Protection (CBP) said in news releases that since Trump took office in 2017, work to build or replace 152 miles of wall or fence had either started or was scheduled to start.
The president wants a wall built along 1,000 miles of the 1,954 mile land border.
Trump has repeatedly promised that his wall would be built, although he has equivocated on what form it would take, swaying between a steel barrier, a concrete structure or some type of fencing.
During his campaign, he vowed that Mexico would pay for the wall. He has said Mexico would still pay for it, albeit indirectly, through the United States–Mexico–Canada Agreement, or USMCA, an as yet unratified trade deal that will replace NAFTA.
Failing to receive all the wall money from Congress, Trump has said he would consider declaring a national emergency over the border issue, which would allow him to bypass Capitol Hill altogether and direct the military to build it.
But this option would face significant legal challenges, and is unpopular among congressional Republicans.
Included within the budget deal, which both chambers of Congress will vote on Thursday and Trump must approve by midnight on Friday if he is to avert another partial government shutdown, is more funding for border security, with $23 billion allocated to Immigration and Customs Enforcement and CBP, a $2 billion annual increase.
"Will be getting almost $23 BILLION for Border Security," Trump tweeted on Tuesday, hinting that he would sign off on the deal. "Regardless of Wall money, it is being built as we speak!"
On Wednesday, he tweeted: "I want to thank all Republicans for the work you have done in dealing with the Radical Left on Border Security. Not an easy task, but the Wall is being built and will be a great achievement and contributor toward life and safety within our Country!"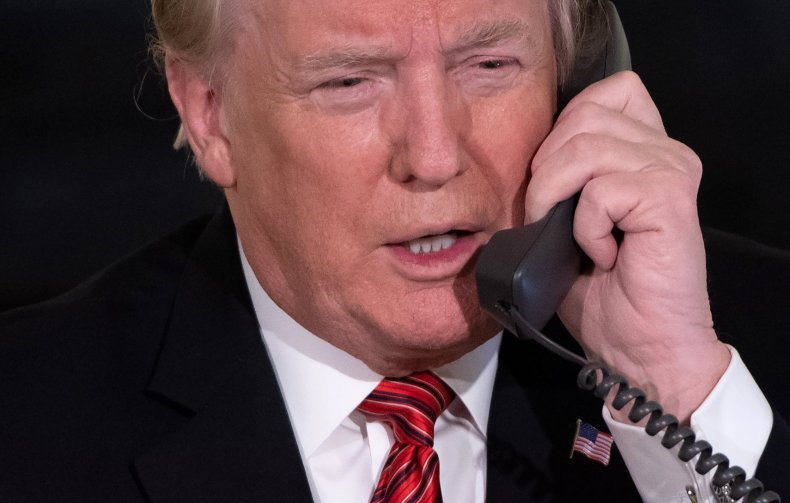 This article was updated to include an infographic.