Trump Campaign Ads Targeted Texas Latinos Less Than 48 Hours after El Paso Shooting
Less than 48 hours after Saturday's mass shooting in El Paso, Texas, which is being investigated as an anti-Latino domestic terror attack, President Donald Trump's reelection campaign appeared to launch a series of Facebook ads specifically targeting the Latino community in Texas.
Since Monday, the Trump campaign has launched as many as 66 Facebook ads seeking to garner support from Latinos, with half of those advertisements being aimed specifically at voters in Texas, an analysis from The Guardian revealed on Friday.
Among the ads was one video calling on supporters to "¡Únete ya!" or "Join now!" over footage of fans holding signs with the slogan: "LATINOS FOR TRUMP/FUND THE WALL TOUR/2019/El Paso, TX."
According to Newsweek's own analysis of Facebook's ad library many of the ads were published on Tuesday with the sole caption: "LATINOS FOR TRUMP."
"¡VAMOS!" the ads read. "¡AÑADE TU NOMBRE!" meaning "come on! Add your name."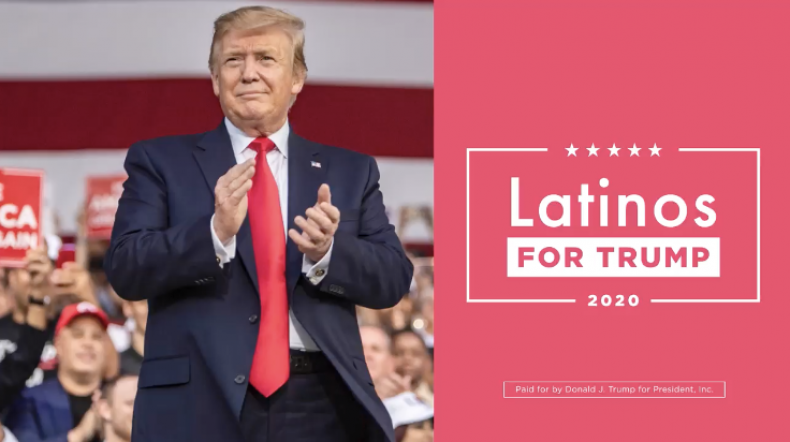 The ads would have been placed as Trump faced widespread backlash over his racist and anti-immigrant rhetoric after it came to light that the suspect in Saturday's attack was believed to have penned a manifesto on the website 8chan railing against Texas's Latino and immigrant communities.
As has been widely pointed out, the manifesto also appeared to use language similar to that adopted by Trump, with the author branding the presence of Hispanics in Texas an "invasion," a word that the U.S. leader has used repeatedly to describe the arrival of asylum seekers at the southern border.
Despite the suspect's alleged use of the word, Trump's own campaign team has firmly refused to stop using the term "invasion" to describe the situation at the border.
The graphic below, provided by Statista, illustrates how the pro-gun lobby outspends those calling for gun control.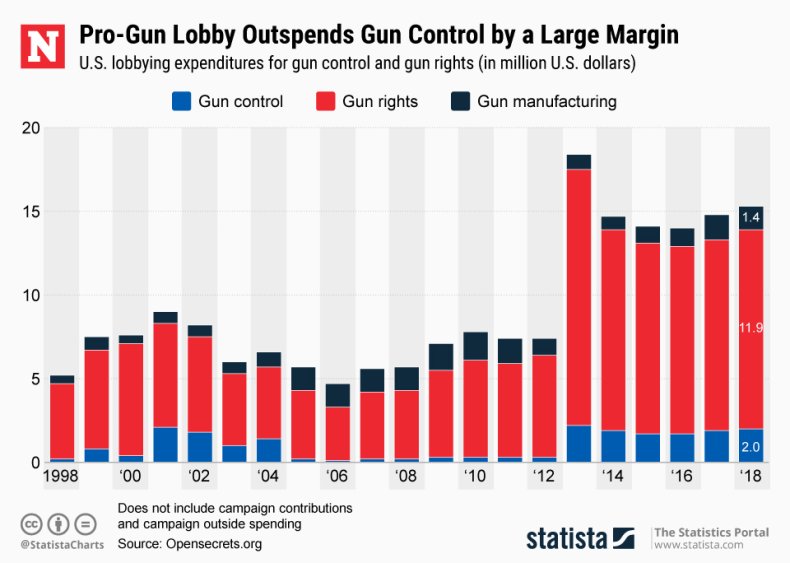 In a statement to The New York Times, a campaign official defended the use of the term arguing that it was "accurate."
"At any given moment, there are 100,000 migrants making their way through Mexico to attempt to break our immigration laws," said Trump's campaign communications director, Tim Murtaugh. "By objecting to an accurate description of the situation, Democrats and the media are trying to make it impossible to oppose illegal immigration without being called racist."
Since January 2019, Trump's team has deployed the word "invasion" in more than 2,000 ads, the Times recently revealed.
"We have an INVASION!" many of the 2020 election ads read. "It's CRITICAL that we STOP THE INVASION."
Over the past two months, the Department of Homeland Security has said that it has seen a more than a 20 percent decline in the number of migrants apprehended at the border since May's record-breaking numbers.
According to U.S. Customs and Border Protection data, the total number of July "enforcement actions" for people caught crossing the border from Northern Triangle countries decreased by 26 percent from June, with the largest drop seen in apprehensions of migrants coming from Guatemala at a 41 percent decrease.
McAleenan credited the U.S.'s "partnerships" with countries in Central America's Northern Triangle, which is comprised of Guatemala, Honduras and El Salvador.
He specifically praised the U.S.'s controversial so-called "safe-third country" agreement with Guatemala, which demands that migrants passing through the Central American country seek asylum there rather than in the United States, for helping lower the number of arrivals at the southern border.
"Just two months ago, CBP apprehended or encountered 144,000 individuals crossing our border illegally or presenting without documents at Southwest border ports of entry—the highest monthly total in 13 years," DHS Acting Secretary Kevin McAleenan said in a press release on Thursday. "In July, that number was 82,000, a 43 percent decrease from May and a 21 percent decrease from the June numbers."
Despite the decline, however, McAleenan said that he wanted to "be very clear" that apprehensions "remain at and beyond crisis levels."