Trump Campaign Discontinuing 'Voter Fraud' Hotline Following a Flood of Prank Calls
The Trump campaign has decided to discontinue its "voter fraud" hotline following a flurry of prank calls.
After campaign staffers were bombarded with prank phone calls while manning the hotline for hours a day, the number will no longer be answering calls. Instead it will direct people to an online form to report alleged voter fraud, reports ABC News. The online form includes sections for a detailed description of the reported incident, the name of the polling place or early voting site and an option to include a photo of the incident.
The form has already been flooded with lewd images, according to ABC News campaign reporter Will Steakin. One Twitter user apparently sent the entire Bee Movie script via the online form, causing a string of similar acts reported in the comments.
The end of the hotline comes after reports of Trump's re-election campaign laying off staffers starting Sunday as the president remains firm on refusing to concede. Campaign aides in Arlington, Virginia, were reportedly told that November 15 would be their last day of employment, while others were told they would be laid off on November 30.
"Unlike most campaigns which close down immediately after Election Day, because of the unprecedented nature of the 2020 race, we have long had a plan to continue on to see President Trump re-elected," Tim Murtaugh, the communications director for the Trump campaign, told McClatchy DC this week.
"However, staffers related to events, trips, door knocking and grassroots organizing played roles that ended on Election Day and obviously play less of a role after Election Day," Murtaugh continued. "We are raising significant amounts of money to fuel the president's challenges and will retain appropriate staff to see the post-election process through to the president's victory."
"We are spending our final days answering prank calls and don't know if we will have jobs by next week," one campaign aide told ABC News, while sources noted that staffers would be told to either answer phones or "go home."
The Trump campaign did not answer Newsweek's request for comment.
The hotline was established following Election Day while the Trump campaign ramped up claims that systemic voter fraud caused Joe Biden to win the election, despite no evidence stating that this was the case. The campaign also launched lawsuits challenging the election results, but it has had few legal successes as several judges and experts say the evidence is limited and unlikely to affect the results of the election.
The Cybersecurity and Infrastructure Security Agency announced in a joint statement on Thursday that the November 3 election was "the most secure in American history."
"There is no evidence that any voting system deleted or lost votes, changed votes or was in any way compromised," said the coalition of top government and industry officials.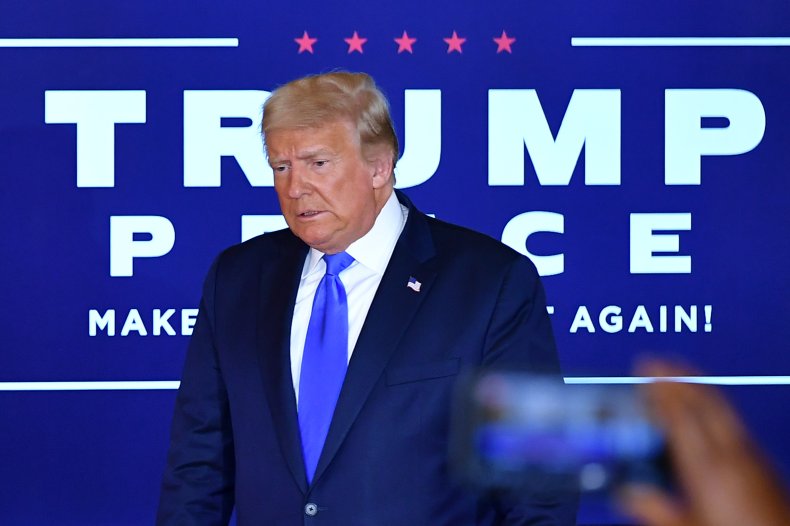 Meanwhile, in the little over a week that the hotline existed, spam calls have gone viral on social media apps like Twitter and TikTok. Alex Hirsch, the creator of the Disney Channel show Gravity Falls, shared a recording of the prank call in which he describes McDonaldland's Hamburglar.
"I saw a man, he walked into this building and he had a black hat, a black mask, a striped shirt and a red tie and I believe there were hamburgers in his bag," he told the hotline worker.
TikTok user @jenny_jenny_jen_jen shared a video of their call to the hotline, reporting "an obese turtle that has rolled over onto its back" before the staffer hangs up, a reference to a viral comment about Trump by CNN anchor Anderson Cooper (who has since said that he regrets making the remark).
The Trump campaign says most of the prank calls received were from "lefty teenagers," according to a tweet by Axios reporter Jonathan Swan.
After Rudy Giuliani, Trump's personal lawyer, tweeted out the original hotline number on November 6, the campaign has had to change the number multiple times, with Lara Trump, wife of the president's son Eric, confirming on November 7 that multiple numbers had been spammed.