Trump Accuses Adam Schiff of 'Making Up Stories,' Talks About 'Handling' Whistleblower Informants
President Donald Trump ranted against the ongoing Ukraine scandal that has rocked his administration this week. He took aim at Democratic Representative Adam Schiff on Thursday accusing him of "making up stories," while also reportedly threatening staff who spoke to the unidentified whistleblower who filed a formal complaint about the president's behavior.
"I just watched a little bit of this on television. It's a disgrace to our country," Trump said to reporters after he landed at Andrews Air Force Base on Thursday, referring to the hearing before the House Intelligence Committee featuring sworn testimony by acting Director of National Intelligence Joseph Maguire about the Ukraine complaint.
"It's [House Intelligence Committee Chair] Adam Schiff and his crew making up stories and sitting there like pious—whatever you want to call them," the president insisted.
Earlier in the day, during a meeting with staff at the U.S. Mission to the United Nations (U.N.) in New York, Trump suggested that those who spoke to the anonymous whistleblower should be executed.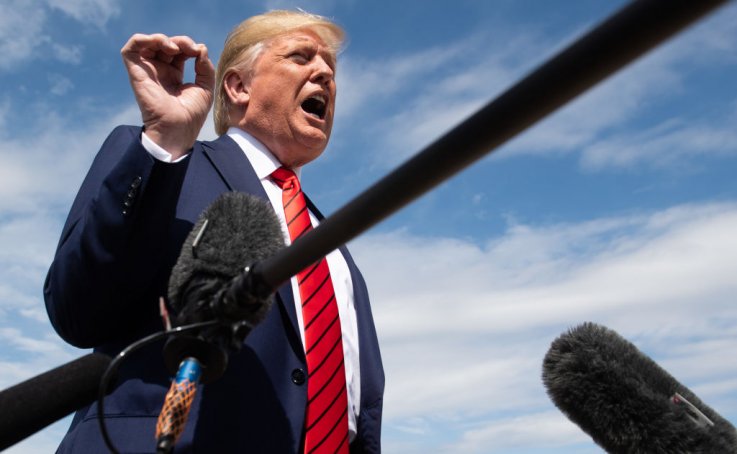 "I want to know who's the person who gave the whistleblower the information because that's close to a spy," the president said, The New York Times reported, citing a source briefed on the meeting. "You know what we used to do in the old days when we were smart with spies and treason, right? We used to handle it a little differently than we do now." Although it was not explicitly stated, the comment suggested that Trump believes those who spoke to the whistleblower should be killed.
Although Trump has attempted to push back against the controversy as a "partisan" attack and a "witch hunt," several prominent Republicans have called the president's actions "troubling" and "concerning." Maguire also insisted in his Thursday testimony that the whistleblower "did the right thing" by coming forward. The acting director of national intelligence also confirmed that the allegations were credible when questioned by Schiff.
The whistleblower raised concerns in relation to Trump's actions towards Ukraine. The president and his personal lawyer Rudy Giuliani repeatedly pressured Ukraine's government to open an investigation into the business dealings of Hunter Biden, the son of Democratic presidential candidate and former Vice President Joe Biden. Ahead of a July 25 call with Ukraine's President Volodymyr Zelensky, Trump temporarily suspended $391 million in military aid to the country. During the call, he urged Zelensky to open the probe.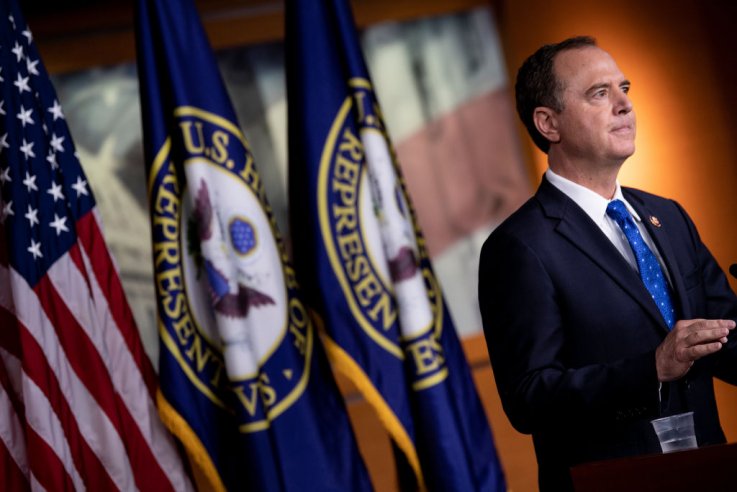 Republicans and Democrats were concerned by Trump's decision to temporarily suspend the aid. Support for Ukraine in its ongoing conflict against Russian-backed separatist rebels enjoys significant bipartisan support in Congress, and lawmakers from both parties urged the president to release the aid, which was eventually sent.
While it has not been established that Trump explicitly withheld the aid as leverage over Ukraine, Ukrainian officials have said they were given the impression that the White House's support for their new government would be impacted by whether or not they pursued the unsubstantiated allegations against Biden.
Trump also took aim at Schiff and Democrats on Twitter on Thursday. "Adam Schiff has zero credibility. Another fantasy to hurt the Republican Party!" he wrote. The congressman, who represents California, responded by saying he is "always flattered when I'm attacked by someone of the President's character."
Trump Accuses Adam Schiff of 'Making Up Stories,' Talks About 'Handling' Whistleblower Informants | U.S.