Former President Donald Trump told a rally of his supporters on Saturday night that Americans are refusing to take the COVID-19 vaccine because they "don't trust" President Joe Biden.
Speaking during a rally in Phoenix, Trump touted the success of his administration's Operation Warp Speed vaccine rollout, and claimed that many Americans now do not trust Biden enough to be inoculated.
"How about the vaccine? I came up with the vaccine. They said it would take 3 to 5 years. Gonna save the world," Trump said, while adding that his administration did "such an incredible job" with handling the coronavirus pandemic.
Trump then sharpened his criticism against Biden and said that the current administration's recommended pause on the Johnson & Johnson vaccine for safety purposes in April set back the rollout "so badly" and added that, "Because they don't trust the president, people aren't doing it."
"It's as simple as can be," he said.
The former president's comments come just one week after he made a less direct attack, writing in a statement that Biden is "way behind schedule, and people are refusing to take the Vaccine because they don't trust his Administration, they don't trust the Election results, and they certainly don't trust the Fake News, which is refusing to tell the Truth."
Since leaving office, Trump has repeatedly claimed that the U.S. vaccine rollout is a result of his administration's efforts, despite the fact that he was frequently criticized for lagging behind expectations and failing to meet vaccination goals.
During the Saturday rally, Trump told his supports that he "recommends" they take the vaccine, but that he "also believes in your freedoms 100 percent."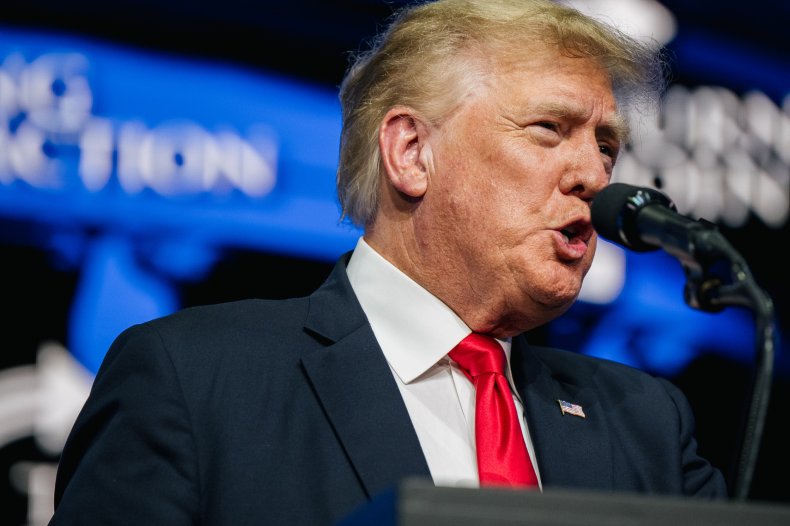 Biden has been encouraging all Americans to get vaccinated as quickly as possible, as coronavirus cases continue to rise across the country. A recent survey found that Biden's pandemic approval rating has dropped to its lowest level since January amid reports that the COVID-19 Delta variant is spreading rapidly.
Just over six in 10 (63 percent) of Americans now approve of the president's handling of the pandemic, the new ABC News/Ipsos poll found. The number is a nine-point drop from Biden's highest result (72 percent) in the same survey in late March.
As of Sunday, 162.7 million Americans have been fully vaccinated against COVID-19, and 56 percent of the population has received at least one dose, according to data from the Centers for Disease Control and Prevention (CDC).
But as the highly contagious Delta variant continues to spread, 49 states, as well as Washington, D.C., and Puerto Rico, have seen an increase in daily COVID cases of 5 percent or more in the last week alone, Johns Hopkins University reported.
On Tuesday, CDC Director Dr. Rochelle Walensky said that the Delta variant is now responsible for 83 percent of coronavirus cases across the U.S.
"The best way to prevent the spread of COVID-19 variants is to prevent the spread of disease, and vaccination is the most powerful tool we have. We must continue to expand vaccine coverage by building trust and confidence in COVID-19 vaccines," Walensky told a Senate hearing.