Trump Says He 'Built Up' Oil Reserve But Barrel Count Fell During His Admin
Former President Donald Trump slammed President Joe Biden for announcing that he would release oil from the national reserve—claiming that he "built up" the stock during the four years he was in the White House.
The White House on Thursday confirmed that the Biden administration will begin a "historic" release of oil from the strategic petroleum reserve in a bid to lower gas prices for consumers. A statement emailed to Newsweek explained that the president had approved "putting one million additional barrels on the market per day on average—every day—for the next six months."
Trump quickly weighed in with a statement, attacking Biden and falsely claiming that he'd made the stockpile larger during his time as president from January 2017 to 2021.
"So after 50 years of being virtually empty, I built up our oil reserves during my administration, and low energy prices, to 100 percent full," the former president said. Trump went on to criticize Biden, saying the president was taking "what we so carefully and magically built." Adding that he beleived it "will be a futile attempt to reduce oil and gasoline prices."
In reality, there were tens of thousands of fewer barrels of crude oil in the national reserve when Trump left office, according to data compiled by the U.S. Energy Information Administration. On January 20, 2017—the day of Trump's presidential inauguration—there 695,081,000 barrels of crude in the stockpile. When he departed from the White House four years later, there were 638,086,000—nearly 57,000,000 fewer than when he first took office.
The reserve reached a high of 726,617,000 barrels in January 2010 during former President Barack Obama's tenure in the White House. Biden served as vice president under Obama at that time.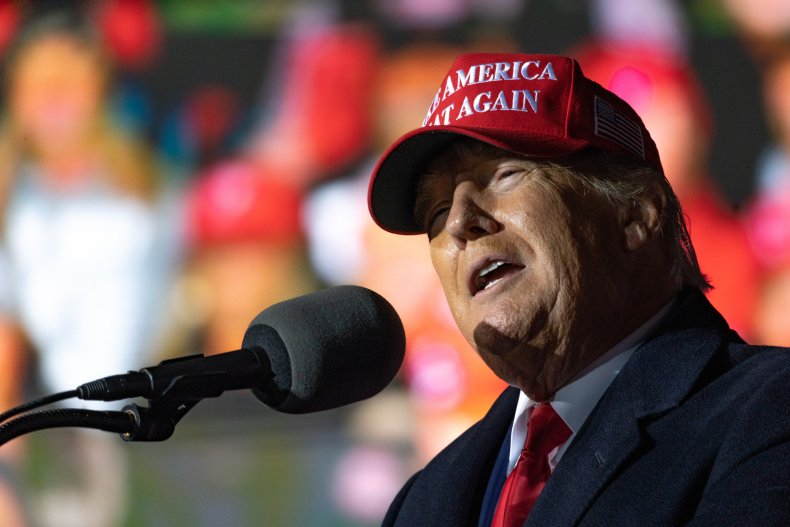 Newsweek reached out to Trump's spokesperson for comment but did not immediately receive a response.
Trump also authorized the release of oil from the strategic reserve back in September 2019, after attacks against Saudi Arabia impacted the kingdom's ability to meet production goals. "Based on the attack on Saudi Arabia, which may have an impact on oil prices, I have authorized the release of oil from the Strategic Petroleum Reserve, if needed, in a to-be-determined amount sufficient to keep the markets well-supplied," Trump tweeted at the time.
It's unclear how much the price of gas will be impacted by Biden's announcement on Thursday. In remarks to reporters, the president said, "it could come down very significantly." He floated the possibility of $0.35 per gallon.
The number of crude barrels in reserve has declined under Biden. When the president took office, there were some 638,086,000 barrels in the stockpile, according to the EIA data. As of March 25, there were 568,322,000 barrels in reserve.
Biden has faced criticism from Republicans for blaming high gas prices on Russian President Vladimir Putin's internationally condemned invasion of Ukraine. Prices at the pump had been rapidly increasing for many months prior to the start of the war on February 24. While the conflict has caused them to increase further, gas prices were already significantly higher than when Biden took office.
"In the last few days, the Biden administration has tried to invent some laugh-out-loud—laugh-out-loud revisionist history," Senate Minority Leader Mitch McConnell, a Kentucky Republican, said on March 10.
"They're trying to rebrand the entire increase in gas prices on their watch—listen to this—as an effect of Putin's recent invasion of Ukraine. So, they want to blame 14 months of gas price increases on the last two weeks of turmoil," the top GOP senator said.