Trump Claims His Personality 'Kept Us Out of War,' Says Putin Won't Stop
Former President Donald Trump claimed on Saturday during his rally in South Carolina that his personality kept the U.S. "out of war" and warned that Russian President Vladimir Putin will not stop his attacks on Ukraine.
"The fake news said my personality is going to get us into a war...but actually my personality is what kept us out of war," he said, adding, that the invasion of Ukraine could lead to World War III. "I see what's happening, because if you think Putin's going to stop, it's going to get worse and worse. He's not going to accept it, and we don't have anybody to talk to him. You had somebody to talk to him with me."
The former president noted that he was able to deal with Russia when he was in office as "nobody was ever tougher on Russia" than him.
"I'm the one that put all the sanctions on [Russia] and I'm the one that he [Putin] didn't attack during our administration," he said, lauding himself. "I'm the one who stopped the pipelines," referring to the Nord Stream 2 gas pipeline that goes from Russia to Western Europe and passes through Ukraine.
During his speech, Trump took a hit at President Joe Biden as he criticized his foreign policy towards the crisis in Ukraine.
"Under Joe Biden, America is neither feared nor respected. There has never been a time where our country has been treated the way it is right now," he continued. "Other countries are lecturing us and telling us what to do and that's why we are seeing chaos and mayhem [and] bloodshed all over the world."
However, the former president said that there is still a chance for Biden to "end this tragedy in Ukraine."
"Despite all of Biden's weakness, cowardice and incompetence, there is still a path for him to end this tragedy without getting Americans snared into a gruesome and very bloody war," he said, adding that Biden would have to end his "ridiculous war on American energy."
"The U.S. must...eliminate [its] dependence on Russian energy and we're talking about forever or for a long, long time because without the money coming in from energy, Russia doesn't work," Trump said.
However, Biden on Tuesday enacted a ban on Russian oil when he announced that all ports throughout the U.S. will be ordered to reject Russian oil imports in an effort to add more pressure on Russia to end its war on Ukraine. Russian oil makes around 8 percent, or 672,000 barrels per day, of imports into the U.S.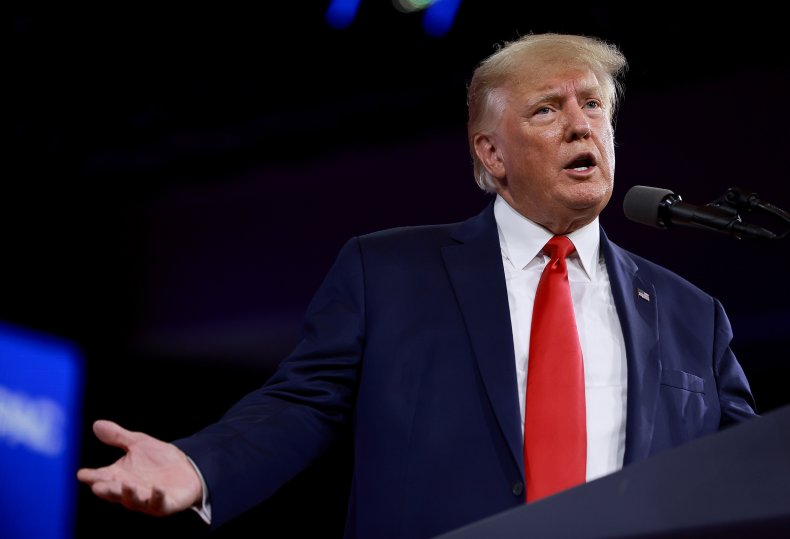 Trump on Saturday also gave himself credit for sending military aid to Ukraine, saying that he sent javelins and anti-tank missiles, while former president Barack Obama and Biden sent blankets.
"Ukraine wouldn't be having a chance without them, that was all sent by me, all of it," he said.
Biden on Saturday also approved $200 million in defense aid to Ukraine, which will be directed towards military aid and training, according to a White House memorandum. The funds would also go into additional small arms, anti-tank and anti-aircraft weapons.
Further support to the country was also provided in the form of $13.6 billion in military and humanitarian aid that the U.S. Senate approved on Thursday as part of a $1.5 trillion funding package.
Newsweek contacted the White House for comments and will update the story once a response is received.