Comey Memo: Trump Asked Ex-FBI Director to End Probe Into 'Good Guy' Michael Flynn and Russia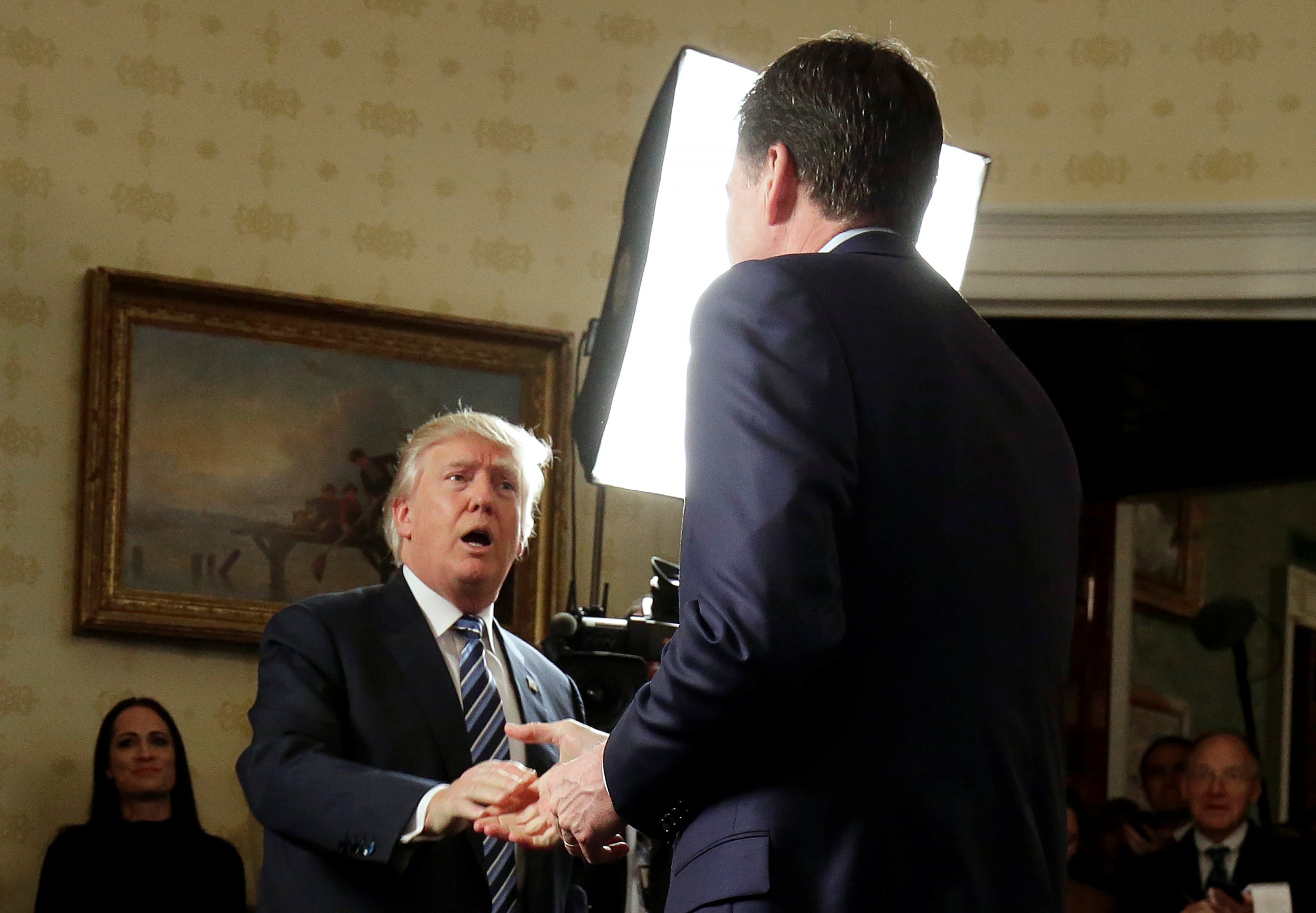 Donald Trump attempted to persuade former FBI Director James Comey to drop a federal investigation into former national security adviser Michael Flynn and Russia, The New York Times reported, citing a memo Comey wrote.
Related: What was the real reason Trump fired James Comey?
Meeting with Comey a day after Flynn's resignation in February, Trump and the FBI director discussed the Flynn investigation, The New York Times reported, and the president said he believed his former adviser had done nothing wrong. "I hope you can see your way clear to letting this go, to letting Flynn go," Trump said to Comey in an extract of the memo read to a Times reporter. "He is a good guy. I hope you can let this go."
The White House denied Comey's version of events, saying in a statement: "While the president has repeatedly expressed his view that General Flynn is a decent man who served and protected our country, the president has never asked Mr. Comey or anyone else to end any investigation, including any investigation involving General Flynn."
Newsweek subscription offers >
Flynn resigned in February after The Washington Post reported he had discussed ending sanctions against Moscow in a meeting with Russian Ambassador Sergey Kislyak prior to Trump's inauguration. Flynn—and other members of the Trump administration, including Vice President Mike Pence—had previously denied that he and the Russian ambassador had talked about sanctions. Later, acting Attorney General Sally Yates testified she had warned the White House that Flynn's false statements about the Kislyak meeting left him open to Russian blackmail. (The Trump administration disputes Yates's characterization of the conversation.)
The news about the Comey memo comes a week after Trump dismissed the FBI director in a controversial move that some say was tied to a separate investigation into possible collusion between Russia and members of the Trump campaign in the 2016 election.
After Comey's dismissal, acting FBI chief Andrew McCabe said he was unaware of any attempt to derail that probe, stating: "There has been no effort to impede our investigation to date."
The New York Times reports that Comey informed other FBI officials of the contents of the memo and documented other instances in which the president had improperly tried to meddle in the investigation.
Newsweek subscription offers >
The Trump administration has offered conflicting reasons for Comey's firing—from his handling of the Hillary Clinton email case to his prominent public profile.
Last week, The New York Times reported that the president had asked the FBI director to pledge his loyalty to him shortly after the inauguration, something Comey reportedly declined to do.
Trump denied the reports about the loyalty oath, tweeting: "James Comey better hope that there are no 'tapes' of our conversations before he starts leaking to the press!"
In its story on Tuesday, The New York Times reported that Comey stated in the memo he did not give Trump any assurances he would drop the investigation into Flynn, simply telling the president: "I know he's a good guy."
Comey Memo: Trump Asked Ex-FBI Director to End Probe Into 'Good Guy' Michael Flynn and Russia | U.S.