Donald Trump once again blasted the Village People's seminal hit "YMCA" at a campaign rally, breaking into dance, only not the signature moves of the famous disco hit.
Feeding off the crowd's energy, the President performed for enthusiastic supporters at a campaign rally in Ohio on Monday.
This is not the first time Trump has used the song, and it probably won't be his last as Village People member Victor Willis has previously approved the use of the song—but has urged the President to do the actual dance moves next time.
"'YMCA' is everybody's anthem and go-to song for fun. As for the president's use, I have not granted permission for use at his rallies because permission is not required," Willis told Bloomberg News earlier this month.
"If I were a Trump hater maybe I'd sue him simply out of spite," Willis said. "I am not, and I'm not going to have my lawyers sue the president. But he should at least do the 'YMCA' dance while he's at it."
"YMCA" has become something of a staple at MAGA election rallies—he also used the group's song "Macho Man" on his stadium entrance for a tour of India at the start of the year.
Willis addresses the song's use at rallies this week, tweeting: "Lots of controversy over @realDonaldTrump use of Y.M.C.A. As I've said before, @realDonaldTrump use is perfectly legal so I won't be suing the President. However, I will sue the next newspaper that falsely claim my lyrics are somehow about gay sex. It is not."
However, other members of the Village People are not in agreement with founding member and frontman Willis.
Per TMZ, the rest of the group are not in favor of Trump using their songs as part of his reelection bid.
A spokesperson said: "Other than to antagonize Biden supporters, we really don't get Trump supporters fascination with 'YMCA.' To say that we are annoyed by this type of use of 'YMCA is an understatement."
Newsweek has contacted the Village People's representatives for comment.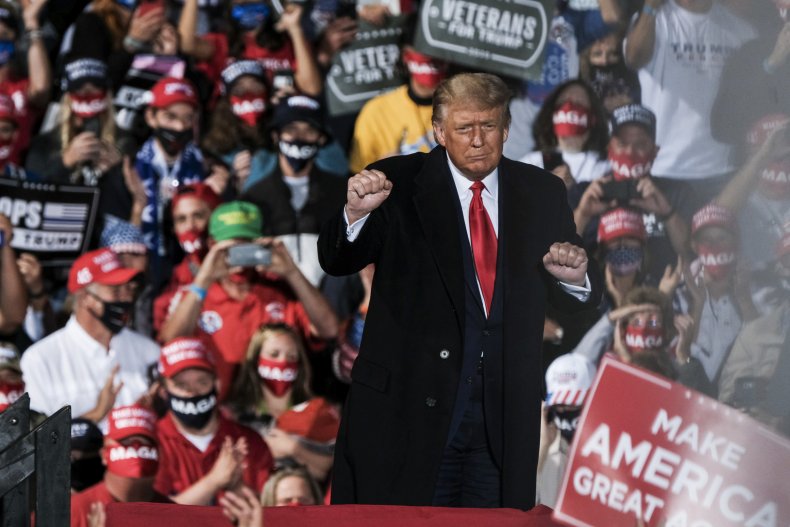 Of course, Trump is no stranger to using whatever songs he wants for his events, famously to the annoyance of countless musicians.
This month saw the Trump administration blast the Guns N Roses anthem "November Rain" at a Michigan rally, despite frontman Axl Rose's well-known "disdain" for the President.
In 2018, Rose tweeted: "Unfortunately the Trump campaign is using loopholes in the various venues' blanket performance licenses which were not intended for such craven political purposes, without the songwriters' consent. Can u say 's***bags?!'"