Has Trump Declared War on North Korea? How the President Could Ignore Congress and Attack Kim Jong Un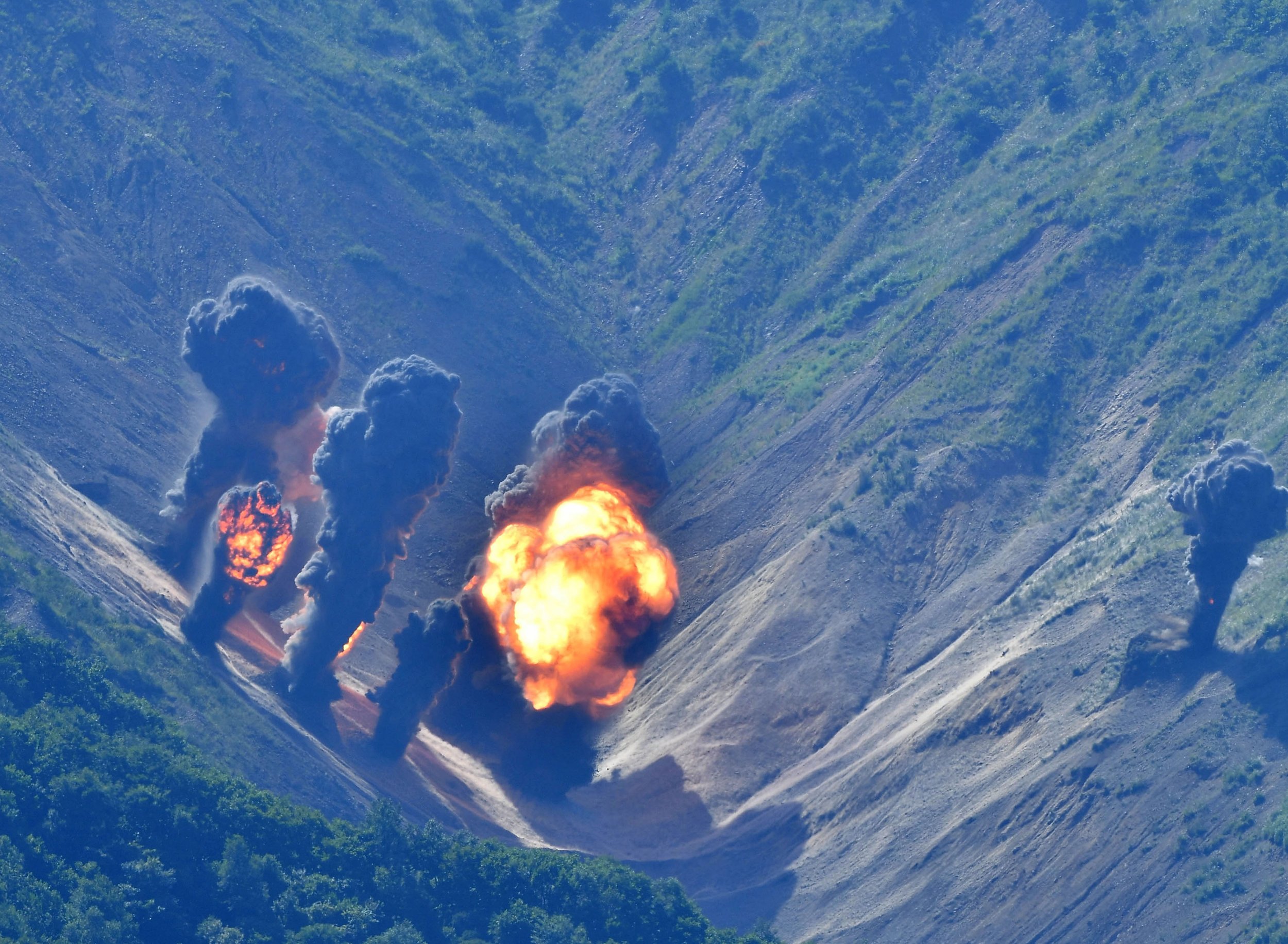 Both President Donald Trump and North Korean leader Kim Jong Un have been facing off in an ever-escalating battle of words describing devastation of biblical proportions on the other's country. While these violent, sometimes very personal threats do not amount to a declaration of war, lessons from Trump's short tenure as commander-in-chief already show he could attack North Korea without formally informing Congress or the American people.
U.S. law states that the president needs congressional authorization to conduct military action against a foreign state, but Trump has already circumvented this process with impunity. In April, reports emerged that Syrian warplanes had conducted a chemical weapons attack on a rebel-held town in northwestern Syria. Despite denials of involvement by both the Syrian and Russian governments, Trump decided less than 72 hours later to launch a salvo of Tomahawk cruise missiles from Navy warships against a Syrian air force base, without asking Congress' permission.
Related: No one can stop Trump from waging nuclear war, not even his generals
The sudden strike shocked the international community and raised serious concerns about the president's ability to attack foreign countries without legal oversight, many of which have not been answered since. Hours after the April attack on Syria, Trump began threatening nuclear-armed North Korea with similar action and has been approaching the crisis with increasingly militant rhetoric ever since.
"These actions are highly alarming, it goes beyond a violation of international law, it goes to the very core of what the U.N. is trying to prevent," Leila Sadat, the James Carr Professor of International Criminal Law and director of the Whitney R. Harris World Law Institute at Washington University, tells Newsweek.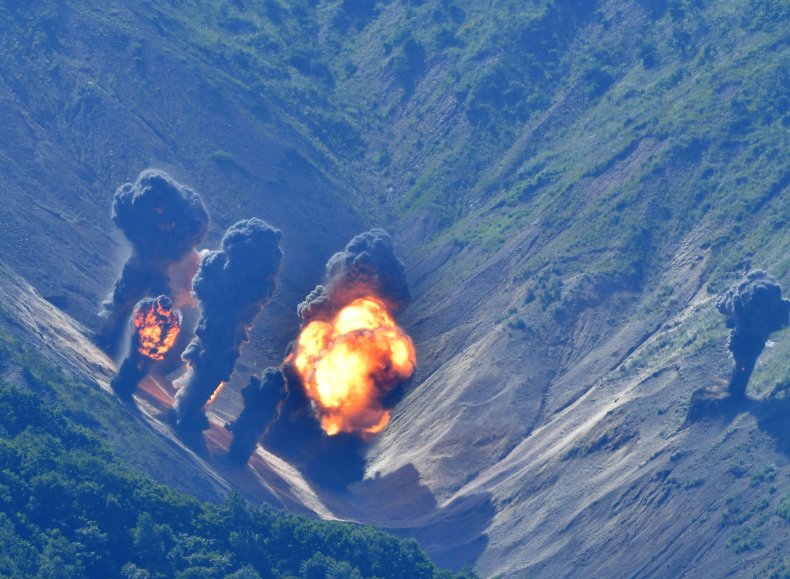 Sadat, who also acts as special advisor on crimes against humanity to the International Criminal Court prosecutor, says Trump's intervention in Syria could potentially have been justified on humanitarian grounds, but did not appear to be designed that way. At the same time, she says the limited scope of the attack, which occurred in a country U.S. forces are already involved, helped mute the backlash against Trump's decision both at home and abroad.
Such a strike on North Korea, however, could have unprecedented deadly consequences and not even Trump's generals could stop him from ordering it. Kim, who took power after his father's death in 2011, has vastly expanded his country's military capabilities in a quest to deter any foreign plans for invasion. He oversaw two intercontinental ballistic missile (ICBM) tests in July and a hydrogen bomb test early last month, along with numerous other missile tests. If North Korea can't already attack the U.S. with a nuclear-tipped warhead, it's rapidly approaching the ability to do so.
Throughout North Korea's long road to building such a weapons of mass destruction capable of hitting the U.S., Pyongyang and all three generations of Kim's ruling family have launched colorful, apocalyptic threats to their enemies in Washington. Trump, however, may be the first U.S. leader to try and bark back "in language that Kim Jong Un would understand," as Secretary of State Rex Tillerson told journalists in August.
"What's going on with North Korea is a war of words. This has been going on for decades," Sadat tells Newsweek. "It's the first time an American president has responded in kind," she added.
Trump appears to have adopted North Korea's infamous arsenal of insults. In early August, he threatened North Korea with "fire and fury like the world has never seen" and, during his first U.N. General Assembly speech last month, suggested he would "totally destroy" the reclusive, communist state. Trump called Kim a "Rocket Man on a suicide mission" during the speech, in which he also blasted Iran and other "evil regimes" around the world.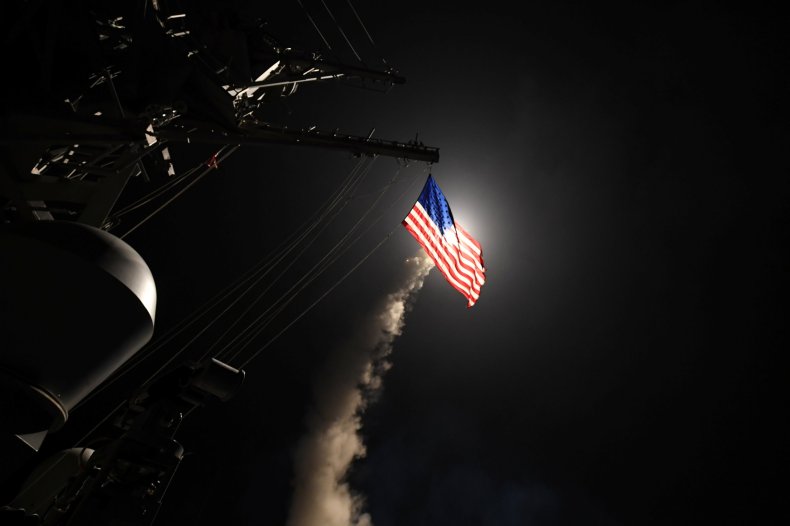 These remarks, along with various others the Republican leader has made throughout his brief time in office, has not only raised serious concerns among world leaders, but may have seriously damaged the U.S.'s credibility as a reliable actor on the international stage. Sadat says Trump's "volatile" behavior, "impulsivity" and dismissal of international law has helped create a global political climate that mimics the ominous signs of a world war in the 1930s.
"He threatened Venezuela with military action, he lobbed missiles at Syria, he threatened Iran, he threatened North Korea. It's not the sign of a healthy, stable position," Sadat tells Newsweek.
"I don't think there is any constitutional basis for the president to launch this war on his own," she added. "I don't think the president is particularly concerned about this."