Donald Trump Deepfake Shows Ex-President Joining Russia's Version of YouTube
A fake video which shows an edited Donald Trump claiming he has signed up for Russia's version of YouTube is being shared online by pro-Kremlin accounts and profiles.
The clip claiming to feature Trump is a so-called "deepfake"—a technological tool which which animates celebrities and other public figures to make it seem like they are saying words they never said, or transplants their faces onto another person's body to act out a scene.
In the near 30-second video, a robotic sounding fake Trump says he is returning to social media by joining RuTube, the Russian version of the video hosting site YouTube.
"I haven't been there [on social media] for a long time, but I didn't disappear. I didn't give up, we cannot be silenced," he states. "As businessman Donald Trump says 'the main thing is to choose the right moment.' And now it has come.
"I'm sorry losers and haters, but I'm here again. I've chosen a platform where freedom of speech is not suppressed. I've found a space to interact. Hello Russia, hello RuTube."
Trump's relationship with Russia has been controversial both during and since his presidency and he drew criticism for apparent praise of Putin as a "genius" last month. On Sunday, Trump said there was "a lot of love" behind Putin's desire to "make his country larger", but he also called the invasion of Ukraine a failure.
The fake video of Trump, which is the only one which appears on a "Forever Trump" RuTube account, has also been shared by a number of Russian online profiles, including the "Moscow News" Telegram account which has more than 918,000 subscribers on the messaging service app.
"Users found a video in RuTube, where Donald Trump confessed his love for Russia and opened an account on the Russian video hosting RuTube," the channel wrote while sharing the clip.
Another Telegram linked to RuTube also posted the clip, but does not appear to claim it is a genuine video of Trump. It has also been shared by several accounts on Twitter.
The clip—which claims to show the former president returning to social media by creating a RuTube account—is being shared despite the fact Trump has launched an entirely new platform, Truth Social.
But the app, which was created after Trump was banned from almost all mainstream social media websites in the wake of the January 6 attack, has had a shaky start, with the former president still not even posting updates on it weeks after it launched on the Apple app store.
In the days after the Capitol attack, a number of Trump supporters falsely claimed that a video of him condemning the rioters and admitting he will soon no longer be president was a deepfake.
One such video claimed the clip of Trump speaking was fake because the movement of his neck appeared to be computer generated, which was viewed more than 51,000 times on Facebook.
Facebook later placed a "false information" warning on the clip, with the White House also saying to Reuters that it was unable to confirm it was not a deepfake.
Trump has been contacted for comment.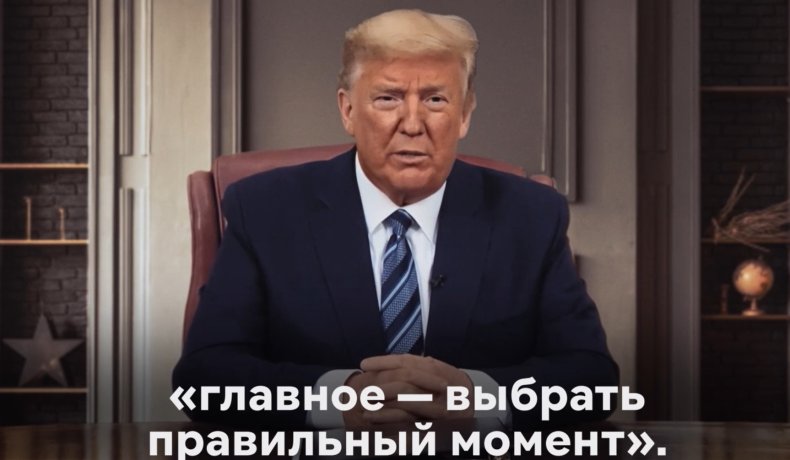 Update at 3/14/22, 9:32 a.m. ET: This article has been updated with additional information.