Trump Jr. Defends Calling Out Suspected Whistleblower: 'I'm a Private Citizen Putting This Out There'
In an appearance on The View, Donald Trump Jr. stood by his decision to release what he alleges was the name of the whistleblower who triggered the impeachment inquiry into President Donald Trump.
Trump was appearing to promote his new book Triggered: How the Left Thrives on Hate and Wants to Silence Us. Trump has already made a number of controversial statements on his book tour, as well as in the book itself. On Wednesday he shared allegations regarding the whistleblower's identity via Twitter. He defended the move during his latest media appearance, telling the The View hosts, "I'm a private citizen putting this out there."
Newsweek has not verified the identity of the whistleblower.
During his appearance, Trump was immediately confronted by host Abby Huntsman, who told Trump, "The whole point of releasing a name is to intimidate someone, to threaten someone, and to scare other people from coming out." She added, "That's something that dictators do." Before asking Trump why he released the name, she mentioned, "I've seen that firsthand, that's not what America does. We stand by our people."
Trump responded, "The whistleblower's name was on a little website called The Drudge Report a couple of days ago." Trump tweeted an article from conservative news site Breitbart on Wednesday that contained the alleged name of the whistleblower, who has chosen to remain anonymous during the impeachment inquiry, in the headline.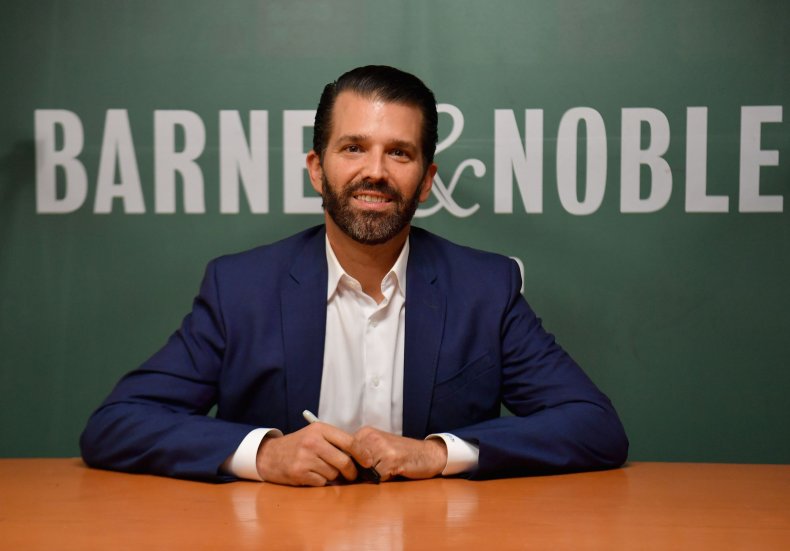 After telling the panel that the information was already out there, he tried to deflect by saying, "I wish the outrage would be equal." He also said, "There was no outrage when my family got an exploding letter with white powder substance in it." He said, "It's not a level playing field, in terms of outrage."
Joy Behar countered Trump's assertion: "He asked to be anonymous; your family did not."
Trump responded: "For days, he's been out there in the media." Host Sunny Hostin responded, "It's different when the president's son does it," which led Trump to assert his status as a private citizen.
Trump's claims on The View echoed another Wednesday tweet, where he said, "The entire media is #Triggered that I (a private citizen) tweeted out a story naming the alleged whistleblower." He also wrote, "Are they going to pretend that his name hasn't been in the public domain for weeks now?" He added that other individuals and outlets had revealed the identity already.
When Huntsman pressed Trump on his stance on revealing the alleged identity, he pivoted to discussing the recently surfaced video of ABC News anchor Amy Robach discussing ABC's decision to not pursue a story about Jeffrey Epstein.
Host Whoopi Goldberg asked him to stick to the original question, and Trump cited media bias as a reason for sharing the whistleblower's name and writing Triggered.