Trump Defied by Rally-Goers Booing, Turning Backs on Mehmet Oz
Some attendees of former President Donald Trump's Pennsylvania rally booed when he introduced Republican Senate candidate Dr. Mehmet Oz, while a group also protested the GOP contender by turning their backs to the stage as he spoke.
Trump's endorsement of Oz, a physician and popular television personality, has drawn substantial backlash from some Pennsylvania Republicans as well as prominent right-wing allies of the former president. Critics of Trump's decision to back Oz question the celebrity doctor's conservative credentials, with many preferring Republican Senate candidates David McCormick or Kathy Barnette.
As the former president addressed supporters at the Westmoreland Fairgrounds in Greensburg Friday evening, he announced Oz ahead of the GOP contender's remarks to the crowd. "My friend Dr. Mehmet Oz, he's a great man," Trump told the crowd.
While many cheered, audible boos and groans could be heard in a livestream of the event on Newsmax. Later, as Oz addressed the Trump supporters, a group near the front of the stage turned their backs in an apparent protest against him.
Trump has repeatedly touted Oz's celebrity status as he's explained his support for the Republican candidate. He leaned into those comments during his rally speech.
"His show is great," the former president told the crowd. "He's on that screen. He's in the bedrooms of all those women telling them good and bad."
Upset Over Trump's Oz Endorsement
The New York Times reported that it asked 20 rally-goers for their opinions on Oz, with only two voicing support for his candidacy.
After Trump endorsed Oz in early April, many prominent conservatives on the national stage as well as within Pennsylvania's Republican politics came out against the former president's decision.
"The conservative Trumpers are very upset over his endorsement, and they cannot understand it," Arnold McClure, the GOP chair in rural Huntingdon County, where Trump won about 75 percent of the vote in the last presidential election, told the Associated Press last month. "The Trump era is over in Pennsylvania because of his endorsement of Dr. Oz."
Fox News host Laura Ingraham called the decision "a mistake," and right-wing Trump ally Roger Stone questioned the former president's judgment. Stone shared an image to his Telegram channel of Oz posing for a photo with former first lady Michelle Obama, a prominent Democrat.
Trump's former Secretary of State Mike Pompeo, who endorsed McCormick back in February, raised what he described as "national security concerns" about Oz in a Friday press briefing organized by McCormick's campaign.
Pompeo, who initially served as the CIA director at the beginning of Trump's White House term, criticized Oz for voting in the 2018 Turkish election and suggested he may have inappropriately close ties to Turkey's government. Although Oz was born in Ohio, he maintains his Turkish citizenship and served in the country's military as a young man.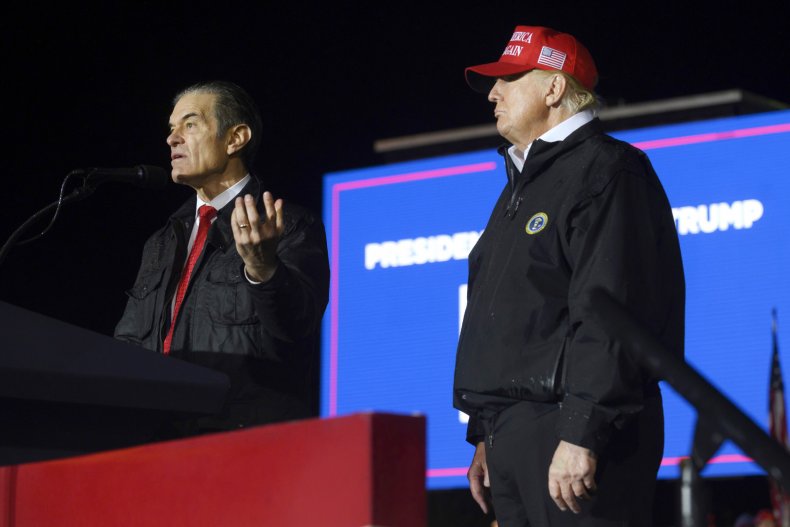 Oz campaign spokesperson Brittany Yanick slammed such assessments as "pathetic and xenophobic" in an email to Newsweek on Friday. Yanick did not mention Pompeo in her response, instead blaming McCormick directly.
She wrote, "Now that he lost President Trump's endorsement, he's resorted to sad and desperate attacks that are no different than the tropes used against Catholics and Jews. Dr. Oz has already said when elected to the Senate he would renounce his citizenship. There is no security issue whatsoever, and David McCormick knows that Dr. Oz has maintained his dual citizenship to make it easier to help care for his mother who has Alzheimer's and lives there."
Notably, despite some tensions between Ankara and Washington, Turkey is part of the NATO alliance—meaning it is militarily aligned with the U.S., Canada and Western European nations.
Pennsylvania's primary will take place on May 17. Recent polling shows a close race in the Republican primary. Survey data released by Franklin & Marshall College on Thursday showed Oz just 2 points in the lead, with less than one-fifth of GOP voters backing his candidacy.
The Trump-endorsed contender was supported by 18 percent of Republicans, while McCormick came in second with just 16 percent. In third place was Army veteran Barnette at 12 percent. The other GOP candidates polled in the single digits.
While Oz may only be narrowly ahead, Trump's endorsement proved to be key for Ohio GOP Senate candidate J.D. Vance on Tuesday. When the former president endorsed Vance on April 15, he was polling at third place in the contest. But when it came time for ballots to be cast, Vance beat out his closest opponent by a margin of about 8 points.
Whether Trump's endorsement will have the same influence in Pennsylvania remains to be seen. His support for Vance drew significant criticism in Ohio as well, but in the end, it managed to push the GOP candidate across the finish line.
Newsweek reached out to Trump's press office for comment.