Donald Trump and Ron DeSantis are due to address a pair of separate conferences in Washington, D.C., on Friday, sparking speculation over whether there could be any interaction between the two Republican presidential candidates.
The duel events, a Concerned Women of America (CWA) Approved Leaders summit and a "Pray Vote Stand" summit hosted by the Family Research Council (FRC) are both targeted at Christian conservatives, a key demographic in the upcoming GOP presidential primary.
Polling indicates DeSantis is Trump's closest rival in the battle for the 2024 Republican nomination, though the former president has built up a comfortable lead over the Florida governor over the past few months. A recent Wall Street Journal survey found Trump is the preferred candidate of 59 percent of Republican voters, with DeSantis substantially behind at 13 percent.
DeSantis is scheduled to address the CWA summit, taking place in the Capital Hilton, at lunchtime followed by Trump at some point in the evening.
The CWA, according to its website, "protects and promotes Biblical values and Constitutional principles through prayer, education, and advocacy." The group focuses on "seven core issues," which it describes as "the family, the sanctity of human life, religious liberty, education, sexual exploitation, national sovereignty, and support for Israel."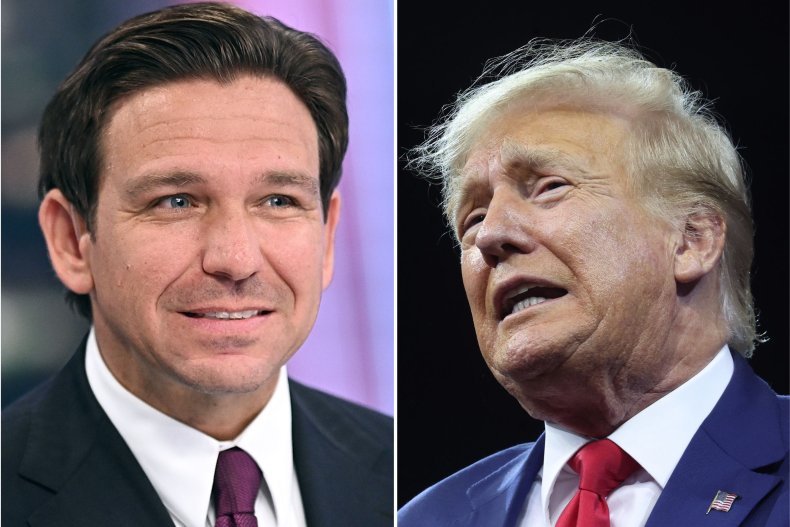 Both Trump and DeSantis are also scheduled to speak as part of the Pray Vote Stand summit's evening program, at some point between 7.20 p.m. and 10:00 p.m. ET, as will fellow GOP presidential candidate Vivek Ramaswamy.
The timing for both Trump and DeSantis's appearances are noted as "subject to change," and it is unclear whether they will appear at the same time or interact with each other in any way.
The FRC says it was formed to "serve in the kingdom of God by championing faith, family, and freedom in public policy and the culture from a biblical worldview."
The decision by Trump and DeSantis to attend both conferences shows the power of Christian evangelicals, whom both men are seeking to woo in their bid for the 2024 GOP presidential nomination. Evangelicals largely backed Trump in the 2016 and 2020 elections.
Newsweek reached out to Trump and DeSantis for comment via online press inquiry form and email, respectively.
Trump can point to Supreme Court justices he appointed being decisive in the June 2022 overturning of Roe v. Wade, which guaranteed women's right to an abortion.
However, some evangelicals have demonstrated concern about the personal life of twice-divorced Trump, who in May was found liable in a civil case for sexually abusing columnist E. Jean Carroll in the 1990s. He denies any wrongdoing.
Trump and DeSantis separately attended the Iowa-Iowa State college football match earlier this month and the Iowa State Fair in August. At the football game, Trump was mocked with a plane pulling a banner reading "Where's Melania?" in reference to his wife who has largely avoided the campaign trail, while fans were pictured both cheering and jeering the former president.
In August, Trump opted not to attend the first official Republican televised debate in Milwaukee, Wisconsin, and instead filmed an interview with former Fox News star Tucker Carlson, which was released on X, formerly Twitter.