Donald Trump's chances of being re-elected slid on Thursday, bookmakers said, in the wake of claims the president had paid the Chinese government more than $188,000 in taxes via a "secret" bank account.
Odds of a Trump victory lengthened overnight from 6-4 to 9-5, slipping from an implied 40 percent chance of winning re-election to 36 percent, according to Oddschecker.
Meanwhile, Joe Biden's chances of winning the presidency sat at 64 percent, with odds of 20-37.
The negative movement for Trump came on the back of a New York Times story which alleged that Trump International Hotels Management (TIHM) had paid $188,561 in taxes to China between 2013 and 2015 while pursuing potential licensing deals.
Trump's Chinese bank account is said to be one of only three foreign accounts the president maintains, with the other two located in the U.K. and Ireland.
Barack Obama referenced the report at a campaign rally for Biden to suggest the president may be operating a "secret" account to send more money "to foreign governments than he pays in the United States."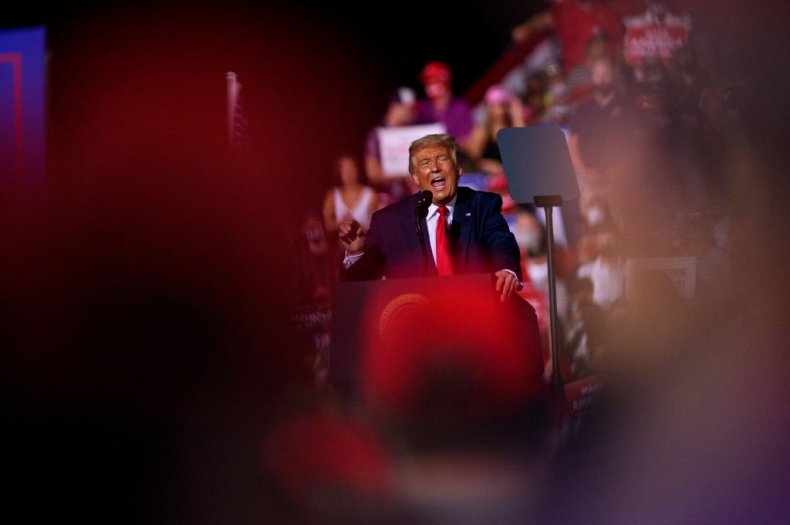 Alan Gartner, lawyer at the Trump Organization, told the Times that Trump opened a Chinese bank account "in order to pay the local taxes" on business ventures in the country.
"No deals, transactions or other business activities ever materialized and, since 2015, the office has remained inactive," he said. "Though the bank account remains open, it has never been used for any other purpose."
Commenting on the latest shift in the betting markets, a spokesperson for comparison site Oddschecker said: "Although Trump is the clear underdog, his odds are still considerably better than they were at this stage of the campaign in 2016, and everyone knows what happened next."
UK bookmaker Betfair said Biden had also gained ground at the expense of Trump because of the bounce some expected him to enjoy after Thursday's second and final presidential debate.
Biden was deemed to have performed well in the first debate with betting experts saying at the time that the September 29 event led to the "biggest swing in the market" in Biden's favor in six months.
Betfair spokesperson Sam Rosbottom said: "Money has come for Joe Biden in anticipation of him performing well in the second and final debate with his odds already improving from 4-7 (63 percent) to 8-15 (65 percent), while the confidence in Trump is low as he's gone from 7-4 (37 percent) to 15-8 (35 percent).
"After the first debate, Biden's odds improved from 4-5 (56 percent) to 4-6 (60 percent), while Trump slumped from 11-8 (43 percent) to 6-4 (40 percent) and people are backing a repeat of this by getting their bets placed early."