Donald Trump Backs Surefire Primary Candidates Likely to Boost Success Rate
Donald Trump has given an 11th-hour endorsement to a host of sitting members of Congress on the eve of the next round of Republican primaries.
The former president on Monday backed candidates hoping to win their respective elections in Utah, Oklahoma and Illinois on Tuesday.
The apparent influence of a Trump endorsement has been the focal point in some GOP primaries, such as J.D. Vance's victory in the GOP Senate primary in Ohio or Mehmet Oz's eventual win in the Pennsylvania Senate primary.
Trump is known to monitor his midterm success rate and has previously boasted about it. He has previously described his endorsements as the "strongest" in U.S. history, having backed no outright losers in the 2022 midterms prior to his first defeat in May.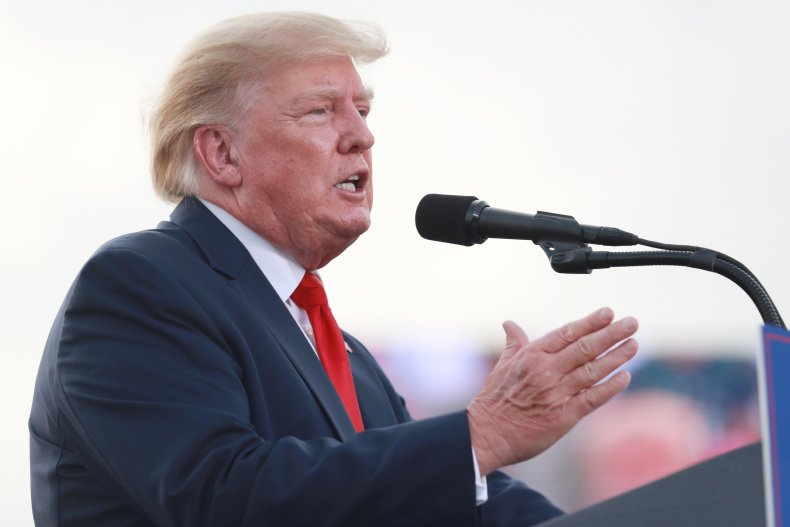 "58-1. Charles W. Herbster came VERY close despite tremendous headwinds!" Trump wrote on Truth Social following his first defeat—when Charles Herbster lost to Jim Pillen in the Nebraska gubernatorial election.
After more primaries on June 14, Trump wrote: "Every single endorsed by Trump candidate won last night, by big margins, with the exception of one very long shot who did FAR better than anticipated against an incumbent."
Trump's latest batch of endorsements poses little risk to his success rate. The endorsements—and the majority of his midterm primary picks—are all incumbents. Incumbents rarely lose midterm elections, never mind party primaries.
"Trump isn't exactly risking much with his latest round of endorsements," Thomas Gift, founding director of University College London's Center on U.S. Politics, told Newsweek.
"By putting his weight behind candidates who are already shoe-ins, Trump can inflate his win-loss record, keep his name in the news, and earn the gratitude of Republicans who might soon find themselves on Capitol Hill," he said.
Burgess Owens
The Republican congressman represents Utah's 4th Congressional District. The former football star famously flipped the seat in 2020 after narrowly beating Democrat Ben McAdams by just 3,765 votes.
Owens has backed the false claim that Trump beat President Joe Biden in the 2020 presidential election, telling The Salt Lake Tribune that December that "there is no question in my mind that I think he won."
Trump said in a post on Truth Social: "Burgess is a former Super Bowl Champion who knows how to win. In Congress, he is working hard to Grow the Economy, Support our Veterans, Defend the Second Amendment, Protect Life, Uphold the Rule of Law, and Provide our Children with Excellent Education."
Chris Stewart
Stewart is currently Utah's longest-serving U.S. House member and has not faced a primary challenge in the 2nd district since he won the seat in 2012. The longtime Trump supporter is now up against political newcomer Erin Rider in Tuesday's primary.
In a debate hosted by Salt Lake City's KRNS radio on June 1, Stewart said Trump told him he would get the endorsement, but the congressman was not actively seeking it.
"I don't think it matters much, honestly. In some races, it does. But I think I can win this race on my own," Stewart said.
In a statement on Sunday, Trump called Chris Stewart "a tireless advocate" for Utah's 2nd Congressional District.
"A retired U.S. Air Force pilot who set world records in flight, Chris knows how to Defend our Country, Support our Brave Veterans, and Ensure Peace Through Strength. In Congress, Chris is working hard to Secure the Border, Protect our Second Amendment, Grow the Economy, and Restore American Energy Independence," Trump said.
Tom Cole
Representative Cole will be seeking to win the GOP nomination in Oklahoma's 4th district on Tuesday, where he faces challenges from Frank Blacke and James Taylor.
Cole has long been a supporter of Trump and voted against impeaching the president for allegedly inciting the riot at the U.S. Capitol on January 6, 2021.
"Tom is working hard to Stop Inflation, Promote American Energy Independence, Secure the Border, Grow the Economy, Protect Life, Support our Veterans, and Strongly Defend the Second Amendment," Trump said on Truth Social.
Mike Bost
Congressman Bost, who represents Illinois' 12th District, is another frequent backer of Trump who supported the former president's unfounded claims of voter fraud in the 2020 presidential election.
Bost objected to the certification of the electoral votes on the evening of January 6, 2021, when the ceremony resumed after Trump's supporters stormed the Capitol building.
Confirming his endorsement, Trump said: "A retired U.S. Marine Corps Corporal and the Lead Republican on the Veterans' Affairs Committee, Mike is working hard to Provide the Best Care for our Veterans who so bravely served our Country. Mike is fighting to Secure the Border, Grow the Economy, Protect Life, and Defend the Second Amendment."
Kevin Hern
Hern is seeking re-election in Oklahoma's 1st district. The June 28 primaries were canceled, meaning Representative Hern will face off against Democrat Adam Martin and Independent candidate Evelyn Rogers in November's midterm.
"As a successful businessman, Kevin knows how to Grow the Economy, Fight Inflation, Lower Taxes, and Eliminate Government Waste. Kevin is working hard to Secure the Border, Protect Life, Support our Military and Veterans, and Defend the First and Second Amendments," Trump said.
Update 6/27/22, 10:13 a.m. ET: This headline has been updated to remove suggestions Trump's latest endorsements were motivated by his own success rate. The article has been updated to reflect that Trump is known to monitor his record.
Update 6/27/22, 12:40 p.m. ET: This article was updated with comment from Thomas Gift.