President Donald Trump is favored to win the upcoming 2020 election debates among registered voters by a margin of 7 points, new polling data has found.
According to the latest national survey from USA Today and Suffolk University pollsters, Trump is expected to win the debates by 47 percent of voters, compared to 40 percent who predicted Democratic nominee Joe Biden coming out on top.
A further 11 percent of registered voters said they were undecided on who would win the head-to-heads starting later this month, while a further 1 percent refused to give an answer.
The poll also found that voters were unconvinced about Biden's chances of winning the presidency on November 3. Forty-one percent said they expected the former vice president to block Trump from a second term in the White House as 44 percent said they believed the Republican incumbent would hold onto office.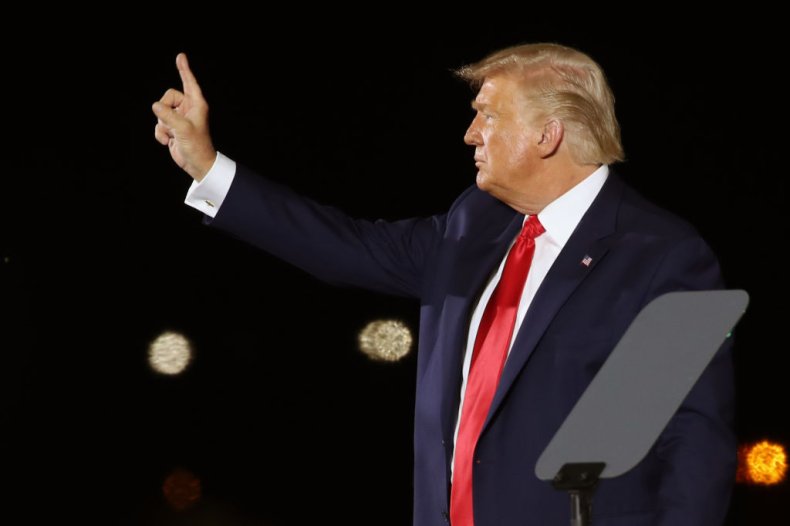 But when asked who they intended to vote for in two month's time, a plurality of polled voters opted for the Democratic challenger. Forty-seven percent said they would back Biden in November, while 42 percent favored Trump—putting the former vice president 5 points ahead.
The remainder of voters said they were either undecided or likely to vote for a third party candidate.
USA Today and Suffolk University surveyed 1,000 registered voters from across the U.S. between August 28 and August 31 for their latest national poll. Its margin of error stands at 3.1 percentage points.
The first presidential debate of the 2020 campaign is slated to go ahead in Cleveland on September 29, with the first vice presidential head-to-head following a week later on October 7. Trump and Biden will then face off again on October 15 and October 22 before entering the final week of campaigning.
Fox News anchor Chris Wallace is expected to moderate the first presidential debate over an uninterrupted 90 minutes, the Washington Post reported. C-SPAN political editor is slated to guide the second debate in Miami on October 15, and NBC News' Kristen Welker will chair the final debate a week later.
Biden allies and supporters have urged the Democratic nominee not to debate Trump in the month building up to election day, with House Speaker Nancy Pelosi calling on the former vice president not to "legitimize a conversation" with the president.
Speaking to reporters on Wednesday, Trump campaign spokesman Tim Murtaugh said they expected Biden to "retreat to his remote video link" and not attend the debates in-person
"We do not think it's too much to ask that Americans see the two candidates on the debate stage before they start voting," he added.
But the former vice president has made it clear that he has no intention of dodging the 2020 debates outright, telling MSNBC that he would be the "fact-checker on the floor" while going head-to-head with Trump.