Trump Fears What Pence Could Say, Suggests Conway: 'Surprisingly Weak'
Attorney George Conway suggested that former President Donald Trump is "afraid" of what former Vice President Mike Pence could say.
Trump on Friday evening released a statement taking aim at Pence after the former vice president explained that Trump was "wrong" to claim that he had the authority to overturn the results of the 2020 presidential election. The ex-president argued this week that Pence should have unconstitutionally rejected the electors from key swing states in a bid to keep him in the White House.
Conway, the husband of Trump's former senior counselor Kellyanne Conway, has long been a critical of the his wife's ex-boss. In a Saturday Twitter post, Conway shared Trump's statement targeting Pence and suggested the former president is "weak."
"Surprisingly weak. Do you suppose Trump is afraid of something Pence could say?" Conway wrote.
In his Friday evening statement, Trump said: "Just saw Mike Pence's statement on the fact that he had no right to do anything with respect to the Electoral Vote Count." The former president went on to insist that "I was right and everyone knows it."
Earlier on Friday, Pence told attendees at a conservative Federalist Society event in Florida that he disagreed with Trump regarding the vice president's power over the election results.
"But there are those in our party who believe that as the presiding officer over the joint session of Congress, I possessed unilateral authority to reject electoral college votes. And I heard this week, President Trump said I had the right to 'overturn the election,'" the former vice president told the audience.
"President Trump is wrong," he said, adding that he "had no right to overturn the election." Pence's remarks came after Trump earlier in the week suggested Pence should be investigated for refusing to unconstitutionally overturn the results.
Although Conway's wife Kellyanne Conway was one of Trump's key advisers and top defenders in the media, he constantly slammed the former president throughout his White House tenure. Speaking to CNN on Monday, Conway responded to Trump's suggestion that Pence could have "overturned the election."
"He is just incriminating himself with all of these statements," the conservative lawyer said. Conway added, "this is just absurd, he's just not smart."
Meanwhile, Trump's allies have lined up to attack Pence.
"If you ever had any doubt whatsoever that former Vice President Mike Pence was a duplicitous, disloyal POS, this stunning article will remove any doubt. Pence and his staff of 'political advisors' were working to undermine President Trump [and replace him with Mike Pence] from day ONE," right-wing strategist Roger Stone wrote in a message to his Telegram subscribers on Thursday. Stone linked to a Substack article written by Emerald Robinson, titled The Treachery of VP Mike Pence Explained.
Steve Bannon, who served as CEO of Trump's 2016 campaign, called Pence a "coward" in a segment of his War Room podcast on Friday. "Pence, you're going to carry this thing eventually to your grave, OK?" Bannon said. "Because it is a mark of shame. You are a stone-cold coward."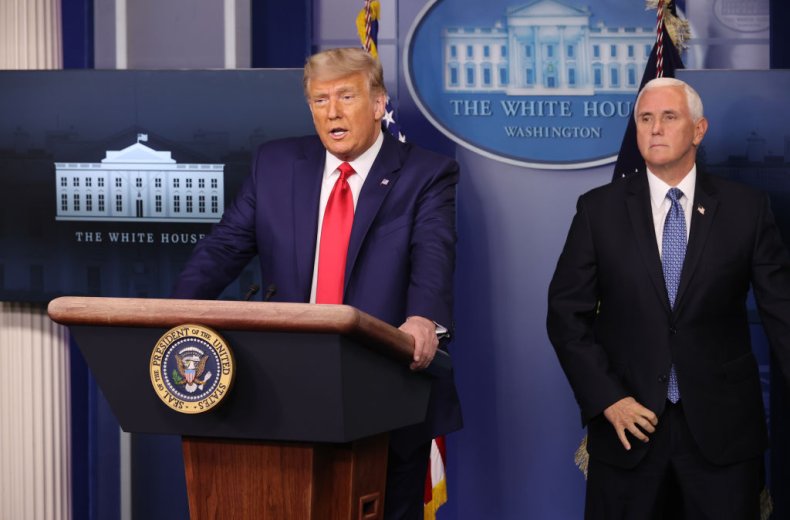 Newsweek reached out to Pence and Trump for comment but did not immediately receive responses.