When Trump Fired Comey, FBI Agents Expressed 'Pain' and 'Loss,' Newly Obtained Emails Show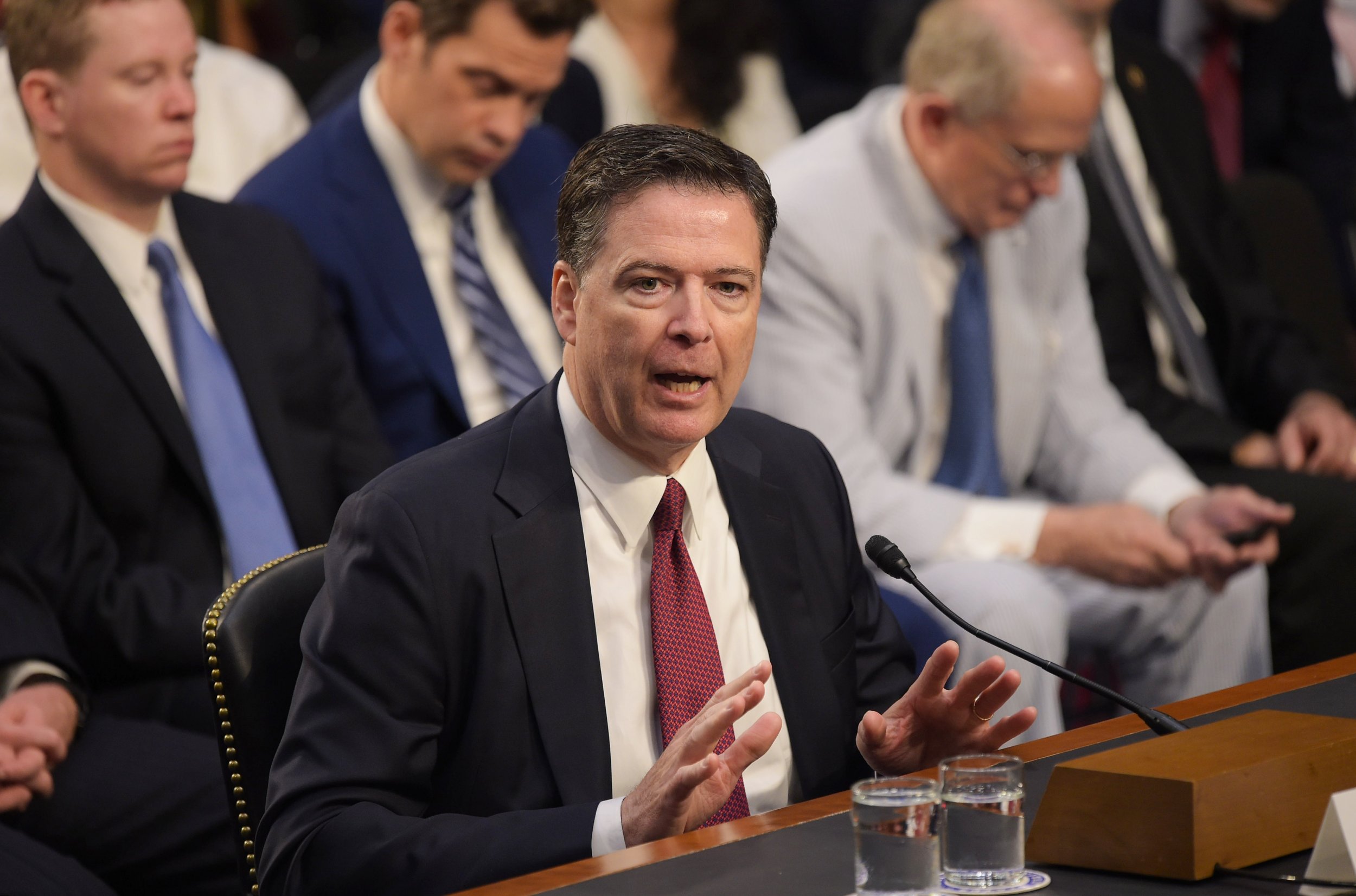 When President Donald Trump fired James Comey as FBI director last May, the White House claimed the bureau had lost faith in its chief. But newly obtained email messages sent to FBI staffers from top bureau officials around the country after the termination discuss the "pain" and "loss" that employees were feeling, and show how people scrambled to learn more information about the firing.
The national security blog Lawfare obtained the emails through the Freedom of Information Act. The website said Monday that it received 103 pages of records over the weekend. The editor-in-chief of Lawfare, Benjamin Wittes, is a close friend of Comey's.
Related: Who is David Bowdich, Andrew McCabe's FBI replacement?
In the wake of the May 9, 2017, firing, Renae McDermott, the special agent in charge of the Knoxville, Tennessee, field office, wrote to her staff, "We are not going to let this defeat us and like I said it will only make us stronger. Unexpected news such as this is hard to understand but I know you all know our Director stood for what is right and what is true!!!"
Newsweek subscription offers >
She added, "He truly made us better when we needed it the most."
In another email, Michael DeLeon, the special agent in charge in Phoenix, called the firing "unfortunate." He said, "We all felt the pain associated with the loss of a leader who was fully engaged and took great pride in the FBI organization and our employees."
DeLeon added, "Simply stated, Director Comey will be missed." In a follow-up email, he said that "everyone is surprised and we are certainly disappointed with the events surrounding this matter."
On the morning of the day of the firing, Comey had visited the field office in Jacksonville, Florida. After his termination, the special agent in charge there, Charles Spencer, wrote to his team, "Director Comey was a man of integrity and vision, he made a lasting impact on FBI leadership, diversity and our embracing of new technology."
Newsweek subscription offers >
The assistant director in charge at the Los Angeles office, where Comey was visiting when the news media began reporting on his firing, also praised the outgoing director. That official, Deirdre Fike, wrote that she would compile a book of letters from staff members to give to Comey, and she spoke of Comey's "grace, dignity and character we have all observed through his leadership."
Fike wrote that the New Haven, Connecticut, office was also planning to compile messages.
The sentiment was similar at headquarters. On May 12, 2017, when sharing Comey's farewell message with colleagues, David Schlendorf, the assistant director for the Human Resources Division, wrote, "You will not be surprised by the eloquence and grace of Director Comey, or by the genuineness of his message. He will be missed."
Schlendorf called for the bureau to carry out the work as "Comey intended," saying that then "he would be proud of us."
Another official, Kathryn Turman, the assistant director for the Office of Victim Assistance, wrote, "Our hearts may be heavy but we must continue to do what we do best, which is to protect and serve the American people."
Not all of the emails released to Lawfare were so candid or emotional. Some officials spoke generally of the "tumultuous times" that come with a change in FBI leadership and cautioned their staff members against making public comments about the firing.
One special agent in charge, William Woods of St. Louis, wrote about "a wide range of emotions regarding the firing." But none of the emails contained any outright negative remarks about Comey. The responses seem contrary to how Trump and his allies characterized Comey around the time of his firing.
On May 10, the day after the firing, Sarah Huckabee Sanders, then the White House's deputy press secretary, told reporters that "the rank and file of the FBI had lost confidence in their director." A day later, she said she had "heard from countless members of the FBI that are grateful and thankful for the president's decision."
The sentiment in the emails is more consistent with what Andrew McCabe, who stepped down last week as the FBI's deputy director, said in testimony before Congress last May, two days after the firing. "I can tell you that I hold Director Comey in the absolute highest regard," he said. "I can tell you also that Director Comey enjoyed broad support within the FBI and still does until this day."
He added, "The vast majority of FBI employees enjoyed a deep and positive connection to Director Comey."
Besides shedding light on how FBI employees felt about Comey, the emails reveal how they learned about Comey's firing—from news reports, which is how Comey reportedly learned of it too.
"Fyi, I just saw CNN reporting that Director Comey has been fired by President Trump," wrote David Gelios, then the special agent in charge of the Detroit field office. "I have no notification from HQ of any such thing. If I receive any information from HQ, I will advise." He added, "I hope this is an instance of fake news."
Another field office leader, Harold Shaw, the special agent in charge in Boston, wrote, "As you've likely heard within the media, President Trump has removed FBI Director Comey this afternoon. I'm actively working to get any additional information, and will immediately pass to keep you updated…. Wish I had more to share at this point."
In Charlotte, North Carolina, Special Agent in Charge John Strong wrote, "According the news, Director Comey has resigned. That's all I know." In Dallas, Eric Jackson wrote, "The media is reporting that Director Comey has been fired. I have not received any confirmation of such from FBI Headquarters." And in Atlanta, David LeValley said in an email, "We don't know very much beyond what is being reported in the news."
As Lawfare pointed out, the documents also shed additional light on a January 29 report that the day after the firing, Trump called McCabe to ask who approved of Comey's flight from Los Angeles to Washington, D.C., hours after his termination. (The White House denied the president did so.)
The documents show that on May 11, 2017, Gregory Cox, the assistant director of the Critical Incident Response Group, wrote, "I wanted to thank all of you who were involved in efforts to bring home former Director Comey from Los Angeles on Tuesday evening."
Comey's firing is widely reported to be under review by special counsel Robert Mueller, who is investigating Russian meddling in the 2016 presidential election and possible coordination with the Trump campaign. (Mueller was Comey's predecessor as FBI director.) The Senate Judiciary Committee is also investigating the firing.
Trump and his allies have continued to criticize the FBI, even after the president installed a new person at its helm, Christopher Wray. On February 2, the House Intelligence Committee released a memo from the Republican side of the panel alleging misconduct by the FBI and the Department of Justice. But the Trump administration has claimed it takes issue only with certain senior leaders, not the rank-and-file members.
Comey in particular remains a target, despite his departure. Besides mention of him in the House Intelligence Committee memo, multiple congressional committees are investigating his conduct as director, as is the Justice Department's inspector general.
When Trump Fired Comey, FBI Agents Expressed 'Pain' and 'Loss,' Newly Obtained Emails Show | U.S.