Why Donald Trump Is Riding Out Hurricane Ian at Mar-a-Lago
Donald Trump has been accused of choosing to stay in his Florida resort of Mar-a-Lago as Hurricane Ian sweeps through the state to delay being deposed in a class action lawsuit, according to court documents.
Filings in District Court for the Southern District of New York said the former president is staying at his home in Palm Beach to avoid answering questions from lawyers about a 2018 lawsuit that accuses Trump of using his reality TV show The Celebrity Apprentice and other businesses to promote a fraudulent multi-level marketing company to investors.
In a letter to Judge Sarah Cave, John Quinn, one of the lawyers representing the plaintiffs suing Trump, said the deadline for Trump to be questioned under oath as part of the case was Friday, September 30.
However, as the Category 4 storm was due to hit the southwest coast of Florida on Wednesday, Quinn sent an email to Trump's lead counsel, Clifford Robert, requesting that the deposition be moved to Bedminster, New Jersey, where Trump has a golf course.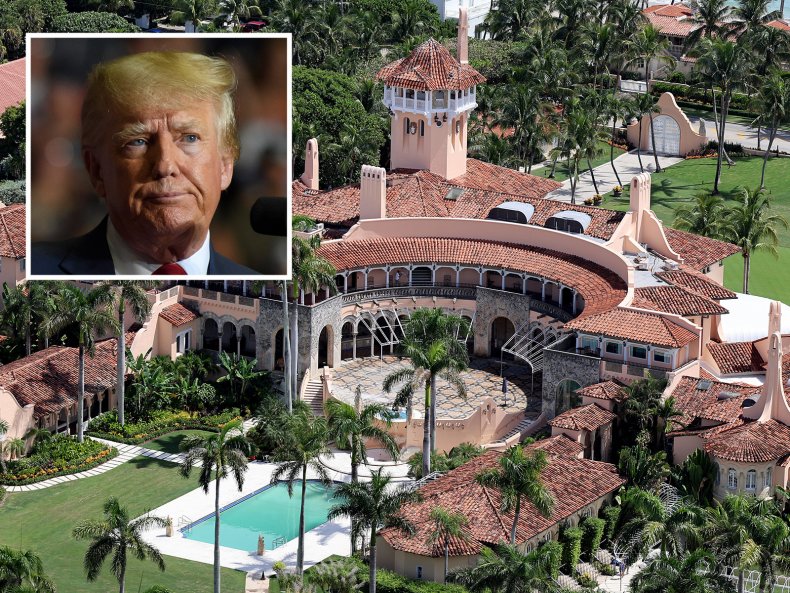 Quinn said Robert did not reply to the request, but called him on Tuesday to state that Trump's legal team was boarding a flight to Palm Beach.
"I expressed some surprise—I believe I used the word 'walloped'—but Mr. Robert indicated they were flying down anyway," Quinn wrote to Cave. "We reached out to Mr. Robert and his colleague again this afternoon, both by phone and by email, but were not able to get in touch with them.
"Accordingly, the last we heard is that Defendants insist the deposition go forward at Mar-a-Lago and on Friday. With all respect, we do not believe that is prudent or safe."
In response, Trump's legal team filed a response to Cave accusing Quinn of making "disingenuous and misleading" accusations in his letter, and said it was the plaintiff's lawyers who had given the go-ahead for Friday's scheduled deposition to still take place at Mar-a-Lago as Hurricane Ian approached.
"In actual fact, we thought it absolutely absurd to travel from the New York area to West Palm Beach in the middle of a hurricane and would have been pleased to reschedule the deposition to another date, but Plaintiffs insisted that it proceed," Robert wrote.
"Now that we have all traveled to West Palm Beach, and are currently sitting in the middle of a hurricane while Plaintiffs' counsel enjoys the comforts of home, Plaintiffs have the gall to request that the deposition for which Defendants spent considerable time and resources preparing be cancelled less than 48 hours prior to its scheduled date and time."
Robert also criticized the suggestion Trump is acting "unreasonable" by staying in Florida and that he is "ready, willing and able to proceed" with his deposition on Friday. Trump's legal team suggested the hearing could be conducted via Zoom for the safety of all parties.
In her ruling, Cave said that as it is still "uncertain" that the deposition could take place even remotely on Friday despite the severity of Ian now being downgraded, the deadline for Trump's deposition has now been extended to October 31.
Three of Trump's children—Ivanka Trump, Eric Trump and Donald Trump Jr.—have also agreed to sit for a deposition in the lawsuit accusing the family and The Trump Organization of receiving millions of dollars to promote the multi-level marketing group American Communications Network (ACN), reported CNN.
Trump's legal team has been contacted for comment.