Trump Calls Rudy Giuliani All-Time 'Great Crime-Fighter,' Fox News Host Reminds President His Associates Have Been Indicted
In a phone interview on Fox & Friends Friday morning, President Donald Trump called his personal attorney, former New York City Mayor Rudy Giuliani, "a great crime-fighter."
Trump went on the defensive after co-host Brian Kilmeade questioned his decision to include Giuliani in his dealings with Ukraine, despite the attorney's lack of foreign policy experience. Trump responded with nothing but praise for the former mayor. "Rudy is a great crime-fighter. Rudy is the best mayor in the history of New York City. Rudy Giuliani is a very legendary figure in our country," he said.
Trump also claimed not to know former U.S. Special Representative for Ukraine Kurt Volker at all and not know Gordon Sondland very well. Sondland was a major donor to Trump's 2016 presidential campaign and Trump appointed him to his current position as U.S. Ambassador to the European Union. The pair, along with outgoing Energy Secretary Rick Perry, comprised Trump's so-called "three amigos," the trio tasked with leading the charge on the president's Ukraine agenda.
Further singing Giuliani's praises, Trump continued to list more positions that the attorney has held. "Rudy was the U.S. Attorney. He also worked at the Justice Department. Believe me, this kind of c*** wouldn't have happened in the Justice Department if Rudy Giuliani was the Attorney General," he said. Trump also praised Attorney General Bill Barr. "I believe Bill Barr will straighten it out and straighten it out for good."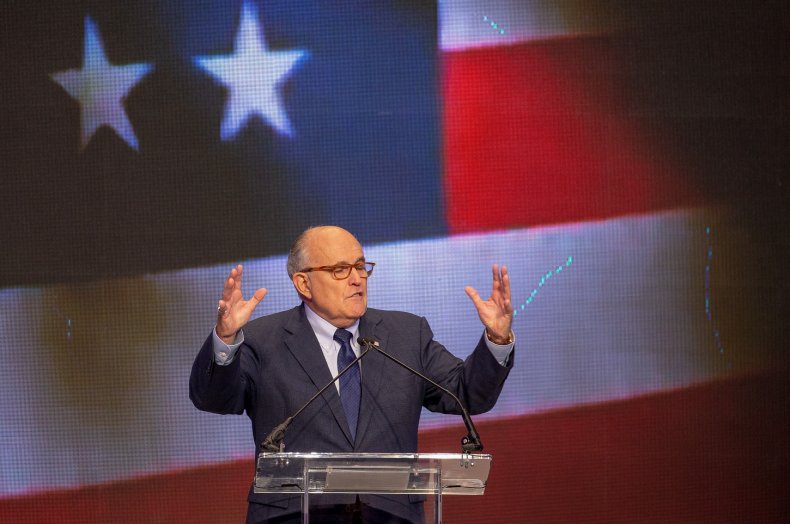 Trump went on to describe his personal relationship with Giuliani. "He's also a friend of mine. He's a great person," he said before again calling him, "the greatest mayor in the history of New York" and "the greatest crime-fighter probably in the last 50 years."
"When Rudy Giuliani goes there and you hear it's a corrupt country, it means a lot," the president concluded.
Kilmeade pushed back a little against Trump's characterization of Giuliani. "But two of his sources are indicted-are right now in jail," he said, referring to Lev Parnas and Igor Fruman, two of Giuliani's associates who have been charged with campaign finance violations in relation to efforts to funnel foreign money to U.S. politicians. "In the end, it seems like you had the State Department and Rudy Giuliani working against each other, and then the accusation comes in that your ambassador is being tarnished by Rudy Giuliani," he said.
Instead of responding directly, the president turned the conversation to former U.S. Ambassador to Ukraine Marie Yovanovitch.