Doctors have told Newsweek a video of the president appearing to breathe heavily during a photo op suggests his lung function was not normal.
After testing positive for the coronavirus Thursday, the president was taken to Walter Reed National Military Medical Center Friday, and discharged Monday. Upon his return, Trump posed for photos on the Truman Balcony at the White House, removing his face mask, giving a thumbs up, and saluting.
Before Trump left hospital, the president claimed on Twitter he felt "really good" and "better than I did 20 years ago!"
On Monday, White House physician Dr. Sean Conley said the president "may not entirely be out of the woods yet," but had "continued to improve." That day, experts who spoke to Newsweek said the 7 to 10 days after Trump first showed symptoms were critical in his recovery, as that is when patients can see their condition deteriorate.
Conley said it had been more than 72 hours since the president had his last fever, and his oxygen levels, and his breathing were normal.
But some on social media commented that the president appeared to be struggling to breathe as he stood in front of cameras. Among them was Congressman Ted Lieu, who tweeted: "This 8 second video destroys all attempts by @realDonaldTrump to downplay the virus because it shows him gasping for air. Many Americans are now visually seeing how the virus causes breathing difficulties & lung damage."
Dr. Noah Greenspan, a cardiovascular and pulmonary clinical specialist in New York who watched a video of the president on the balcony, told Newsweek via email: "this is definitely not what I would consider normal, quite (unlabored) breathing."
Greenspan said the president took three breaths in the eight-second-long clip he watched, which would average 22.5 breaths per minute if he continued at that rate. The normal breathing rate is between 12 to 20 breaths per minute.
"A key giveaway is the obvious and pronounced use of his accessory respiratory muscles," Greenspan went on. These muscles are generally only used when a healthy person exerts themselves. In normal circumstances, the diaphragm is the main muscle that contracts to draw air into the lungs, and the upper chest stays relatively still, according to Greenspan.
"In this clip, you will notice that the president is using not only his diaphragm but the muscles of his chest, back, shoulders. This is often done in healthy individuals during heavy exertion or in individuals that are out of shape or deconditioned," he said. It is also a hallmark of certain respiratory conditions like chronic obstructive pulmonary disease and is "definitely something that we are seeing in many COVID-19 in both the acute phase and in COVID long-haulers," said Greenspan, using the term to describe those whose symptoms from the disease linger.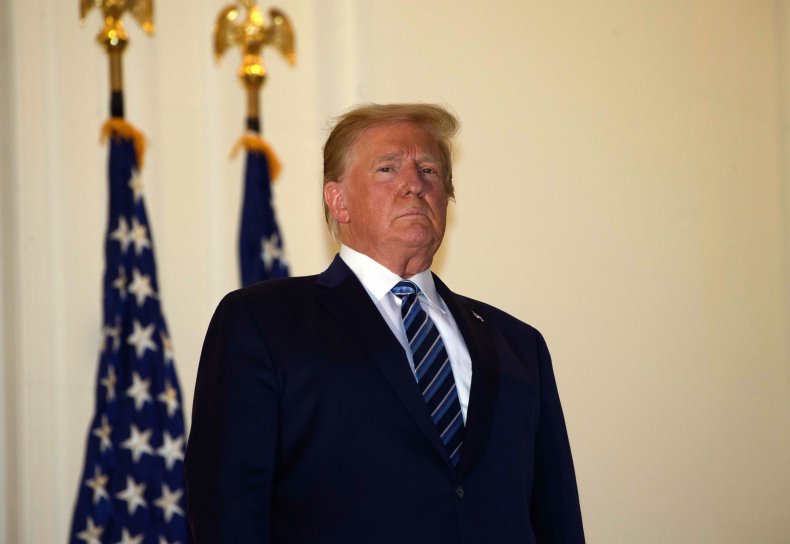 Dr. Stephanie Levine, a professor of medicine and program director of the Pulmonary and Critical Care Fellowship at the University of Texas Health Science Center, told Newsweek: "Breathing harder and faster than a patient's observed normal breathing pattern could be consistent with a diagnosis of COVID-19 viral infection."
Levine said the breathing pattern could also suggest a person has pneumonia linked to COVID-19, which would be typical for a patient four or five days into their diagnosis if their lungs were affected. But she said scans would be needed to confirm this.
Asked on Monday whether the president had pneumonia or inflammation in his lungs, Conley said the president had undergone standard imaging, but he was not at liberty to discuss the details. Responding to a reporter who pushed on whether he was actively not revealing the results of the lung scans, Conley said he was restricted by the HIPAA act that protects patient privacy.
Conley said in a memorandum published Tuesday the president had a restful first night at home and was showing no symptoms. The president's blood saturation level was between 95 to 97. That is considered normal.
Newsweek has contacted the White House for comment.
Asked what the potential long-term effects of COVID-19 could be on the president, Dr. Cassandra Pierre, an infectious diseases physician and hospital epidemiologist at Boston Medical Center, told Newsweek he could experience shortness of breath and respiratory issues, fatigue and cognitive dysfunction.
"It's important to note, however, that Trump is not yet post-COVID—he is actively infected and likely infectious, so his symptoms are likely to be more pronounced and further impair his ability to meaningfully participate in the running of our nation," said Pierre.
Uncommon Knowledge
Newsweek is committed to challenging conventional wisdom and finding connections in the search for common ground.
Newsweek is committed to challenging conventional wisdom and finding connections in the search for common ground.
About the writer
Kashmira Gander is Deputy Science Editor at Newsweek. Her interests include health, gender, LGBTQIA+ issues, human rights, subcultures, music, and lifestyle. Her work has also been published in the The Independent, The Independent on Sunday, The i Newspaper, the London Evening Standard and International Business Times UK.