Trump Gets Strongest Show of Support for GOP 2024 Nomination After FBI Raid
A record number of Republicans now support former President Donald Trump running for president in 2024 following the FBI's executed search warrant on his Mar-a-Lago home on Monday, though the majority of the general public is not buying into his "witch hunt" rhetoric.
A Morning Consult/Politico poll of 2,004 registered voters on Wednesday showed that Trump has his highest level of interparty support since he lost the 2020 election to President Joe Biden, as nearly three in five Republicans would vote for him again in 2024. His 58 percent support exceeds his 54 percent and 53 percent in July and June, respectively, amid response to the ongoing January 6 hearings.
About three in four poll respondents "had seen, read or heard at least something" about the FBI search, regardless of political affiliation. Fifty-four percent believed it revolved around the mishandling of classified information, while 32 percent responded that the search was related to January 6.
While 69 percent of Republicans responded that the Mar-a-Lago search was primarily conducted to damage Trump's political career, 81 percent of Democrats and 48 percent of independents believed it was due to evidence that Trump committed a crime.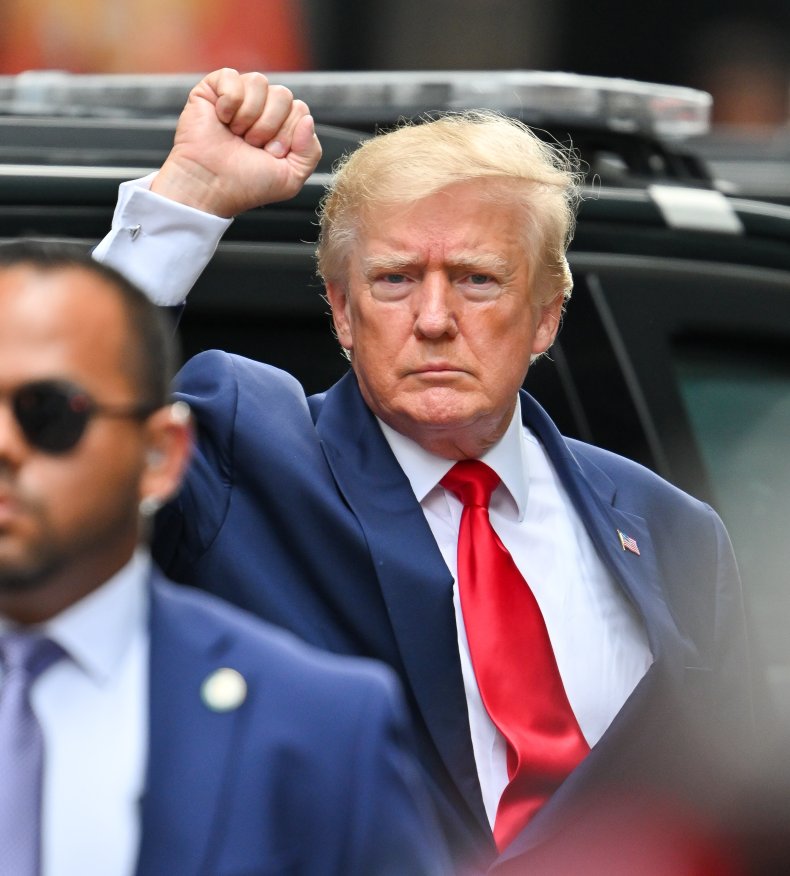 About 58 percent of all respondents said they believed Trump committed a crime while in office, including 59 percent of independents and 24 percent of Republicans. Polled voters—49 percent to 37 percent—supported the search even while House Minority Leader Kevin McCarthy said the FBI should be probed in retaliation.
Another poll conducted by the Trafalgar Group and Convention of States Action from August 9 to August 10 found that 71.7 percent of independent respondents said that the raid increased their motivation, including more than 80 percent of Republicans.
Convention of States Action President Mark Meckler described it as a "voting surge."
"Independent and Republican voters are united in their outrage about this unprecedented and tragic event in American history," Meckler said in a statement. "This gestapo-style injustice has created a voting surge that is so significant, the polling doesn't even begin to reflect what is coming from grassroots voters in November."
On Thursday on CNN, former White House Chief of Staff Mick Mulvaney said that the informant who tipped off the FBI on potential sensitive information was likely one of six to eight people "very close" to the former president.
Trump's gain is a loss for Florida Governor Ron DeSantis, whose 2024 presidential numbers slipped five points to 16 percent since July. The two are widely viewed as the frontrunners, though neither has yet declared.
If Trump does decide to run again and succeeds as his party's nominee, he would likely have a rematch with Biden and might have an advantage, according to recent polling. Biden's approval rating has increased to 40 percent following months of high gas prices and rampant inflation.
Males (27 percent) composed the largest group of "very favorable" respondents toward Trump in the Morning Consult/Politico poll, followed by individuals age 35 to 44 (26 percent).