Trump Gives In to China and Agrees to Suspend Adding New Tariffs
President Donald Trump met with his Chinese counterpart Xi Jinping on Saturday at the G20 Summit in Buenos Aires, agreeing to suspend his planned increase of import tariffs on Beijing's goods next month.
Under the deal, the Trump administration will hold off boosting tariffs from 10 percent to 25 percent as previously threatened for at least 90 days. During the three months, Washington will continue to negotiate with Beijing in an effort to make a lasting deal to resolve ongoing trade tensions.
Although Trump hailed the deal as "incredible," analysts have pointed out that China actually compromised little.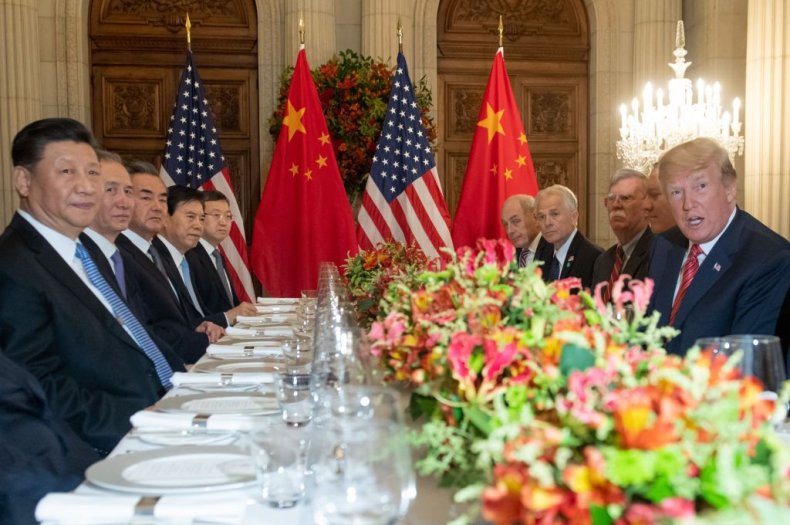 "China has pretty much given up nothing in this deal because the future tariffs threatened from the Beijing side were retaliatory in nature and only to be applied if the United States escalated," Stephen McDonell, the BBC's China correspondent in Beijing explained.
"On standard trade issues, this is where we were weeks ago," Derek Scissors, a China scholar at the American Enterprise Institute and sometimes adviser to the Trump administration, told The Washington Post .
Daniel M. Price, a former trade adviser to President George W. Bush told The New York Times that "a halt in the tariff wars will be welcome," however he explained that it wouldn't "alter the fundamental collision course that Trump and Xi seem to be on."
China did however make some concessions. According to an official White House statement, China "agreed to start purchasing agricultural product from [U.S.] farmers immediately." Xi also agreed to designate Fentanyl, which has been one of the drugs driving the opioid crisis in the U.S., as a Controlled Substance. This would mean that individuals selling the drug to the U.S. would be subject to China's maximum penalty under the law.
Washington also said that China would buy "very substantial" amounts of energy, industrial, and other goods from the U.S. in addition to agriculture products. Neither side revealed the amount that would actually be purchased by Beijing moving forward.
During the summer, Trump first slapped $50 billion of Chinese imports with new 25 percent tariffs. China responded by adding its own import taxes to an equal amount of U.S. goods. The White House then moved to add 10 percent tariffs to an additional $200 billion of China's products, threatening to raise the amount to 25 percent on January 1 if Beijing didn't agree to Trump's demands.
Although Trump has hailed his tariffs as bringing "billions of dollars" into the U.S. economy, experts have pointed out that costs have increased for U.S. consumers and many businesses are suffering as a result. Farmers have been especially hard hit by the dispute, as China was a major market for their crops.
Prior to Trump's meeting with Xi, Stanley Chao, managing director of California-based All in Consulting, which assists Western companies in developing business in Asia, told Newsweek that he believed Trump needed "a win after the midterm elections," suggesting that the president would need to compromise.
"Knowing the Chinese, you can't really achieve anything concrete in these high-level and high-profile meetings," Chao added.