Trump Says China Trade War 'Pouring' Billions Into U.S. But Experts Point to Losses, Higher Prices
President Donald Trump has touted his trade war with China as an economic windfall for the U.S. economy, bragging that it is "pouring" billions of dollars into the country.
"Billions of Dollars are pouring into the coffers of the U.S.A. because of the Tariffs being charged to China, and there is a long way to go," the president tweeted on Thursday. "If companies don't want to pay Tariffs, build in the U.S.A. Otherwise, lets just make our Country richer than ever before!"
Despite the president's positive attitude, financial analysts and experts have painted a different picture of the ongoing trade dispute with Beijing. From the agricultural sector to the auto industry and many others, the ramifications of increased tariffs are raising consumer costs and causing some to shutter their operations, according to Politico. Dairy farmers have already begun selling off family businesses, while major companies such as Caterpillar, Whirlpool and Stanley Black & Decker have blamed increased import taxes for higher prices to consumers.
Adam Jones, Morgan Stanley's chief U.S. auto analyst, told CNBC on Thursday that auto prices will climb higher as a result of the trade war.
"The auto industry is the quintessential global supply chain," he explained. "Any disruption of trade — be it between China and the U.S., or Europe and the U.S. or Japan, you name it — is going to lead to inflation."
And while Trump has routinely argued that the tariffs will encourage companies to bring jobs back to the U.S., many are simply looking for cheaper alternatives in other Asian nations.
"A lot of buyers are increasingly offering orders for factories in countries like Cambodia and Vietnam, due to the trade war," Norman Cheng, the owner of Hong Kong-based Strategic Sports, told Politico. Although he currently has 3,000 manufacturing workers in China, he plans to open a factory with 500 in Vietnam so his business remains financially attractive to U.S. buyers.
A study released this week also warned that the average American could face costs totaling $915 in 2019, or $2,400 for a household, due to the trade dispute. Commissioned by Koch Industries, the analysis suggested the cost could rise to $17,300 per household by 2030.
"Any trade debate should convey a clear understanding of the effect of the U.S.' and its trading partners' actions on consumers, businesses and supply chains," said Philip Ellender, Koch Industries president of government and public affairs, told CNBC.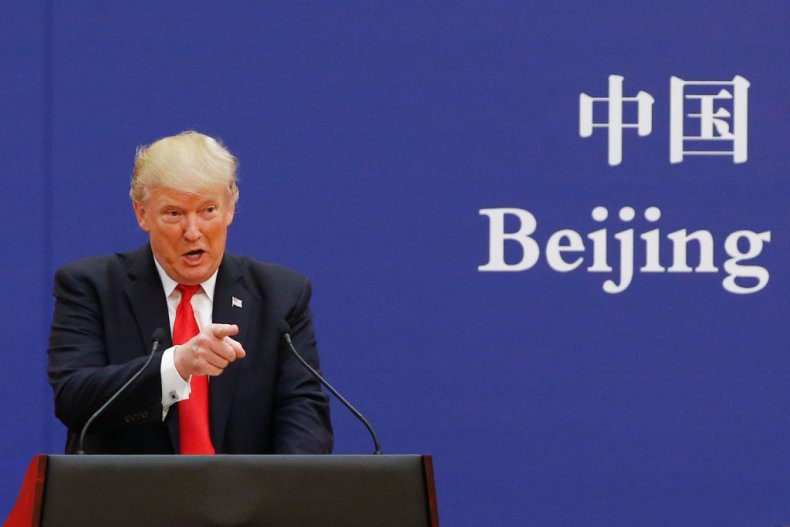 Trump is planning to meet with Chinese President Xi Jinping on the sidelines of the G-20 summit in Buenos Aires this weekend. Thus far, the president has signaled an unwillingness to compromise on U.S. demands of Beijing, but analysts have suggested he'll need a deal for a political and economic win.
"A disaster meeting in Buenos Aires would be a complete breakdown in negotiations and that would result in big market losses," said Mohamed El-Erian, chief economic adviser at Europe's Allianz financial service told Politico. "Tariffs are 'stagflationary.' That's why economists warn about them all the time. They lower growth and they raise inflation."
Scott Lincicome, a trade attorney and adjunct scholar at the free-market Cato Institute in Washington, D.C., told the publication that "even a modest deal with China would give Trump an immediate victory, give markets a bounce and farmers would rejoice that their lives are not being totally ruined."
"Trump needs a pick-me-up right now given that economic news is not that great and the dream of 4 percent GDP growth is pretty much off the table and even 3 percent is a real long shot," he said.