Trump Has Been 'Undoubtedly Damaged' by Impeachment Hearings, Republican CNN Host Says
Republican CNN host S.E. Cupp argued that Donald Trump had been hurt by the ongoing impeachment inquiry led by Democrats, even if Republicans have continued to support the president throughout the investigation in the House of Representatives.
"These hearings, in which career civil servants and Trump appointees shared their serious concerns and the facts of the case, that Trump abused his office for his own political gain have undoubtedly damaged the president," Cupp pointed out during her Saturday evening show S.E. Cupp Unfiltered. Although she identifies as a Republican, Cupp has regularly criticized Trump throughout his tenure in the White House, as well as during his presidential campaign.
"Republicans were left floundering in their defense of a president who kept admitting to what he was accused of," she added. The conservative host then took aim at the president's personal lawyer, Rudy Giuliani, who has been at the center of the impeachment inquiry. She pointed out that he went to Ukraine this past week to continue investigating Trump's domestic political rivals, "doing exactly the thing that started this whole mess."
Despite her assessment, however, Cupp asserted that the country remains largely split along partisan lines over the president's increasingly likely impeachment. She asserted that it seems that not a single Republican will vote in favor of the Articles of Impeachment being drafted by the House Judiciary Committee, although former GOP Representative Justin Amash of Michigan, who now identifies as an independent, has voiced his support.
An average of national polls by Real Clear Politics currently shows that approximately 48 percent of Americans support the president's impeachment and removal from office. Conversely, about 46.2 percent oppose the possibility. That level has remained more or less steady throughout the impeachment hearings held in the House Intelligence and House Judiciary Committees over the past two months. The divide appears to be strongly partisan, with the majority of Democrats in support of impeachment, and the vast majority of Republicans against.
The impeachment inquiry against Trump centers around his efforts to pressure Ukraine to announce investigations into a debunked conspiracy theory regarding Democrats and 2016 election interference, as well as into unsubstantiated claims that Democratic presidential candidate Joe Biden acted corruptly toward Ukraine to benefit his son Hunter's business dealings in the Eastern European nation.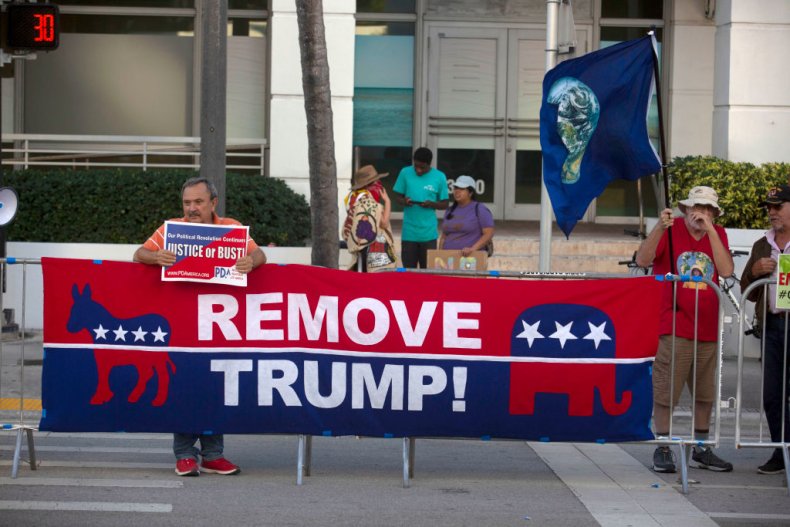 Additionally, multiple credible witnesses – including U.S. Ambassador to the European Union Gordon Sondland who donated $1 million to Trump's inaugural committee – testified that there was a "quid pro quo" from the White House involving nearly $400 million in military aid to Ukraine. The administration temporarily withheld the aid, which was approved with significant bipartisan support by Congress, and a White House meeting between Trump and Ukraine's President Volodymyr Zelensky as leverage against the Ukrainian government to open the probes, according to current and former White House and State Department officials.
Giuliani was integral to Trump's efforts towards Ukraine, despite the former New York City mayor not serving in any official government capacity. He is also currently under investigation after two associates involved with his actions in Ukraine have been arrested and charged with campaign finance violations. Despite the scrutiny, as Cupp noted, Giuliani returned to Ukraine in a bid to dig up dirt on Biden and Democrats.