Trump Has Just a 2% Chance of Winning Most Votes, 10% Chance of Winning Electoral College: 'The Economist' Forecast
An election forecast updated Friday by The Economist said President Donald Trump has a 10 percent chance of winning more electoral votes than presumptive Democratic nominee Joe Biden in the 2020 presidential election.
The forecast also estimated Trump has a 2 percent chance of winning more of the popular vote than Biden. According to Friday's projections, Trump will win an estimated 45.5 percent of the popular vote on November 3.
The paper's forecast is updated daily with information compiled from national polls, state polls and other factors that demonstrate how much support each politician has and how developing situations impact those support levels. It was created in collaboration with political scientists Andrew Gelman and Merlin Heidemanns of Columbia University. According to the paper, the Electoral College simulation built into its forecast maps out thousands of election scenarios in an effort to improve the overall predictions.
The forecast updated Friday predicted Biden will win between 222 and 434 electoral votes, while Trump will win between 104 and 316. With 270 votes needed to win, The Economist's model said there is less than a 1 percent chance that Biden and Trump will reach an Electoral College tie.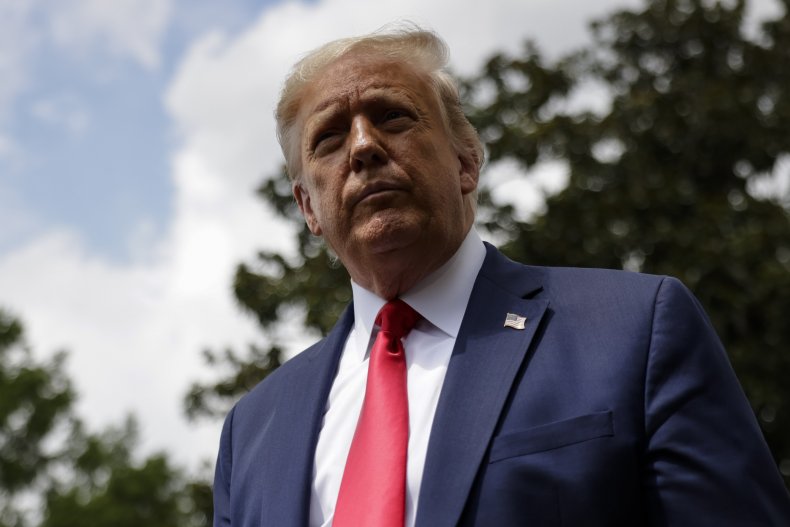 "Right now, our model thinks Joe Biden is very likely to beat Donald Trump in the Electoral College," the forecast said.
The model has predicted Biden will win more electoral votes than Trump every day since March 16. According to Friday's projections, The Economist currently predicts Biden will win 356 votes and Trump will win 182.
Biden has been leading Trump in several key swing states over the last couple of months. According to recent state polling, Biden was leading in six swing states—Arizona, Florida, Michigan, North Carolina, Pennsylvania and Wisconsin—at the end of July. The Economist's model predicts Biden has an 88 to 89 percent chance of winning Wisconsin and Michigan, and anywhere between a 64 to 84 percent chance of winning the four other battleground states.
Texas, a state that has gone red in every presidential election since 1976, has also emerged as a potential battleground for Trump and Biden, with Biden inching closer to the lead in many recent state polls. According to The Economist's forecast, Trump's chance of winning Texas in November is less than 60 percent.
The paper's model also identifies the outcomes of the election in Georgia, Iowa and Ohio as uncertain, but says Biden has about a 51 percent chance of winning Georgia while Trump has narrow leads in Iowa and Ohio.
Though the paper's current estimates predict a strong win by Biden in November, The Economist acknowledged the ways in which polling and other election predicting strategies have fallen short in years past. The paper said early polling results collected months before any given election are unreliable, using the most recent example of Hillary Clinton—who led Trump by 8 points in some polls leading up to the election—to illustrate its point. However, the paper said polling is likely to reflect voter opinions more accurately as Election Day draws closer, and Heidemanns told Newsweek the team behind the model also made improvements in an attempt to more accurately predict what the outcome of the November election will be.
"In 2016, our model forecasted that Hillary Clinton would win the election in six out of 10 cases (around 60 percent)," Heidemanns said. "This model innovates over 2016 by adjusting for the partisanship of the survey respondents."
Heidemanns said the country's increasing partisanship meant it was unlikely the current predictions could flip in Trump's favor. That said, "We do not explicitly incorporate events such as stark changes in turnout due to a second wave of COVID-19 or large numbers of rejected ballots due to many first time absentee voters," Heidemanns said, both of which he said could affect current predictions.