Poll Finds Trump Trailing Biden In Texas As Majority Of Residents Say Coronavirus Is 'Out Of Control'
Support for presumptive Democratic presidential nominee Joe Biden is rising among Texans as an increasing number of residents worry about the coronavirus pandemic, a new poll published Wednesday showed.
The latest Quinnipiac University poll found that while 44 percent of voters in Texas said they supported President Donald Trump, voter support for Biden rose to 45 percent, up two points from a similar poll conducted in June. Pollsters said this month's poll was conducted between July 16 and July 20 with a 4.3 percent margin of error among the 880 adult respondents who identified as registered voters.
Last month's poll results showed a shift among voters that pollsters said suggested the state could lean Democratic for the first time in a presidential election since 1976. According to Quinnipiac pollsters, the results from their latest survey implied that the pandemic is adding to that shift.
"The concern is palpable as the number of virus victims soars and it's getting more personal every day, as the patient lists increasingly include friends, family and neighbors," polling analyst Tim Malloy said in a Quinnipiac press release.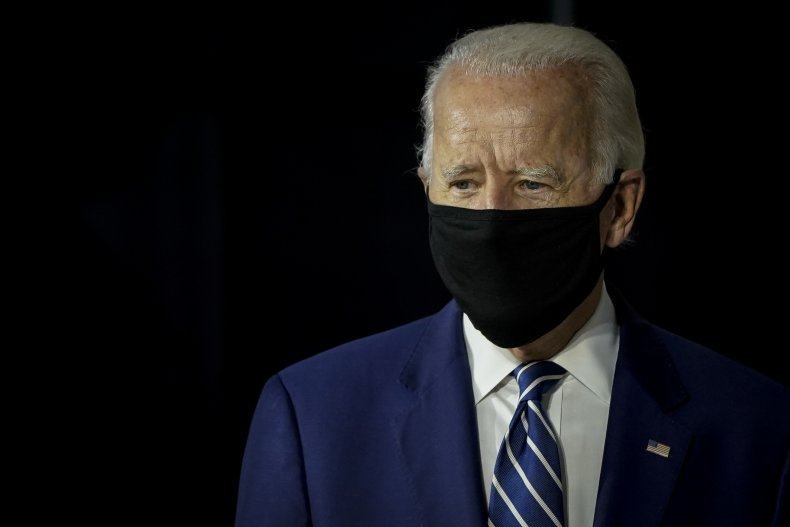 Federal health officials identified Texas as a COVID-19 hot spot in June as the state repeatedly set single-day records for new virus cases. While the poll didn't find much of a change in voters' approval of the way Trump has handled the federal coronavirus response since June, they did find that approval of Texas Governor Greg Abbott's response dropped.
The Republican governor faced criticism last month as hospitalization numbers ticked up and city leaders in hard-hit areas like Houston called for him to reel back the state's reopening efforts. Though 52 percent of poll respondents said they thought Abbott reopened the state too quickly, a majority also said they didn't want Abbott to reintroduce a stay-at-home order. Even so, more than two-thirds of voters said local officials should be allowed to issue countywide orders of their own if they believed doing so was necessary.
As voter approval for the governor's virus response fell from 56 percent in early June to 47 percent in mid-July, approval of his mask mandate was far stronger, with 80 percent telling pollsters they supported it.
With support for Abbott on the decline, the poll found 74 percent of Texans thought the virus is a serious problem and 65 percent described the pandemic as "out of control." It also found that the number of voters who said they personally knew someone battling COVID-19 nearly doubled in the last month.
The poll found Abbott's approval among voters declined as case numbers rose in the state, but the same was not true of voter approval for Trump as case counts similarly rose across the country. According to data compiled by researchers at Johns Hopkins University, health officials reported more than 3.9 million COVID-19 cases in the U.S. by Wednesday, July 22, with state health officials reporting more than 340,000 of those in Texas by Tuesday, July 21. While national polls conducted in recent weeks found voter approval of the president's pandemic response declining, Quinnipiac pollsters found voter approval of Trump in Texas was cemented at 45 percent, the same found in earlier polls Quinnipiac published last month and last fall, several months before the pandemic began.
Voters did say they believed Biden would handle the pandemic better than Trump by a 3 percent margin. However, pollsters found voters were evenly split in their opinions of how each politician would handle health care or a crisis in general. Though 51 percent of voters said they believed Biden would handle racial inequality issues better than Trump, a larger gap existed in voter opinion on which candidate would handle the economy best, with Trump leading Biden by 16 percentage points.
Recent polls conducted among voters in other swing states showed Biden leading Trump, but polling results among Texas voters were split in June and early July as the state responded to its rapidly rising case numbers. A YouGov poll conducted in early July found Trump leading Biden by 1 percent among Texas voters, but a Fox News poll conducted in late June found Biden leading Trump by the same margin. Other recent polls by Public Policy Polling also found voters teetering between the two candidates through June.
"With crises swirling through American society and a country deeply divided, there's no other way to slice it. It's a tossup in Texas," Malloy said.