Trump Says He'll 'Have a Little Fun' Before Meeting Families of Santa Fe School Shooting Victims
Ahead of his meeting with families of victims caught up in the Santa Fe school shooting, President Donald Trump offhandedly told reporters he was going to "have a little fun today" before boarding Air Force One and flying to Texas.
Dimitrios Pagourtzis, 17, allegedly walked into Houston's Santa Fe High School on May 18 armed with a shotgun and .38-caliber handgun.
He shot dead eight students and two teachers, and injured 13 more people. Pagourtzis is awaiting trial and police say he admitted to the shooting at his high school.
"We're going to Dallas, we're going to Houston, and we're going to have a little fun today," Trump told reporters on the runway before setting off for his meeting with the families.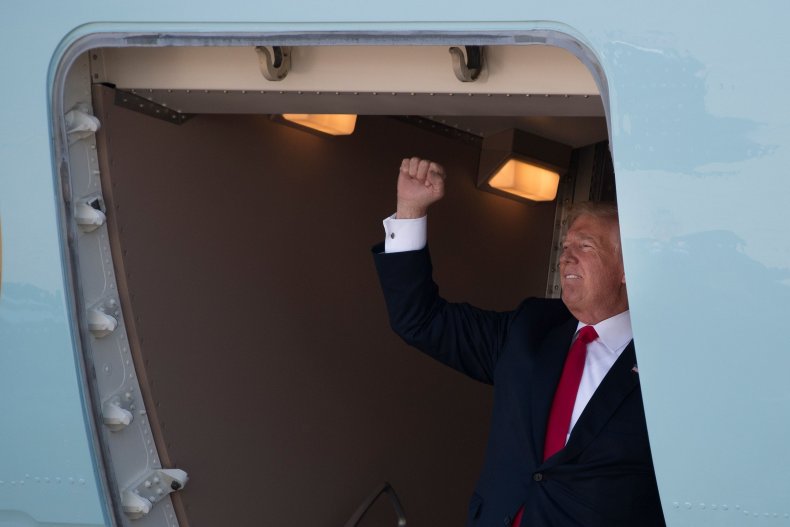 The families and survivors at that meeting, which lasted around 90 minutes, gave a mixed response to the president, whose spokesman described him as "moved" by the experience.
Rhonda Hart, an Army veteran, lost her 14-year-old daughter Kimberly Vaughan in the shooting. The mother told The Associated Press that Trump referred to the shooter as "wacky."
She said Trump kept talking about arming teachers in schools, which he touts as a policy solution to the endemic shootings. "It was like talking to a toddler," Hart said.
But Pamela Stanich, another attendee, whose 17-year-old son Jared Black was killed in the Santa Fe school shooting, wrote on her Facebook page that she is "sick of the assholes bashing our president."
"He met with us privately and showed sincerity, compassion, and concern on making our schools safer across the nation," Stanich wrote.
"He hugged us and was gracious with his condolences. He spent time talking to the survivors and asking on what happened and what would have made a difference. Changes are coming for the good.
"Thank you Mr. Trump. Negative comments will be deleted and those making them will be blocked."
Coinciding with President Trump's meeting, Secretary of Education Betsy DeVos unveiled a $1 million federal grant for the Santa Fe Independent School District under the government's Project School Emergency Response to Violence program.
"No student, parent or educator should have to experience the trauma suffered by so many," DeVos tweeted.
"This grant will help provide essential services that will aid in the healing and recovery process as we continue to identify proven ways to prevent violence and keep our students safe.
"This critical funding will help provide resources to respond, recover and re-establish safe environments for students. We remain in frequent contact with state and local education leaders in Texas as they assess their needs in the wake of this tragedy."