If Trump Altered NOAA's Hurricane Dorian's Forecast Path to Include Alabama, He May Have Broken the Law on 'False Weather Reports'
As the battle between President Donald Trump and his administration's weather forecasters rumbles on over whether or not Hurricane Dorian threatens Alabama, which it does not, a new question has emerged: Did he break U.S. law by altering a map with a pen?
Trump has repeatedly insisted that Alabama is at risk from Dorian, even as the National Weather Center corrects him to say that the state will face no impact because the storm is too far east. Alabama is not in Dorian's path, though neighboring states, including Florida and Georgia, are.
The controversy over the president's misleading remarks about Dorian escalated when an image appeared of Trump in the Oval Office with a National Oceanic and Atmospheric Administration (NOAA) map showing the hurricane's path, mysteriously extended by pen.
This map was displayed during a briefing on Wednesday about Dorian. It is not clear who altered the original NOAA map, titled "Hurricane Dorian Forecast Track and Intensity," or why. Trump insisted Alabama was in the original forecast and was due to be hit "very hard."
The so-called "Sharpiegate" then erupted on social media, with Twitter users accusing President Trump of looping in Alabama himself with a pen to justify his insistence that Dorian will hurt the southern state in some way.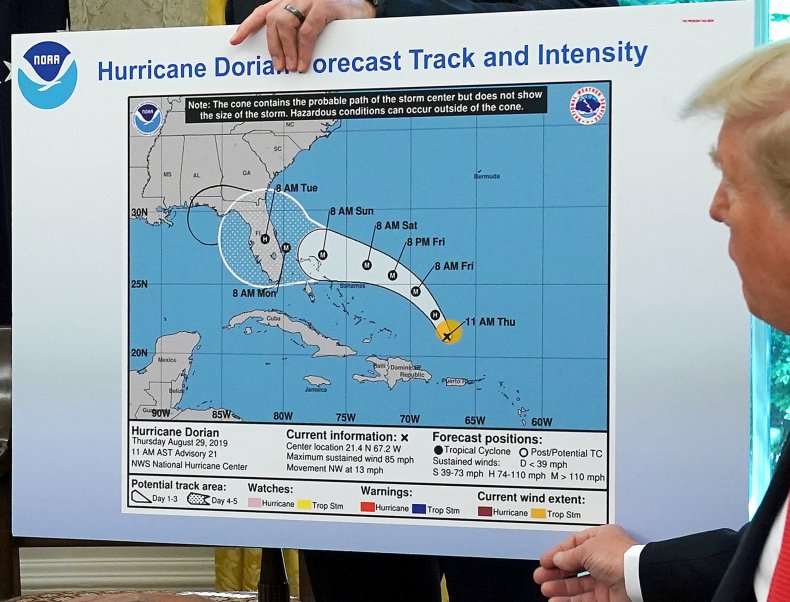 Aaron Blake, a senior political reporter at The Washington Post, noted a piece of law from 1948—18 U.S. Code § 2074 on "False weather reports"—that could mean that if anyone but an official weather forecaster altered the map, it was unlawful to do so.
"Whoever knowingly issues or publishes any counterfeit weather forecast or warning of weather conditions falsely representing such forecast or warning to have been issued or published by the Weather Bureau, United States Signal Service, or other branch of the Government service, shall be fined under this title or imprisoned not more than ninety days, or both," the law states.
The White House did not respond immediately to Newsweek's request for comment.
On Wednesday evening, Trump shared to Twitter a forecast map dated August 28 from the South Florida Water Management District showing Dorian touching Alabama. The forecast map carries a disclaimer: "If anything on this graphic causes confusion, ignore the entire product."
"This was the originally projected path of the Hurricane in its early stages," Trump tweeted. "As you can see, almost all models predicted it to go through Florida also hitting Georgia and Alabama. I accept the Fake News apologies!"
In its latest forecast, the National Weather Service warns: "Hurricane Dorian continues to move along the Southeast US coast and is expected to approach South Carolina through Thursday. Dorian will remain a dangerous hurricane, bringing heavy rain, storm surge, damaging winds, and isolated tornadoes along and near the coasts of Georgia, South Carolina, North Carolina and portions of southeast Virginia and the southern Chesapeake Bay through late week."