Trump Immigration Policy Traumatizing Children, Democrats Warn
Democratic politicians have warned that the Trump administration's policy of separating immigrant families at the Mexican border is traumatizing children and their parents.
On Saturday, a group of lawmakers traveled to the Federal Detention Center, SeaTac, near Seattle, to speak with detainees and protest the "inhumane" treatment of immigrant families, The Washington Post reported.
More than 200 immigrants, mostly women, are being held at the facility. According to Representative Pramila Jayapal, most of them had been separated from their children.
Jayapal said the majority of the detainees were from Cuba, El Salvador, Honduras and Guatemala, though some came from as far away as East Africa. Jayapal said more than half of those held had been separated from their children—some as young as 12 months old—and many had been given no information on their whereabouts.
"It was absolutely heartbreaking. And I've been doing immigration-rights work for almost two decades. I am not new to these stories," Jayapal said. "There was not a dry eye in the house…Some of them heard their children screaming for them in the next room. Not a single one of them had been allowed to say goodbye or explain to them what was happening."
When detained by Border Patrol authorities before their transfer to Seattle, prisoners told Jayapal they had been deprived of clean water and bedding and faced verbal abuse from guards, "being called filthy and stinky, and being mocked for crying."
"One woman said, 'I want to be with my children,' and the Border Patrol agent said, 'You will never see your children again. Families don't exist here. You won't have a family anymore,'" Jayapal told the Post.
Following the visit, Jayapal released a statement calling on President Trump to reunite separated families. "We have always had problems with the criminalization of immigrants, but this is a new low, to take folks who are asylum seekers and throw them into a facility, not provide them with any access to basic human rights and, worst of all, to separate mothers from their children.
"What I saw today is simply not who we as a country should be," Jayapal said.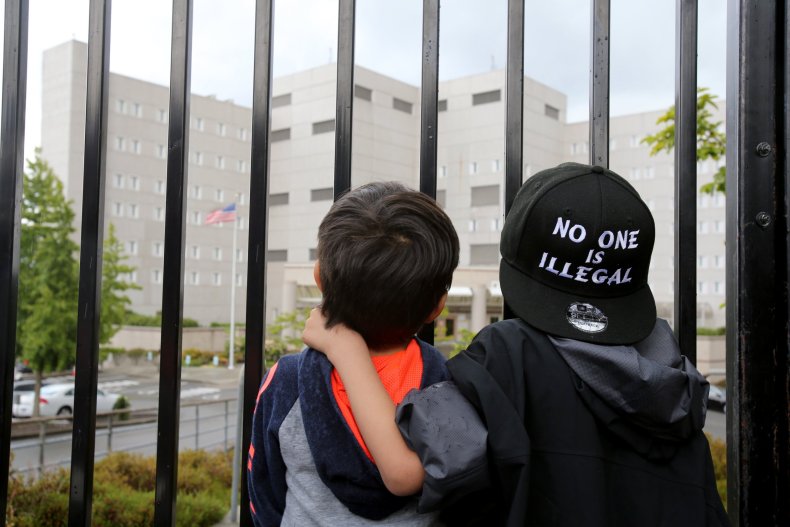 On June 9, other Democratic politicians and protesters amassed outside the SeaTac detention center to denounce the treatment of detained immigrant families. Governor Jay Inslee told demonstrators, "Cruelty to children should not be part of American policy. Intentional infliction of injury to children is below the standards of America. In America, the willful infliction of trauma against children is not acceptable. America is better than this. Inhumane, callous indifference and willful injury to children must stop."
The 206 people being held at SeaTac are among 1,600 detainees being moved into federal prisons to help Immigration and Customs Enforcement deal with a "surge in illegal border crossings." Prison officials said they were given little warning ahead of the decision, raising concerns that current staffing levels would be unable to deal with the new arrivals.
Trump blamed the Democrats for the "horrible law" that forces families apart but provided no evidence that the party was responsible. His administration announced a new "zero tolerance" policy last month, under which the Justice Department would attempt to prosecute every person who crossed the southern border illegally, even if they were asylum seekers.
Despite criticism from the United Nations and legal and human rights charities, Attorney General Jeff Sessions was unwavering in his support for the policy. Last week he told conservative radio host Hugh Hewitt, "If people don't want to be separated from their children, they should not bring them with them."