Trump "Impeachment Will Be Voted on Before Christmas," Democrat Says After Anti-Muslim Video Retweets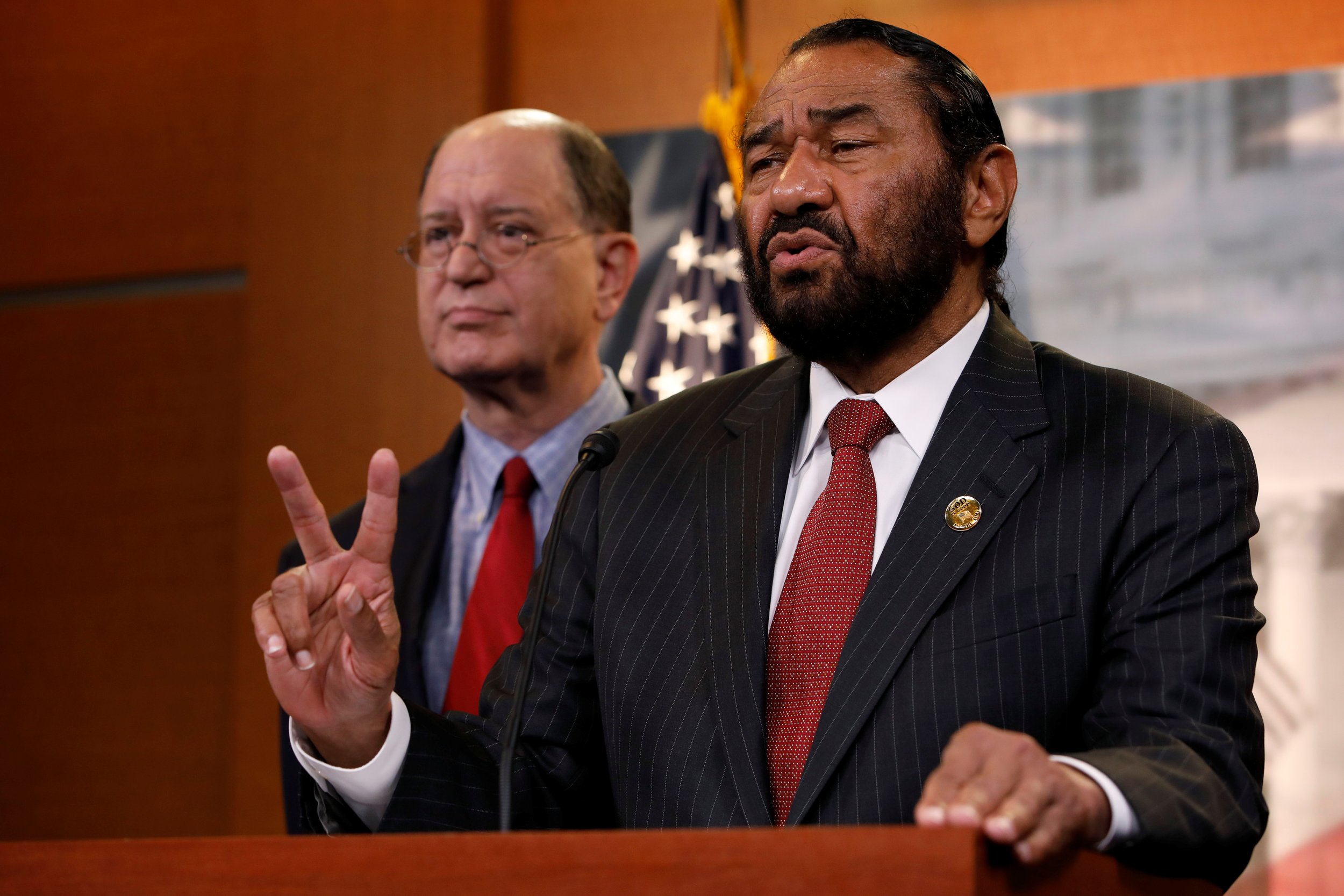 A House Democrat has found a new reason to call for President Donald Trump's impeachment—Trump's retweets of three anti-Muslim videos on Wednesday morning.
Representative Al Green, the Democrat from Texas, was so upset with Trump's three consecutive retweets of video posts by Jayda Fransen, the deputy leader of far-right nationalist party Britain First, that he announced on the House floor that an impeachment vote would happen before the New Year.
"When hate emanates from a person that has more power than any other person in the world, when hate emanates from the presidency, the solution is impeachment," Green said. "Impeachment will be voted on before Christmas. I rise to stand against hate."
The three videos Trump retweeted were captioned by Fransen with "Muslim migrant beats up Dutch boy on crutches!" "Muslim Destroys a Statue of Virgin Mary!" and "Islamist mob pushes teenage boy off roof and beats him to death!"
"Anyone who incites hate is a person that ought to be called upon to either stop it or be removed from a position such that they can harm society," Green said on the House floor.
Green pledged earlier this month that he would force a vote on the House floor before Christmas Day to impeach Trump, whom he called "the chief inciter of racism, bigotry, hatred, xenophobia, sexism, ethnocentrism."
The impeachment articles that Green presented in October state that Trump "brought disrepute on the presidency" and "undermined the integrity of his office" but do not make any criminal accusations. At the time, Green held off on forcing a vote in order to give the public a wider window of opportunity to consider the articles.
An impeachment vote is unlikely to happen by Christmas. Green does not have support from the GOP, and Democrats are split. And the majority of the House Democratic caucus believe a vote to impeach the president is premature, as special counsel Robert Mueller investigates whether Trump's campaign colluded with Russia leading up to the 2016 election.
Green's effort to impeach Trump is not the first.
Representative Brad Sherman, the Democrat from California, filed an impeachment article in July alleging that Trump obstructed justice by firing James Comey from his post as FBI director while the agency headed a probe into Russia's role in the presidential election.
Trump's reference to Senator Elizabeth Warren as "Pocahontas" during a White House event honoring Navajo veterans on Monday could build on the case for his impeachment. One of the articles of impeachment against President Andrew Jackson accused him of using "intemperate, inflammatory and scandalous harangues…and loud threats and bitter menaces…against Congress."