Trump Impeachment Vote Stalled by House Democrat Al Green, But He's Not Giving Up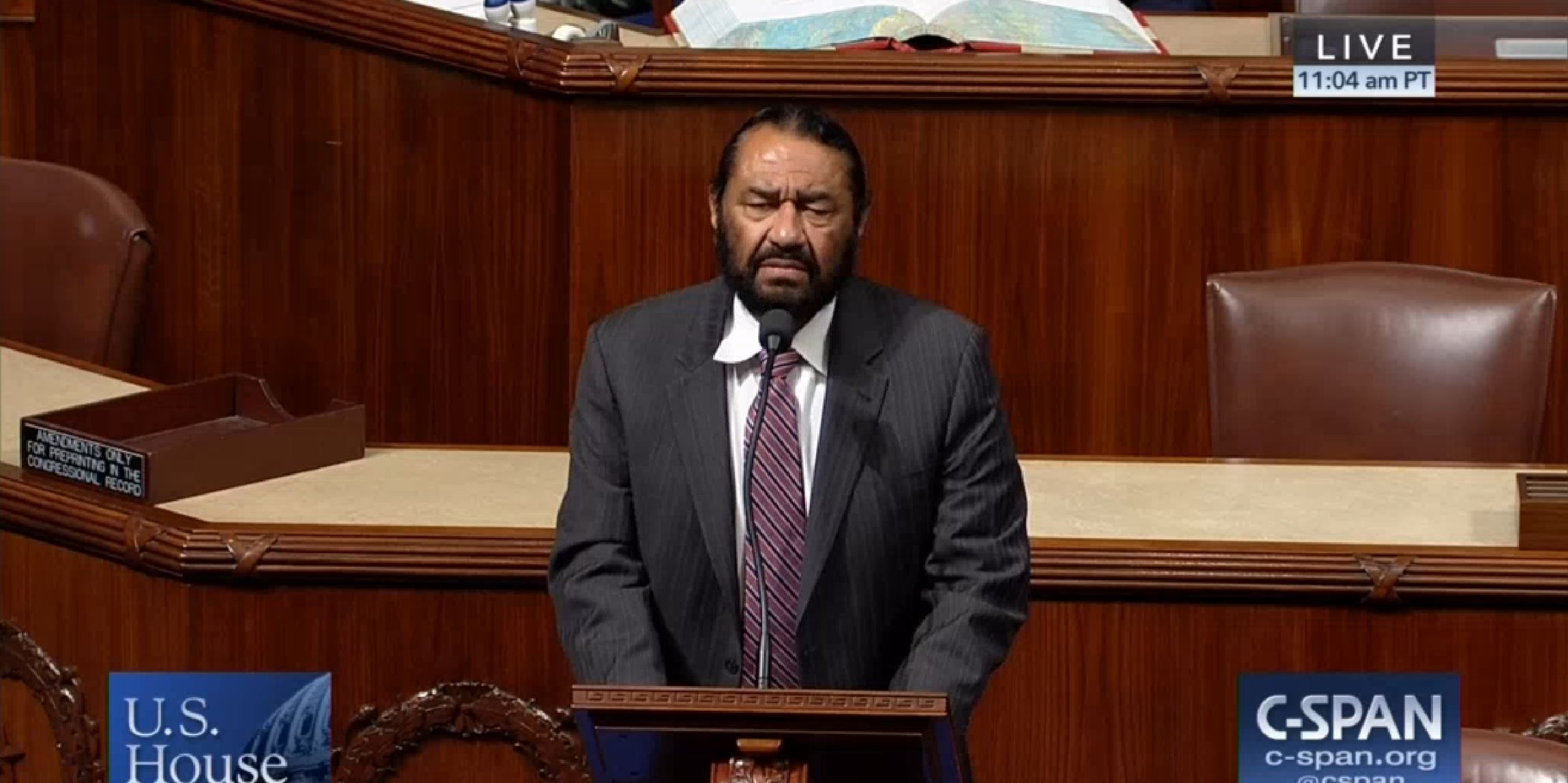 On Wednesday, Democrat Representative Al Green of Texas backed away from his plan to impose a vote on the House floor to impeach Donald Trump, yet he pointed out that his colleagues need more time to "read and digest" his proposal, Politico reported.
Even though he could have forced a vote on his measure in a GOP-controlled House, Green told Politico he rescinded his intent to file a "privileged motion," which could have spurred a vote on his plan in a matter of days. Green told the publication that "there will be a vote. But what I've done thus far would not call for a vote… This situation is very dynamic."
But not all Democrats agree with Green's plan. House Minority Leader Nancy Pelosi of California, for example, has categorically said "no" to an impeachment resolution, Politico reported. In fact, Democratic leaders have asked Green to not pursue any vote at the moment, two sources indicated.
However, he insisted that he will soon pick up where he left off. "I have accepted the fact that I may be standing alone and that I may receive criticism from contemporaries, but I also believe that I do what my conscience dictates," he told Politico.
The representative had already postponed his call to impeach Trump in the wake of Las Vegas shooting on September 30. "Many hearts are bleeding…There is much suffering. Lives have been lost in a senseless, needless manner in Las Vegas," Green said on October 1.
For months, Green has instilled calls for impeachment. He tweeted in May that "I will call for the Impeachment of the President" on the Congress floor:
He later added at the time, "This is about my position. This is about what I believe. And this is where I stand. I will not be moved. The president must be impeached," CNN reported. "For those who do not know, impeachment does not mean that the president would be found guilty. It simply means that the House of Representatives will bring charges against the president. It's similar to an indictment but not quite the same thing."
In June, Green announced he took initial legislative steps to remove Trump from office by drafting articles of impeachment. His initiative was founded on revelations from former FBI Director James Comey, who indicated that Trump asked him to drop an investigation into Michael Flynn, Trump's national security adviser. After Trump fired Comey, Green said the president committed obstruction of justice.
According to The Daily Beast, the question of removing Trump from the White House has become more "prevalent" as several Republicans in Congress are "increasingly anxious about the unpredictable if not reckless president."
Indeed, support for Trump's impeachment has increased. According to a poll from the Public Religion Research Institute in August, four in 10 Americans—or 40 percent—support Trump's impeachment, compared to the 30 percent who approved of it in February.
The support for impeachment was the result of Democrats and Independents opposing Trump, NBC News reported. Seven in 10 Democrats—or 72 percent—favored Trump's ouster, while 38 percent of independents believed he should be impeached, up from 27 percent in February.