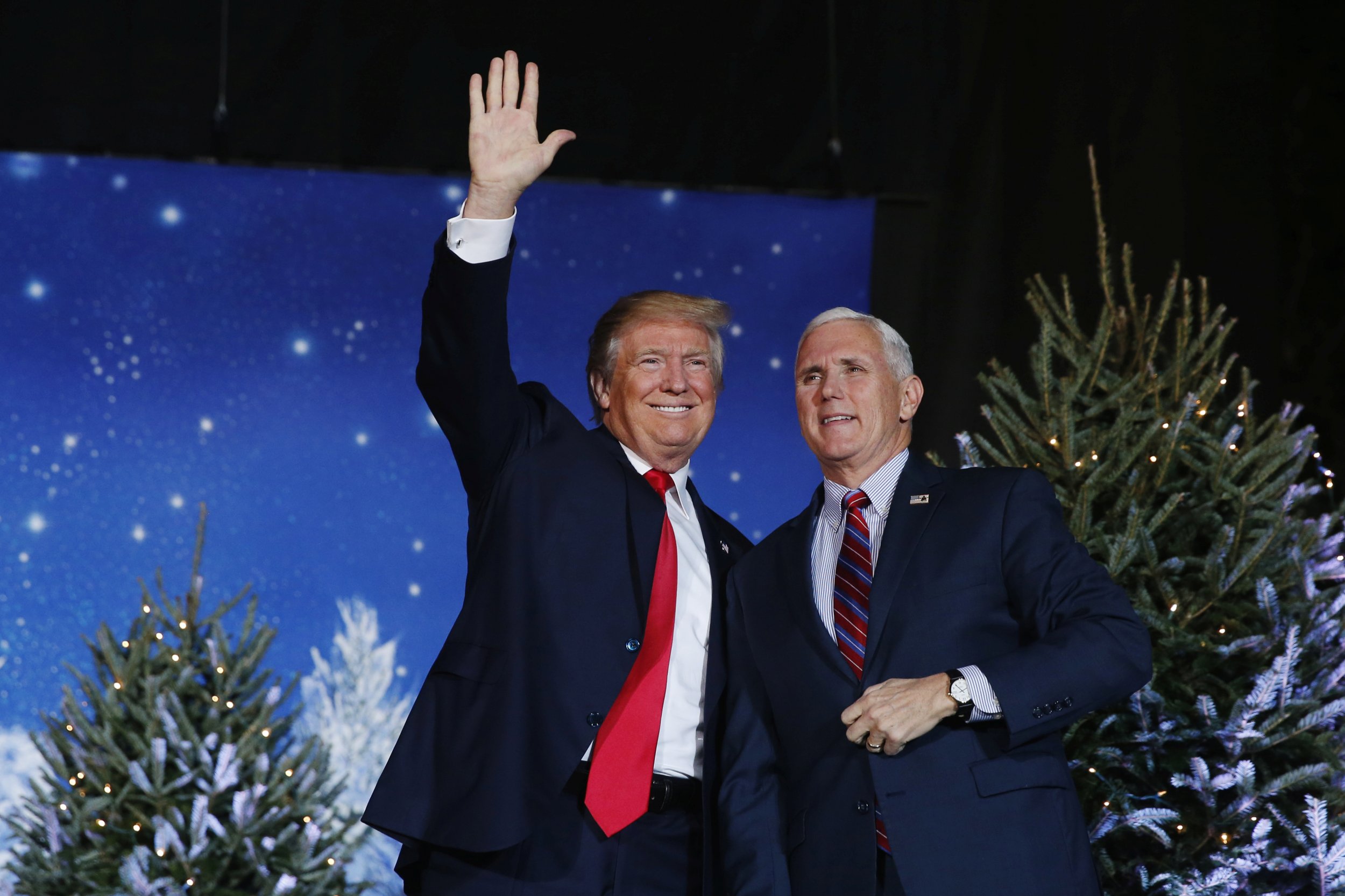 The first angry call came in last Wednesday. Someone was desperately trying to track down their tickets to the presidential inauguration of Donald Trump. But instead of calling the Inaugural Committee in Washington, D.C., they had accidentally reached Plum Print, a small children's book publisher in North Carolina.
More calls followed, but there wasn't much that the Plum Print employees could do to help; they were as confused as the callers, so they began making a list of complaints. One caller wanted to cancel because of a broken hip. A veterans organization was trying to get a handicap pass for a man who had fought in World War II and earned two Bronze Stars. A woman looking for tickets claimed to be the mother of a diplomat who had died in the attacks on the American Embassy in Benghazi, Libya. Many of the callers were disabled veterans.
Eventually, Plum Print figured out that because of a typo, their number was mistakenly included on the FedEx package for inauguration tickets.
"We were finally able to track back to where the packages were being sent from and get in touch with the fulfillment center in Texas," says company CEO Carolyn Lanzetta. "After a few conversations, they changed the phone number."
Unfortunately, it was too late. "They warned us that a few thousand packages had already been sent out."
Some of the confusion can be traced back to 58pic2017.org, the website created by the Presidential Inauguration Committee a month after the election. It was ostensibly set up to distribute tickets and provide information about inaugural events, but currently offers only commemorative tickets for Trump fans to frame and display on their walls. It delivers very little in the way of useful information. For example, in the FAQ section, under "How do I purchase tickets to events?" it only says that information "will be announced soon"—with less than a week to go before the inauguration. Users are directed to fill out a form to receive email updates.
This coming Friday, there will be a few events for the inauguration, including the parade and official swearing-in ceremony. To some extent, all events are free and open to the public, but to access areas closer to the stages requires tickets, which are dispersed by the offices of senators and congressmen to their constituents. As of January 5, the Joint Congressional Committee on Inaugural Ceremonies had given out 250,000 tickets.
Though tickets are supposed to be free, they're popping up on secondary markets online for staggering prices. Greatseats.com were selling them for prices ranging from $449 to $14,900, and on Craigslist for $250 to $1,500 a pop. On eBay, commemorative tickets (which are free, and don't provide access to anything other than a vague sense of self-worth) are going for $500.
Trump's Inaugural Committee is also using the events as an ATM. According to WCPO Cincinnati, an estimated $75 million will be raised from private donations and parties through selling access to the president-elect and his Cabinet. By comparison, Obama made about $53 million.
For Trump supporters, the highlight of the inauguration will most likely be on Thursday, with the "Make America Great Again! Welcome Celebration." It will sort of be the ultimate Trump rally, lacking any of the staid pretensions of the swearing-in ceremony. After months of difficulty getting any musician, living or dead, to commit to performing, Toby Keith and 3 Doors Down finally agreed (for the latter, to the chagrin of a few of their fans ). Thousands will make the pilgrimage to the front of the Lincoln Memorial to reclaim the government from the tyranny of rational thought.
"We're going to do something incredible," Trump says in an online video promoting the event. "It's going to be really fantastic." His optimism is perhaps understandable, considering the unbelievable amount of money his Inaugural Committee will earn on his first day in power. Washington is a lucrative swamp.
The commemorative tickets started arriving by FedEx early last week on silver-bordered stationery (not gold!). They provided the time and location, but not much else, and offered no obvious contact information for questions, other than Plum Print's phone number.
As the week went on, calls kept coming in. "We tried to contact the Inaugural Committee for some guidance as to where to send these people, but got nowhere," Lanzetta says. "Just like the invitees."
The calls weren't limited to Trump supporters in need of tickets either. "We've also gotten numerous calls from FedEx saying they have 'bad addresses' and 'incorrect zip codes' for the inaugural invitations," says Plum Print President Meg Ragland, "and asking us for address corrections."
The employees at Plum Print looped me into a call. "These tickets came in the mail, addressed to my wife. As far as I know, she didn't request any tickets," explained Ed Boss, an IT technician in North Carolina. "I don't want to double-dip on tickets, so if I know where these came from, I can tell the other guys to hold off." Another call: "We've received one [ticket]. We requested for two," says Martha Lopez, from Miami. "My husband's a disabled veteran, and he has problems getting around." Both callers are planning to go to the inauguration, with or without tickets.
It's still unclear how the numbers became confused. The shipping label was updated with a new number with a D.C. area code. It wasn't one or two digits off from Plum Print's number—it wasn't even close.
I dialed the updated number and a woman working for the Inaugural Committee answered. I asked her about the mistaken phone numbers. "I have no idea," she said in a thick southern accent. As I started to ask another question, she hung up. Further calls went unanswered, and her voicemail in-box is full.
Lanzetta still has a lot of questions. "Why are invitations to the presidential inauguration going out the week before? How can there be no portal for invitees to ask questions or contact officials? Is this a joke? Is this karma? Who is after us? Will this news make Trump learn to spell Asheville correctly ? And how the hell did our phone number get onto those labels?!"
If any of this seems to indicate, in a microscopic way, the ominous future disorganization and opaque nature of the Trump presidency, it apparently doesn't bother his supporters.
"I'm really excited [for the inauguration]," Boss says. "This is a history-changer."
Martha Lopez feels the same way. "Mistakes do happen. We're humans and we understand things like this happen."