Trump Influence 'Diminishing,' GOP Governor Hogan Points to Primary Losses
Maryland's Governor Larry Hogan, a Republican, assessed Sunday that Donald Trump's "influence is diminishing," pointing to significant primary losses by GOP candidates endorsed by the former president.
Hogan has long been critical of Trump, with the GOP governor repeatedly clashing publicly with the ex-president throughout his White House tenure. Following the 2020 election and the pro-Trump January 6, 2021 attack against the U.S. Capitol, Hogan has condemned the former president's election lies and his efforts to subvert democracy.
In an interview with NBC News' Meet the Press, the prominent Republican touted his successful efforts campaigning for GOP gubernatorial incumbents Trump has attacked or come out against.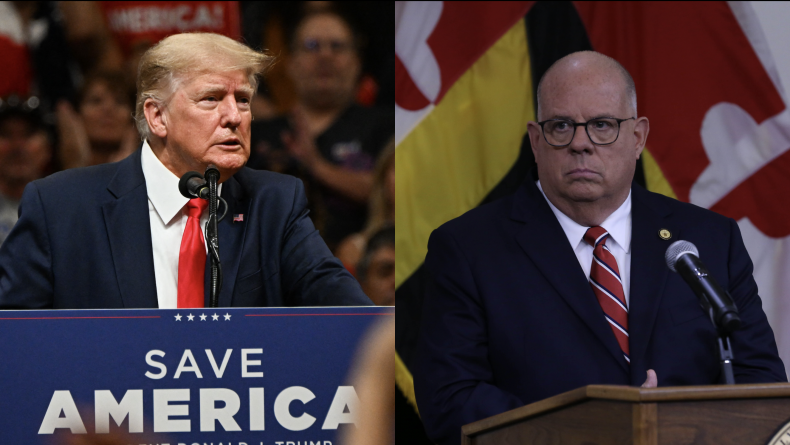 "Trump's influence is diminishing," Hogan said. "I'm on the RGA [Republican Governors Association] executive committee. There were five different governors where Trump was attacking them. All of them won."
Hogan, who is weighing a potential 2024 presidential run himself, went on to say that he's "hopeful" the former president will not make another White House bid.
"I do think there are an awful lot of people that I would call the exhausted majority of Americans who are frustrated with the far left and the far right," he said. "They want to see us go in a different direction."
Newsweek reached out to Trump's press office for comment.
The former president has repeatedly teased the possibility of another presidential run, although he has not formally announced his intentions. Most national polls show Trump leading the GOP field of potential candidates, while some recent straw polls at Republican events have shown Florida Governor Ron DeSantis beating the former president for their party's nomination.
"We may have to do it again," Trump told supporters at an Anchorage, Alaska, rally on Saturday, referring to a future presidential campaign.
Despite the GOP incumbent governors winning their primaries, Trump's endorsement record thus far has been substantially more positive than negative. Out of seven GOP Senate primaries until now, Trump-backed candidates have come out on top in all of them, according to an analysis by Axios. When it comes to House races, Trump's endorsed candidates have won 14 races and lost in five. In statewide races, the former president's preferred contenders have won nine contests and lost in six.
Recent survey data also shows Trump remains largely popular with GOP voters. A poll conducted by The Economist/YouGov from July 2 to 5 showed that 79 percent of Republicans view Trump favorably. That included a substantial majority (56 percent) who said they viewed the former president "very" favorably.
Another survey carried out from June 28 to 29 by Harris/Harvard University found that Trump had the highest favorability among registered voters out of a range of prominent politicians. At 42 percent, the ex-president was viewed favorably by a higher percentage of Americans than Senator Bernie Sanders, President Joe Biden, former Vice President Mike Pence, Vice President Kamala Harris, and Senator Ted Cruz.