Iranian Journalist Slams Trump for Using Her Protest Photo in Tweet, Says She Feels 'Shame' and 'Sorrow'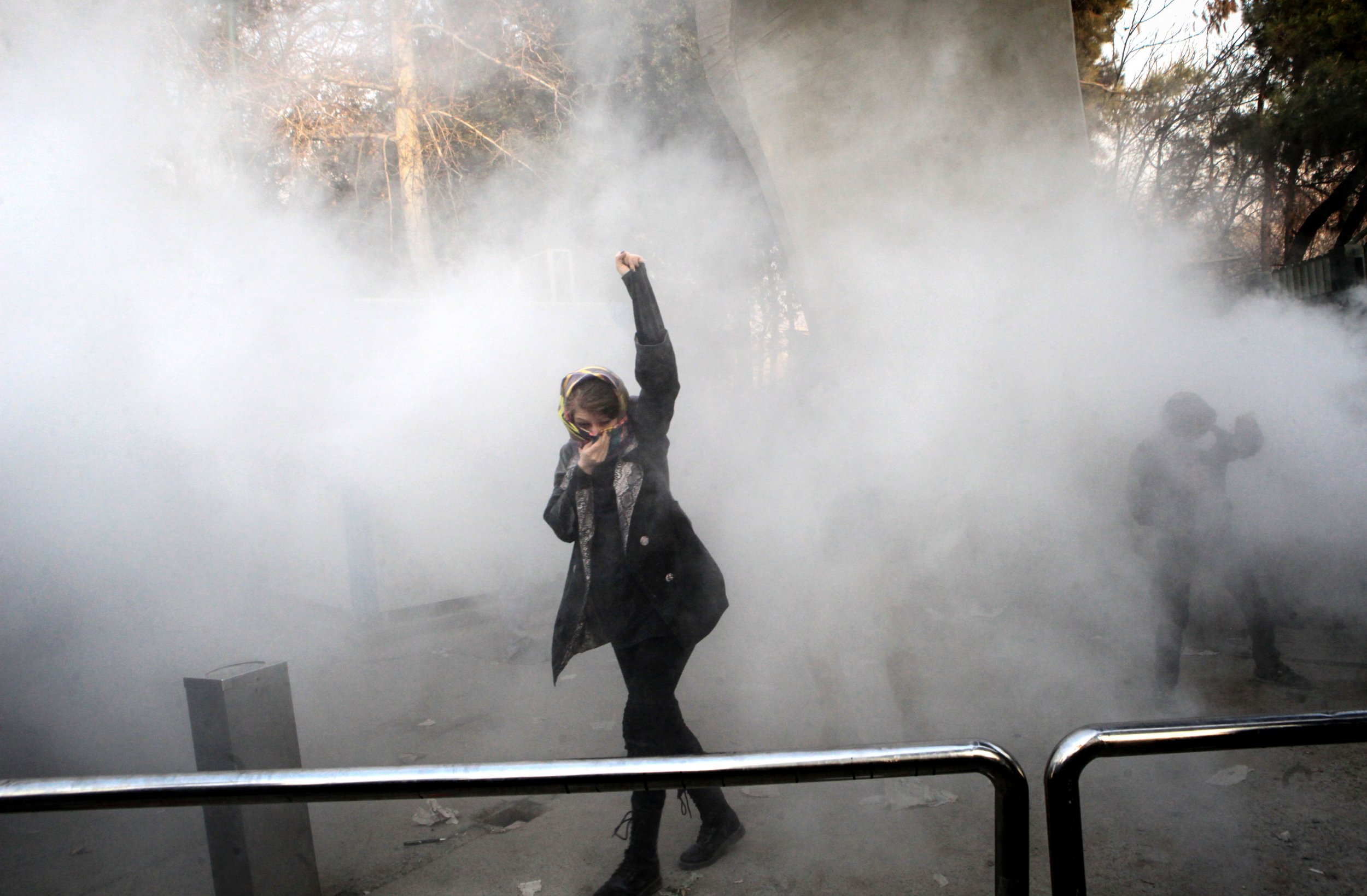 An Iranian photojournalist who captured an iconic image in late 2017 during a series of protests that gripped her country has spoken out on social media after the picture appeared in a politically-charged tweet by President Donald Trump.
In an Instagram post, 37-year-old Yalda Moayeri identified herself as the previously unnamed stringer who took the widely shared photo of a woman using her headscarf to mask her face from tear gas as she raised her fist amid protests that rocked the University of Tehran and many other parts of Iran in December 2017 through January 2018. The image was seen as a symbol of the popular frustration gripping the country as it experienced an economic crisis.
The photo resurfaced Monday as a stylized version—showing only the activist—in two tweets on President Donald Trump's account written in English and Farsi. The text read: "40 years of corruption. 40 years of repression. 40 years of terror. The regime in Iran has produced only 40 years of failure. The long-suffering Iranian people deserve a much brighter future."
Responding to this message, which came on the 40th anniversary of the Islamic Revolution that saw Iran's current government oust a West-backed monarchy, Moayeri said, "It would be a great honor for me if this image would be a symbol of freedom everywhere in the world, But having President Trump use it without my permission in a tweet in Persian even is a great shame for me and causes me deep sorrow."
According to her website, Moayeri began her career at the age of 19 by photographing scenes of the war in Afghanistan, and then moving on to the Iraq War and other subjects in Pakistan, Lebanon, Georgia, Indonesia and Somalia. She has been cited by name on others work carried by the Agence France-Presse and Getty Images, though she said she avoided being identified in this photo due to the uncertain political climate.
"I took this picture a year ago during demonstrations around Tehran University. The circumstances were very difficult. I wasn't able to reveal my identity for six months because I thought that being known as the photographer I might get me into trouble. But I came out as it's important to show the situation in Iran in a clear and transparent manner," Moayeri wrote.
At the time, the Trump administration took advantage of the protests to promote its own agenda, even directly appealing to demonstrators. The unrest came amid soaring inflation and unemployment as Iran braced for a likely U.S. exit from a landmark 2015 nuclear deal. The White House accused Tehran of using freed-up funds to finance militant groups and develop ballistic missile technology.
Trump did ultimately leave the deal last May, devastating Iranian President Hassan Rouhani's economic plans, which were largely based on opening up to the international market. The U.S. imposed strict sanctions against Iran, which Moayeri said have only made life more difficult for her and other Iranians.
"Because of his policies I, my family and my friends are forced to live under sanctions that are devastating our lives. Our currency lost 70 percent of its value. We all became poor. Even if I could go to America financially (I cannot) to visit my dad, I wouldn't be able to go, as he has imposed a travel ban on the Iranians he says he cares so deeply for," she wrote. Moayeri added, "This photo is taken by the Iranian people and for the people of Iran and should not be abused by anyone else."
Trump's tweet was shortly followed by an even more direct threat from his national security adviser John Bolton, who warned Iranian supreme leader Ayatollah Ali Khamenei, "I don't think you'll have many more anniversaries left to enjoy."
Iranian officials such as Foreign Ministry spokesperson Bahram Qasemi and Foreign Minister Mohammad Javad Zarif have called out Trump administration officials, charging them with unsuccessfully attempting to overthrow the government four decades after an uprising that ousted the absolute monarchy once saved by a CIA coup.
The U.S. was set to co-host with Poland a summit Wednesday and Thursday in Warsaw, where Washington was looking to drum up mostly Western and Arab support against Iran, though messages surrounding the revolutionary Shiite Muslim power have been largely dropped from the program. Fellow nuclear accord signatories China, France, Germany, Russia and the United Kingdom have agreed to continue doing business with Iran in defiance of the U.S.