Iran's Foreign Minister Blasts Trump's Sanctions As 'Economic Terrorism,' Accusing U.S. of Blocking Humanitarian Aid
Iran's Foreign Minister Javad Zarif has blasted the administration of President Donald Trump for allegedly blocking aid to flood victims through international sanctions, accusing Washington of "economic terrorism."
Zarif alleged on Twitter Monday evening that the Trump administration was "impeding aid efforts by #IranianRedCrescent to all communities devastated by unprecedented floods [sic]." Continuing his tirade, he wrote: "Blocked equipment includes relief choppers: This isn't just economic warfare; it's economic TERRORISM [sic]."
The foreign minister also shared images of the devastation caused by large scale flooding and the relief workers lending assistance. The Iranian government has ordered the evacuation of 70 villages due to the risk of flooding in the Khuzestan province near the Dez and Kharkheh rivers.
A day earlier, Zarif slammed Trump in a previous tweet, saying that the U.S. president "rejoices over the misery that he thinks he has imposed on ordinary Iranians."
"Like his predecessors, he will learn that Iranians never submit to pressure," he asserted.
Bahram Qasemi, the Iranian foreign ministry's spokesperson, also told Iran's Islamic Republic News Agency on Tuesday that "no foreign or Iranian nationals outside Iran will be able to send aid to flood-stricken people" because the Iranian Red Crescent agency was blocked by international banking sanctions. He accused the U.S. of using "inhumane and cruel" methods that even block support for those suffering through a crisis.
The U.S. State Department did not respond to Newsweek 's request for comment in regards to the Iranian accusations. But Secretary of State Mike Pompeo said on Tuesday that the floods "once again show the level of Iranian regime mismanagement in urban planning and in emergency preparedness," according to Radio Free Europe. "The regime blames outside entities when, in fact, it is their mismanagement that has led to this disaster," he said
Last year, Trump officially withdrew the U.S. from the landmark 2015 Joint Comprehensive Plan of Action, commonly known as the Iran nuclear deal. The international treaty, which was also signed by the European Union, Germany, France, the United Kingdom, Russia and China, granted Iran international sanctions relief in exchange for curbing its nuclear ambitions. Although the United Nations' nuclear watchdog has consistently found that Iran remains in compliance with the deal, Trump withdrew and reimposed sanctions targeting the Persian Gulf nation.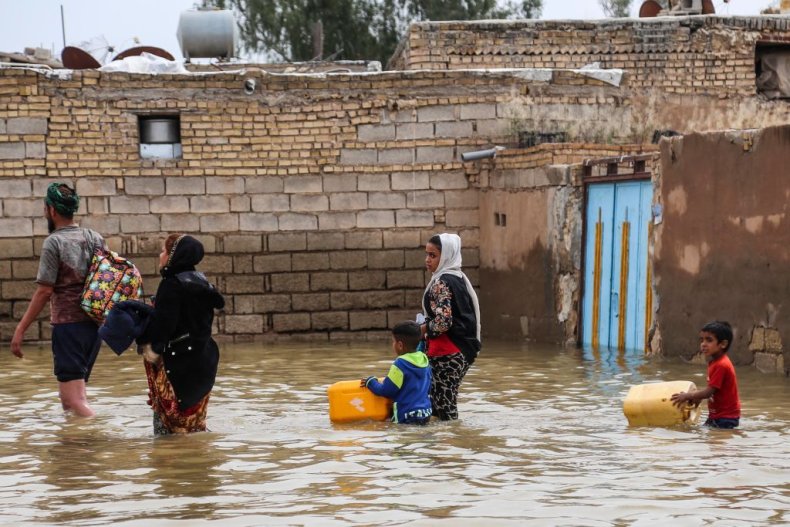 The decision has faced significant international opposition, even from close U.S. allies. European leaders, along with Russia and China, have worked to disregard and circumvent Washington's sanctions in a bid to continue doing business with Tehran. Regardless, Trump's sanctions have taken their toll on the Iranian economy, as several major multinationals have pulled their operations from the county, fearing negative repercussions from Washington.
In October, the World Court at the United Nations ordered the U.S. to remove sanctions that target humanitarian trade, food, medicine and civil aviation. The suit, which was lodged by Iran, argued that Trump's sanctions violated the 1955 Treaty of Amity between Tehran and Washington, which was signed prior to the Iranian Revolution in 1979. Pompeo responded to the ruling by saying that the U.S. would simply withdraw from the agreement.
Editor's note: This article has been updated to include comments by Secretary of State Mike Pompeo.