Trump Iraq Troops Pay Raise: President Boasts of Fictional Huge Salary Hike for Soldiers During Iraq Speech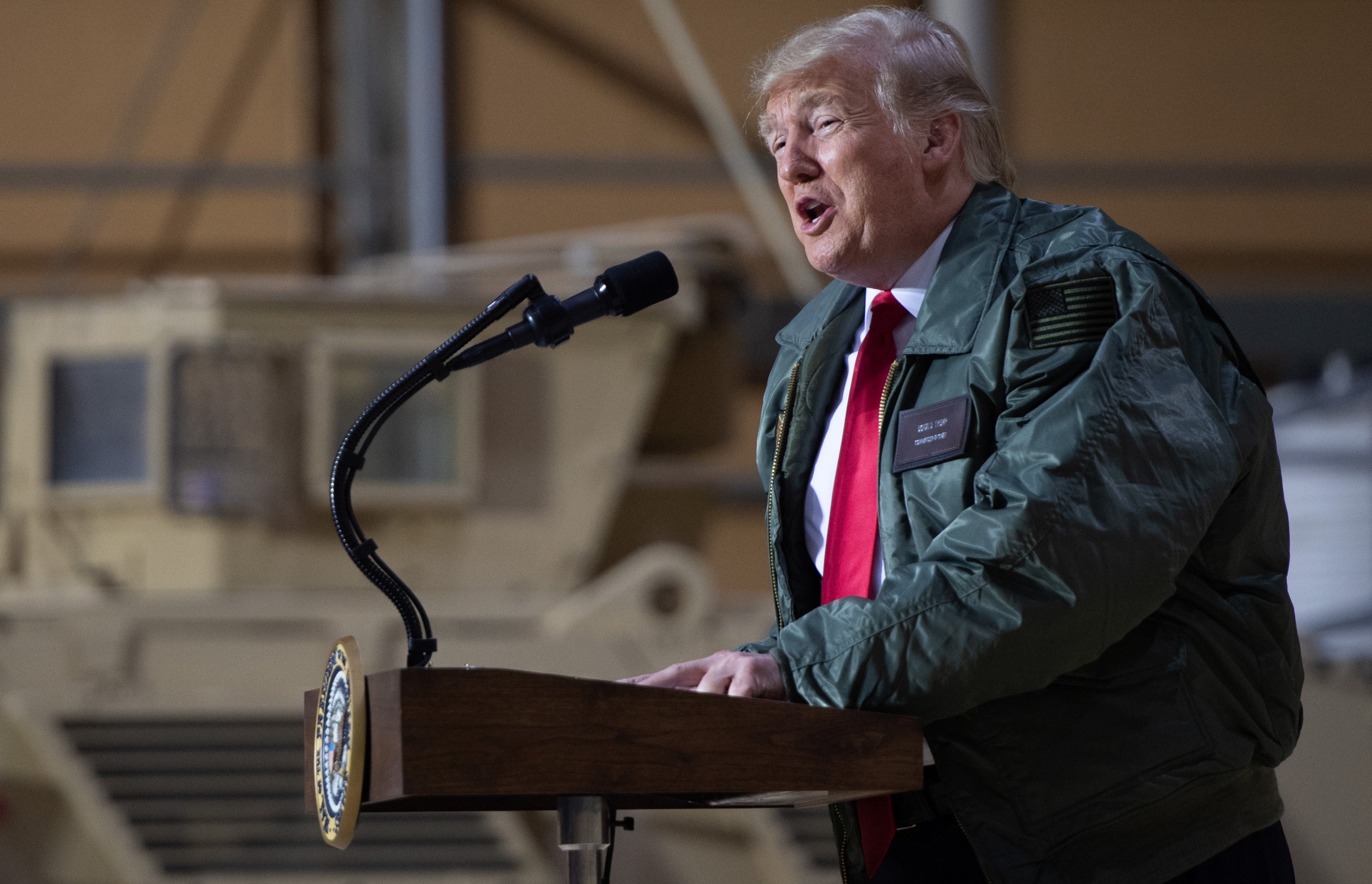 President Donald Trump bragged to military personnel that he had secured them a "big pay raise" while continuing to repeat his false claim about it being their first pay increase in at least a decade.
Trump spoke to troops stationed at Al-Asad Air Base in Iraq Wednesday during his first visit to an active war zone. "Is anybody here willing to give up the big pay raise you just got? You haven't gotten one in more than 10 years. More than 10 years. And we got you a big one. I got you a big one. I got you a big one," he said.
Read more: Video posted to Donald Trump's Twitter account reveals covert U.S. Navy SEAL deployment during Iraq visit
This claim had already been debunked after the president made a similar remark in May.
According to the Defense Department, military members have seen a pay raise in each of the past 10 years, ranging from 1 percent to 2.9 percent. As noted by the fact-checking website PolitiFact, the last time there was not a pay increase for the military was in 1983, but only because the date of the raise had been moved forward from October 1 to January 1.
Military personnel received a 2.4 increase in 2018, and their pay will increase by another 2.6 percent in 2019 as a result of the National Defense Authorization Act signed by Trump in August, reported the Los Angeles Times.
Despite the 2.6 percent increase already being the largest in nine years, Trump exaggerated the amount by nearly four times its actual worth. He claimed he fought with "plenty of people" for the figure and repeated the false claim that it was the first raise for the troops in more than 10 years.
"They said, 'You know, we could make it smaller. We could make it 3 percent. We could make it 2 percent. We could make it 4 percent,'" Trump said. "I said, 'No. Make it 10 percent. Make it more than 10 percent.'
"Because it's been a long time. It's been more than 10 years. It's been more than 10 years. That's a long time. And, you know, you really put yourselves out there, and you put your lives out there. So congratulations."
Following his unannounced visit to Iraq, Trump is scheduled to travel to Ramstein Air Base in Germany before returning to Washington, D.C.