Trump Issues Ominous Warning About 'Unprecedented Danger' to U.S.
Former President Donald Trump on Saturday issued an ominous, but vague warning about a coming danger facing the United States.
"This is the most dangerous time in the history of our Country," the former president wrote on his social media platform Truth Social. "World War III is looming, like never before, in the very dark and murky background. 'Leadership' is solely responsible for this unprecedented danger to the USA, and likewise, the World. HOPELESS JOE BIDEN IS LEADING US INTO OBLIVION!!!"
As of Saturday afternoon, the post had been liked nearly 15,000 times and shared by roughly 5,000 accounts. Based on a report from last September, Truth Social boasts less than 2 million unique users.
Due to the vagueness of his Truth Social post, it is difficult to deduce which current policies from the Biden administration or other leaders Trump is taking issue with, using the post alone. Representatives for the former president, however, confirmed to Newsweek on Monday that Trump referred to the situation surrounding the war between Ukraine and Russia, as was hinted at by his reference to "World War III."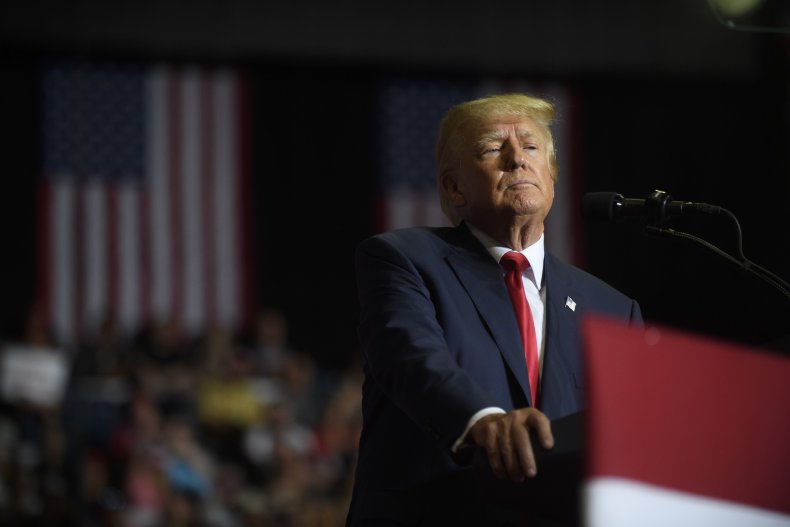 As the war reached its one-year anniversary on Friday, Biden made an unannounced visit to war-torn Ukraine on Monday to meet with Ukrainian President Volodymyr Zelensky to reaffirm his commitment to providing financial and military aid to the Eastern European country.
"One year later, Kyiv stands," Biden said during an address at Mariinsky Palace. "And Ukraine stands. Democracy stands. The Americans stand with you, and the world stands with you."
Trump, conversely, has long expressed support and fealty towards Russian President Vladimir Putin, praising him for his supposed strength as a leader and stating on one occasion that he would trust the Russian leader over the U.S. intelligence community. During a Monday rally in Florida, Trump asserted, as he has in the past, that the invasion of Ukraine would not have happened under his watch, putting the blame for the war on unspecified Biden policies.
"Putin never, ever would have gone into Ukraine if I were president," the former president said. "I actually had a very good relationship [with Putin]."
Other GOP lawmakers have also put up resistance to Biden's support of Ukraine, with Florida Representative Matt Gaetz recently putting forward a "Ukraine Fatigue" bill that, if passed, would issue a formal call to end all aid to the country and advocate for further peace talks with Russia.
"Joe Biden's secret vacation to Ukraine soured the American people's confidence that he's putting our country first before foreign interests abroad," Gaetz told Newsweek on Tuesday. "As outcry for halting U.S. aid to Ukraine increases nationwide, lawmakers on Capitol Hill are taking my 'Ukraine Fatigue' resolution into greater consideration."
Updated 02/27/2023, 11:02 p.m. ET: Article updated to reflect clarification from Trump's representatives.