When Trump Is Jailed, Giuliani Can Visit Him and Say 'Don't Worry, Donald: Prison Isn't Prison'
On Sunday, President Donald Trump's lawyer, Rudy Giuliani, raised eyebrows around the world after claiming that "truth isn't truth" during an interview with NBC's Meet the Press host Chuck Todd.
Arguing that his client should not testify in special counsel Robert Mueller's Russia investigation as he could be "trapped in to perjury," Giuliani suggested that Trump's testimony wouldn't matter either way, since "truth isn't truth."
John Oliver asked on his Last Week Tonight show: "What is Giuliani doing and why does the White House keep letting him go on TV? Because at this rate, Trump is going to wind up behind bars with Giuliani visiting him and saying, 'Don't worry, Donald, prison isn't prison.'"
Calling Giuliani a "one-man legal improv troupe," Oliver said the attorney "came with a rationale for his boss's refusal to sit down with Mueller that is, even by Giuliani standards, very Giuliani."
In the Meet the Press interview, a bemused Todd appeared to lower his head into his hand laughing at the Trump attorney's comments. "Don't do this to me," Giuliani said, mimicking Todd.
Commenting on the exchange, Oliver said: "Don't do this to you? You just said 'truth isn't truth!' That's not acceptable from a president's lawyer. It's barely acceptable from a sophomore philosophy major who just tried molly for the first time."
Calling Giuliani the "Ken Bone of 9/11," Oliver said that "in fairness" to the former New York City mayor, his "truth" musing "was not the dumbest thing he said in that interview."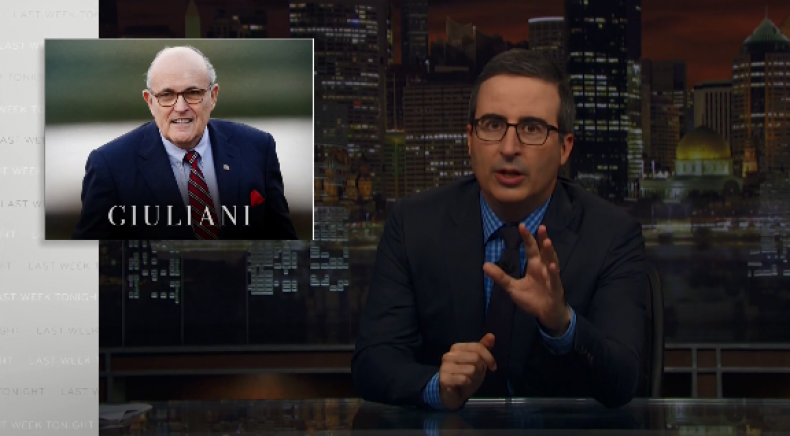 Read more: Rudy Giuliani says we should ignore evidence of Trump's collusion because 'Truth isn't truth'
When asked by Todd about the infamous Trump Tower meeting between top Trump campaign officials and a Russian delegation, including a Kremlin-linked lawyer, Guiliani admitted that "the meeting was originally for the purpose of getting information about [Hillary] Clinton."
"Which in itself is attempted collusion," Todd asserted.
"No, it's not," Giuliani exclaimed.
While Trump himself admitted earlier this month that the June 2016 meeting was about getting dirt on Clinton, after long claiming that it had been organized to discuss the issue of adoptions, Oliver noted that it was strange to see Giuliani, "the president's lawyer, whose job is to potentially dismiss evidence of the Trump Tower meeting, basically do the exact opposite."
During his interview with Todd, Giuliani said that the meeting ended up being "about another subject" other than Clinton and said that whatever information the Russian delegation was prepared to offer was "not pursued at all."
"And, of course, any meeting with regards to getting information on your opponent is something any candidate's staff would take," Giuliani said. "If someone said, 'I have information about your opponent,' you would take that meeting."
Since making the comments on Sunday, Giuliani has tried to walk back on his suggestion that "truth isn't truth."
In a Twitter post on Monday, the former New York City mayor said his comment wasn't meant to be taken as a "pontification on moral theology."
"My statement was not meant as a pontification on moral theology, but one referring to the situation where two people make precisely contradictory statements, the classic, 'he said, she said,' puzzle," Giuliani said in his Twitter statement.
"Sometimes further inquiry can reveal the truth," he said. "Other times, it doesn't."
The Trump lawyer has faced additional criticism over his defense of Sunday's comments, however.
"If only lawyers dating back to Roman times had pondered the question of how to assess the credibility of contradictory witnesses—and even suggested some guidelines as to how to do it," David Frum, the author of Trumpocracy: The Corruption of the American Republic, ​quipped, adding an image of the Wikipedia definition of "falsus in uno, falsus in omnibus," a Latin phrase meaning, "false in one thing, false in everything."
"At common law," the definition added, "it is the legal principle that a witness who testifies falsely about one matter is not credible to testify about any matter."
This article has been updated with comments from Rudy Giuliani and David Frum on Monday.