Trump Jr. Suggests ISIS Planners Killed in Drone Strike 'Weren't High Profile at All'
Donald Trump Jr. suggested on Sunday that two Islamic State planners that were killed in a U.S. drone strike in retaliation for Thursday's deadly Kabul airport attack weren't actually "high profile."
"Anyone else feel like we're being catfished? The same people who had no idea Taliban were planning to take over the country and didn't plan to get Americans out knew exactly where to find two specific people. If it even happened, I'd venture they 'weren't high' profile at all!," Trump Jr. tweeted on Sunday.
His statement came after the Pentagon said Saturday that two prominent ISIS-K militants involved in planning and facilitating attacks against Americans were killed during a drone strike in Afghanistan's Nangarhar Province. The names of the two militants were not released.
The strike was carried out one day after the Islamic State claimed responsibility for a suicide bombing outside of Kabul's international airport that killed 13 U.S. service members and at least 170 Afghans. The blast marked the first U.S. military casualties in Afghanistan in over a year, and the deadliest incident there in 10 years.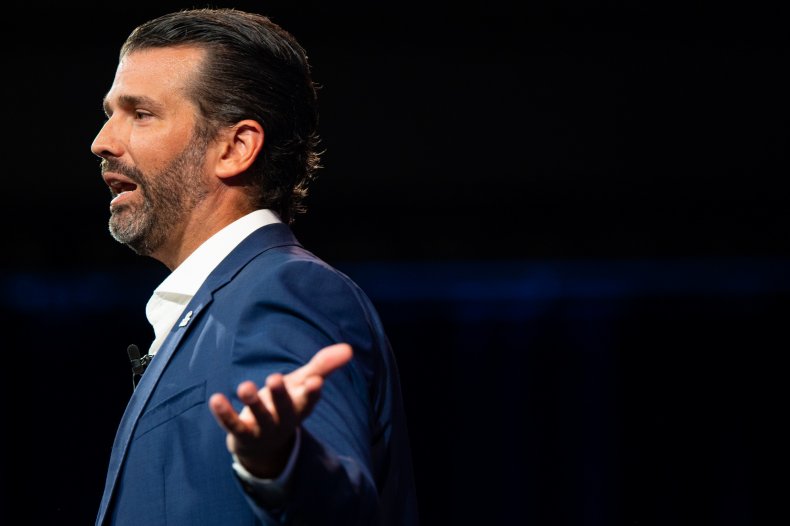 Among the U.S. soldiers killed in the attack were 11 members of the Marine Corps, one member of the Army and one member of the Navy. They came from across the country —from California to Wyoming to Tennessee—and had an average age of just over 22 years old, with several as young as 20.
In response to the bombing, Biden pledged that the U.S. would "hunt down," and plan retaliatory airstrikes against anyone involved in planning terrorist attacks against Americans.
"To those who carried out this attack, as well as anyone who wishes America harm, know this: We will not forgive. We will not forget. We will hunt you down and make you pay," Biden said in a speech.
On Sunday, the U.S. military said that it carried out another drone strike, successfully taking out what appeared to be an explosives-packed vehicle heading toward the Kabul airport.
Captain Bill Urban, a spokesperson for U.S. Central Command, confirmed the air strike in a statement emailed to Newsweek.
"U.S. military forces conducted a self-defense unmanned over-the-horizon airstrike today on a vehicle in Kabul, eliminating an imminent ISIS-K threat to Hamad Karzai International airport," Urban said."We are confident we successfully hit the target. Significant secondary explosions from the vehicle indicated the presence of a substantial amount of explosive material."
Biden's national security adviser Jake Sullivan said Sunday that the administration will continue targeting ISIS-K, even as U.S. troops are set to fully withdrawal from the country on August 31.
The president "will ensure that we get the people responsible for this, that we continue to put pressure on the groups responsible for this, and that we continue to take targets off the battlefield," Sullivan said during an interview with Fox News Sunday.
The U.S. has been working to evacuate American citizens and allies from Afghanistan since the Taliban took control of the country on August 15. According to the State Department, roughly 300 U.S. citizens who wish to leave Afghanistan remain in the country as of Sunday.
As Biden's deadline to withdrawal forces by the end of the month inches closer, Sullivan said Sunday that the U.S. "has the capacity" to safety evacuate those Americans in time.
"We have the capacity to have 300 Americans, which is roughly the number we think are remaining, come to the airport and get on planes in the time that is remaining, Sullivan said. "So from our point of view, there is an opportunity right now for American citizens to come, to be admitted to the airport and to be evacuated safely and effectively."
Newsweek contacted the White House for additional comment, but did not hear back in time for publication.